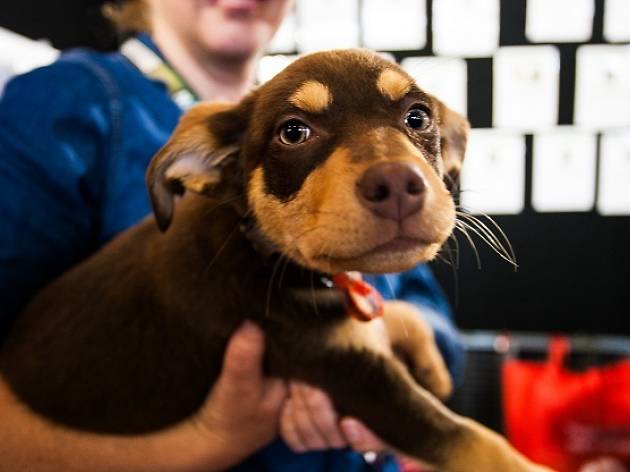 Watch dog sports, cuddle pups and hear from pet experts at this annual dog-lovers get-together
If you squeal with every new puppy sighting and talk to dogs before their owners, you belong at the Sydney Dog Lovers Show. For prouds owners of an athletic pooch, this year's sport-themed show is the time for your canine to shine. Talented dogs will make a run at four-legged sports including discus, dog soccer, mini dog hurdles and dog basketball, as well as aquatic competitions in water-based leaping and retrieving.
Some big names in the pet world will appear throughout the weekend's program, including the Bondi Vet himself, Dr Chris Brown, TV vet Dr Katrina Warren and renowned animal behaviourist Rose Horton. They'll be hosting the events and presenting talks that will give dog owners advice on keeping pups healthy and happy with training, behaviour and lifestyle tips at the Pet Circle Stage.
If you're missing a furry friend in your life, there's an adoption information zone at the show, where you can learn about selecting the right kind of dog for your home and understand all the steps involved in finding your newest family member. If you're already a puppy parent and just in it for the cuddles, you can still meet more adorable breeds at the Pat-a-Pooch area. The dog-themed fun doesn't stop, with puppy face painting, breed exhibitions and meet-and-greets with Insta-famous pooches. So whether your inner spirit-dog is a timid whippet or a wild lab, there's something for everyone at this dog-obsessed weekend.