Things to do this International Women's Day
Check out these must-see events where you can celebrate womanhood in all its multi-faceted glory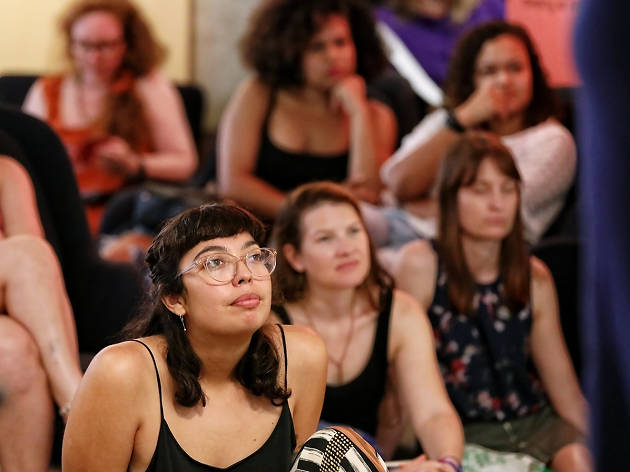 While it might seem strange that even in 2020, we still need a special day to acknowledge womanhood, International Women's Day, on March 8, is more than just a token gesture. It's become a rallying point for women around the world to come together, celebrate, and rise in solidarity against the ever-mutating challenges we continue to face in the modern world.
Feminism takes many forms, and each female-identifying person should feel like they can celebrate IWD in a way that truly explores their experience. To that end, we've selected our pick of the best events taking place in Sydney this International Women's Day, from talks and seminars to theatre productions and cultural walks.

Hungry for more brain food? Wrestle with some complex thinking over at the Festival of Dangerous Ideas in April and check out our list of talks and discussions happening around Sydney.
Things to do this International Women's Day
Champagne brunches are a dime a dozen around IWD. If you're the kind of woman who prefers barley and hops to bubbles, Young Henrys are launching a new brew to mark the occasion called Free the NEIPA, created entirely by women. Pop in to their Newtown brewery for a pint, where it'll be pouring from Friday March 6.
Things to do, Walks and tours
Get out those walking shoes for a special International Women's Day edition of this walking tour in the rugged beauty of Dharawal National Park – just an hour out of the CBD. An Aboriginal Discovery Ranger will guide the way and share local natural knowledge from a Koori perspective, as well as Dreamtime stories that connect Indigenous Australians to the area. The 90-minute walk departs at 9am on Mar 8 and is designed for people of all fitness levels.
Be the change you wish to see in the world
Things to do, Educational venues
Sydney can be a cold beast, but it can also be a big-hearted fluffy one. Running parallel to the clichés of suits and yachts are the pockets of the city where you can give some of your valuable time to those who need it most. Siphoning some of our spare moments into volunteering can be daunting, so we had a look at few of the places keeping benevolence floating in our city at the moment and how you could get involved.