A weekend in Bowral
It may be a diminutive country town, but Bowral is buzzing with restaurants, cafés and some of the most beautiful vintage stores in the state. Plus it's got Biota Dining and Rooms: enough said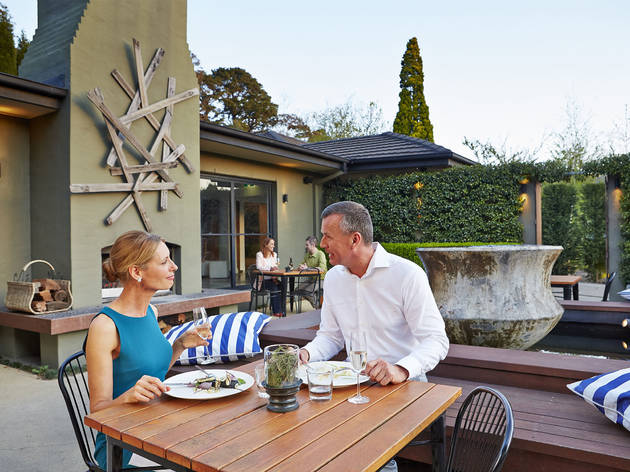 Whether you're going for a vintage haul or a world-class dining experience, we've got you sorted for where to eat, drink, stay and play in this country town.
Drink
A more affordable way to experience Biota is in the bar – and oh what a beautiful bar this is. With a roaring fireplace situated right in the middle of the sitting area, you can recline on the softly upholstered sofas or sit upright at Danish-style tables and enjoy a light meal from the bar menu. As for cocktails, try the Hot Buttered Apples, which comes in a ceramic bowl topped with melted butter. It might be the most effective winter warmer ever executed.
Read more
Stay
The rooms are simple and pared-back at Biota Dining and Rooms, which is situated just on the outskirts of town. Book a combo for accommodation and dinner – you'll save on coin, and there's nothing better than having your room onsite to stumble into after a mammoth feed (see Eat).
Read more
Play
Take a wander through Bowral's amazing vintage shops. Dirty Jane's is the big gun – a Pandora's box of a store, with room after room packed with stalls selling furniture, crockery and objets d'art.
Read more
For cheap-as-chips homewares from a more contemporary age, visit Barbara's Storehouse. It is stacked to the rafters with playful objects like neon hanging baskets and little fox doorstops.
Read more
And don't forget...
If you're investing in your stomach at Biota, then why not do the same for the rest of your body at the Endota Day Spa in town? Their Endotarama treatment lasts 75 minutes and includes a soothing footbath, organic facial and body massage.

Time Out Sydney was a guest of the hotel, restaurants and spa.
Read more
More local travel...
Escape from Sydney to one of NSW's relaxing rural retreats. From fantastic local food and wine to shopping, spas and adventure, you'll return to the city a new human.
Read more
Natural beauty is one of Sydney's best assets, so it makes sense you'd want to experience a night or two in the city's great outdoors. Fortunately, camping around Sydney is not only possible, it's often very affordable. Check out our edit of the city's best camping sites for the chance to wake up next to the Harbour, adjacent to crashing waves, or deep in a national park.
Read more