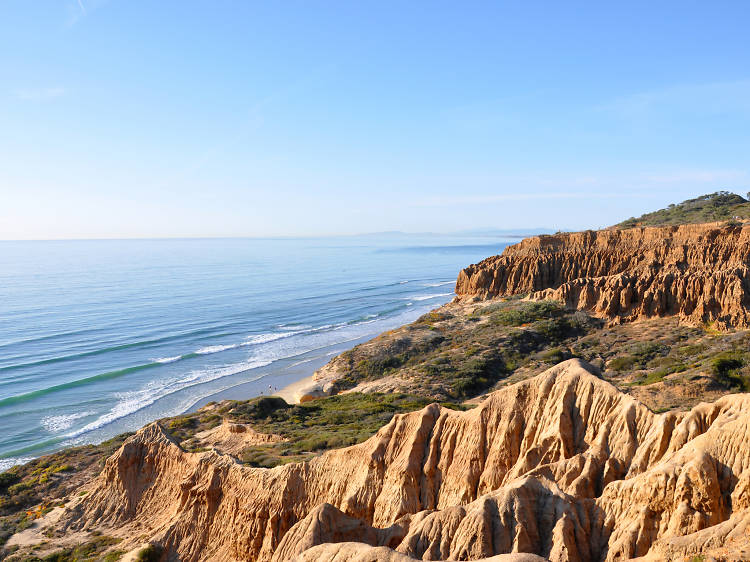 Photograph: Lisa Field
Start by suspending reality in the glittering seaside village of La Jolla; home to Mediterranean-style mansions overlooking the Pacific ocean, sandy taco joints and the beaches of your dreams. Take it all in from above by paragliding at sunset, hike along jagged coastal cliffs at Torrey Pines Nature Reserve or spot dolphins, seals and sea birds on a kayaking tour through La Jolla Cove.

San Diego's downtown region has gone through a huge transformation in the last decade; what was once a military town is now home to a buzzing urban centre, complete with a historic Gaslamp Quarter packed with restaurants, bars and boutiques. Make sure you venture beyond the well-trodden tourist paths and check out the heart of San Diego's Hispanic community, Barrio Logan. Here, spend time marvelling at the colourful Chicano Park murals, then delve into the city's art scene at The Glashaus, where you can watch woodworkers, screen-printers, oil painters, sculptors and jewellers working at this open studio/gallery hybrid.
When you're this close to Baja California (the long, narrow Mexican state hugging the coastline), it would be remiss not to spend a day on the other side of the border. You can hop on the San Diego Trolley light rail and visit the vibrant border town of Tijuana, or book a one-day adventure with the friendly and knowledgeable guides of the Baja Winery Tours. Among their many tour options is a trip down to Puerto Nuevo; a small coastal town famous for its buttery pan-fried lobsters, which you can (and should) enjoy on a balcony overlooking the ocean, sipping a frosty Margarita.