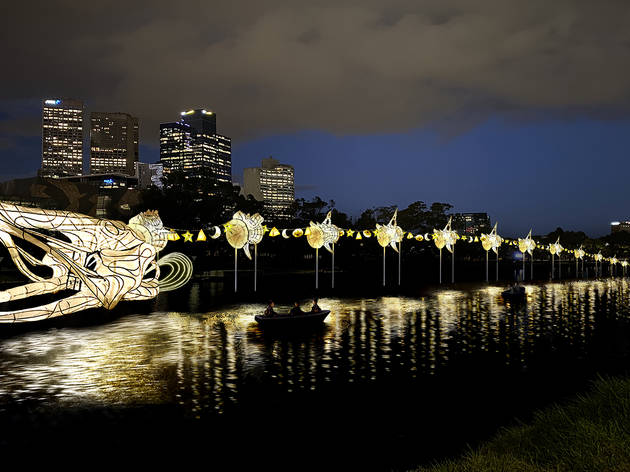 Your guide to Rising's huge and immersive line-up
Travel to Melbourne for the inaugural festival and see some of the biggest names in art, music and performance
Rising, Melbourne's new winter festival, is putting on a massive, literally star-studded program. The new festival features 750 artists who will transform Melbourne's landscape with music, public art, performance and ceremony for 12 nights from May 26 to June 6. A total of 133 creative events will take place as part of Rising, including 36 that will have their world premiere during the festival. If it's been a while since you took a sojourn to the Victorian capital (or even if you are a frequent visitor), you should book a trip post-haste – you don't want to miss this.
Rising co-artistic director Hannah Fox says: "Rising is a festival of unrepeatable, site-specific performance and large-scale public art, new collaborations in theatre and dance, and novel line-ups in live music all connected by food, wine and fun." Victoria is going big with the new event, intending for it to become the leading cultural festival in the Asia Pacific. The festival is taking place across four major spaces in the Melbourne CBD – midtown; the Arts Precinct; Chinatown; and Birrarung – as well as in locations in other Melbourne neighbourhoods and beyond.
OK, that's enough preamble. You're here to find out what's happening at Rising, and we're only too happy to oblige.
Highlights of Rising 2021 include: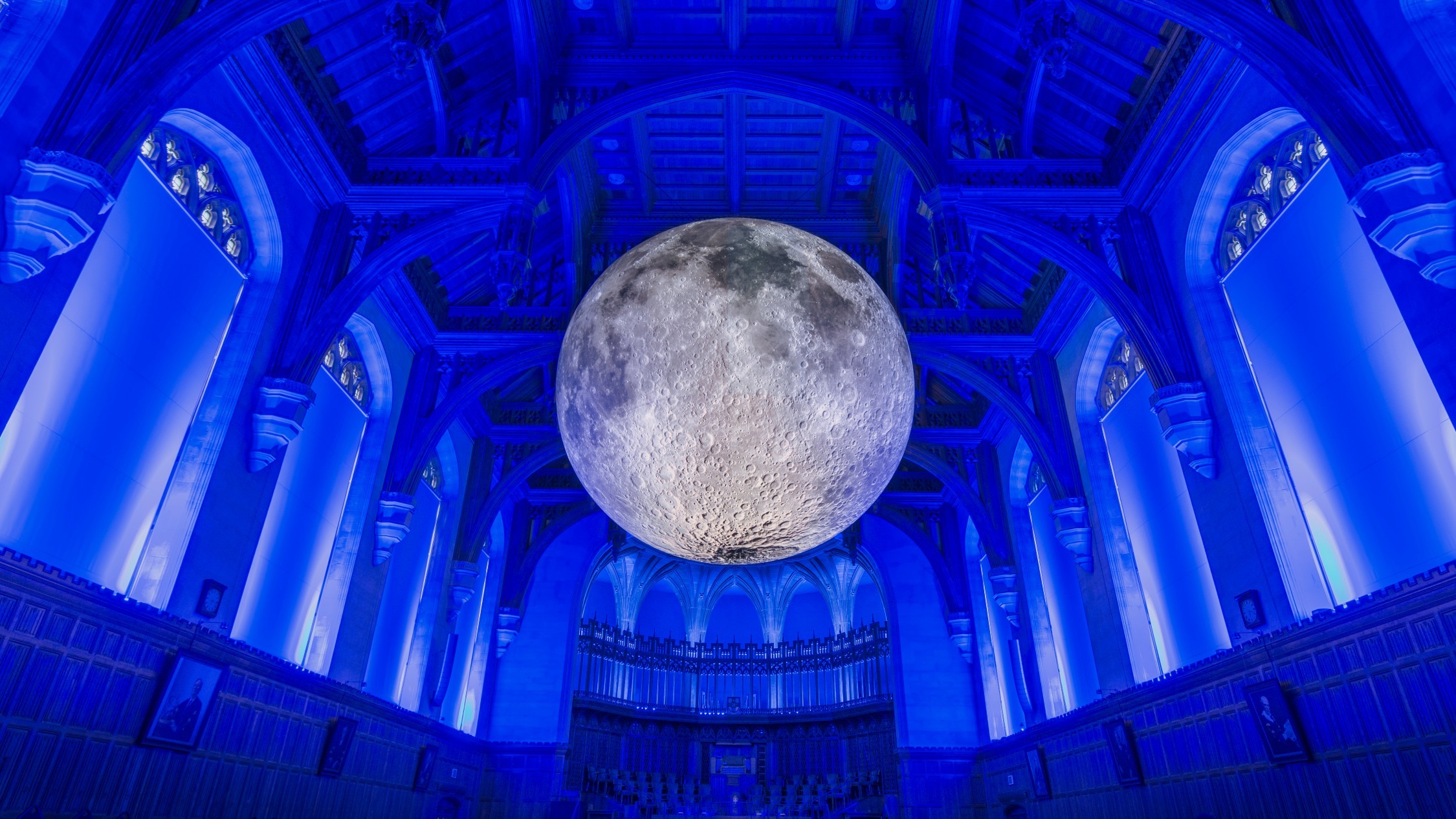 The Wilds
Sidney Myer Music Bowl is hosting what we think might be one of Rising's most popular works. The Wilds turns Sidney Myer Music Bowl into a supernatural forest. Visitors will enter through a bamboo forest before encountering illusions, tunnels of light, large-scale sculptures, video art and ice skating. Yep, Sidney Myer's stage is being turned into an ice rink. Luke Jerram's breathtaking 'Museum of the Moon' is a highlight of The Wilds. If you only see one thing at Rising, make sure it's this.
While you're there: When you've explored the entire installation, head across the river to Gimlet, Melbourne's place to see and be seen. Art deco flourishes, marble countertops, chandeliers and leather booths combine to create a nostalgic bistro look – a conscious nod towards the clubby dining rooms of London and New York. Adjoining the bar is the open kitchen, which turns out snacky appetisers to accompany your drinks, as well as lunch and dinner daily. The food, like the décor, flirts with Atlantic glamour. Expect delicious ingredients like oysters, escargot, marron, truffles and dry-aged duck on the menu. Also: wood-fired everything.
'Wandering Stars'
The Yarra has long been a home for eels... but none quite like this. 'Wandering Stars' features a 200-metre-long illuminated eel made from lanterns. It'll be located on the equally undulating Yarra River banks, where there will also be food offerings and a sonic work, 'The Rivers Sing', by Deborah Cheetham. Watch a Spirit Eel slither across the iconic façade of Hamer Hall with large projection work, 'Ancestral Memory'.
While you're there: Looking for a place to lay your head after wandering the banks of the river? The new Lancemore Crossley St is a theatre-themed hotel located near the theatre district, top restaurants and Chinatown. The hotel's 113 rooms have been refurbished by Carr Design Group to have signature LM beds, bathrooms with rain showers, Hunter Lab amenities, and well-stocked mini bars. Keep an eye out for the chandelier on a podium – it once hung at the Palais Theatre. The bedrooms are decked out with sturdy beds for those who can't stand a soft mattress, and a good night's sleep is assured in the soundproof rooms.
Chinatown
A Chinatown car park, Golden Square has been turned into a contemporary art hub, which Rising describes as 'a concrete temple to big ideas'. It's a multi-level art installation, with works from some of the most exciting artists working today. Start on the roof and get a cocktail from the impressive bar team at Fancy Free, who hail from famed Melbourne cocktail bar Black Pearl. Make your way down the levels and take in video works, underfoot murals, performance art and sculptural works.
While you are in Chinatown, check out 'Parade for the Moon'. Much of Rising is centred around the moon (it even opens on the night of a total lunar eclipse), including Jason Phu's 'Parade for the Moon', a work with lion dancers, drummers and amateur dancers dressed in costumes inspired by folklore of the moon and parading through Chinatown each evening.
While you're there: Still one of Melbourne's best Thai restaurants, Longrain is also one of Melbourne's best bars. Go the freshly-shucked oysters that arrive with a beaker of vibrant red nam jim; go the betel leaves, especially citrusy the one with the green mango and the toasted coconut. Above all, go the sticky, caramelised puck of pork on top of a juicy chunk of pineapple for the world's finest iteration of sweet and sour.
'The Nightline'
Back during lockdown Roslyn Oades and Bob Scott started The Nightline Project, asking Melburnians up late (between midnight and 6am) to call a hotline and leave a voicemail. It didn't matter why you were still up – the project simply wanted to hear the thoughts and musings of those burning the midnight oil. Now the team are furthering the project with 'The Nightline'; a late-night underground listening club where you can hear the stories of your fellows still up in the wee hours.
While you're there: Just around the corner you'll find cocktail bar 1806, so named because that is the year of the first recorded instance of the word 'cocktail'. As you might expect, the team take their craft very seriously here. The cocktails seduce you with curious backstories spanning from the 1930s gentlemen's clubs of Philadelphia to the chic small bars of Florence and the beaches of Brazil, but it's the fresh ingredients and the skill of the staff here that seal the deal.
'Banksia'
Atong Atem is one of Melbourne's most exciting early-career artists, so we're hardly surprised she's taking part in Rising. Atem's 'Banksia' is an eight-minute video projected within an inner-city carpark. The work explores the history and layers of the African diaspora in Australia and features a score by Petra Salsjö.
While you're there: Just 60 metres away is beer and whisky bar Boilermaker House, home to one of the largest collections of whisky in Melbourne, boasting a library of 700 offerings. There are half a dozen named pairings on the menu, where you receive a nip of whisky and a beer to complement. Whisky flights are also available daily, so you can compare five examples of a particular style to develop your palate like a pro.
'Museo Aero Solar'
Remember when you used to use plastic bags to make kites and balloons as a child? 'Museo Aero Solar' takes that concept one step further, creating a "flying museum" from 400 repurposed plastic bags, each written or drawn on by members in the community.
While you're there: Head from Princes Park down to Poodle, a bar and bistro in Fitzroy. But this isn't just another multi-level Melbourne venue. The green, marbled and dark wooden veneered bones of the site designed by Melbourne studio Bergman & Co speak of Italianesque grandeur, but the people within make you feel at home. Downstairs you'll find intimate booths, doodles by previous guests framed on the wall and a locked-and-loaded bistro menu. Or saunter on upstairs to the rooftop bar and snack on charcoal-grilled garfish topped with Champagne velouté, washed down with a Martini. If it's warm, lap up the rays outside, otherwise, you can sit by the fireplace like the king of Gertrude Street.
Music
Music is woven throughout works at Rising, but there's also a dedicated program of one-off gigs happening at the Comedy Theatre. Artists like the Necks, Marlon Williams, Julia Jacklin (with Kee'Ahn), the Orbweavers and Connan Mockasin are lined up to play, plus the Saints founder Ed Kuepper is teaming up with Dirty Three drummer Jim White for a set. Max Watts will become (appropriately) a hub of underground music during the festival and will host two huge nights of hip-hop (featuring the likes of Soju Gang, Barkaa, Sevy and Bayang, Drmngnow, and Lil Kootsie).
Eating and drinking
Rising also comprises a significant food and drink program as well. The Lighthouse, a 130-seat luminescent bistro positioned at the top of the Sidney Myer Music Bowl's amphitheatre, is where acclaimed chef David Moyle will serve an original three-course menu for diners enjoying the sweeping view over 'The Wilds'. Melbourne Town Hall will be converted into the Mess Hall, a cultural hub driving conversations and creating experiences based around food and drink over six nights. A nightly banquet will take place in the form of the Dinner Party, which will treat guests to a four-course meal centred around the Hall's grand 147-rank pipe organ. You'll also be able to sit down to Late Night Yum Cha in a setting like no other and celebrate the Cantonese practice of partaking in tea and dim sum. Or educate yourselves on all things ramen, pho, miso, soup, stock and broth with the Stock Exchange, which will invite a different local artisan each day to dish up the hot stuff. Boon Wurrung senior elder N'arweet Dr Carolyn Briggs AM will resurrect her beloved restaurant Tjanabi for the festival and will explore ancient First Peoples culinary traditions through a multi-course dinner, too. Think clay baking; native raw seafood; grains; and native bush foods.
Plan your trip
We've curated a bespoke itinerary for you so you can see all kinds of cool stuff at Rising and also make the most of your weekend in Melbourne.