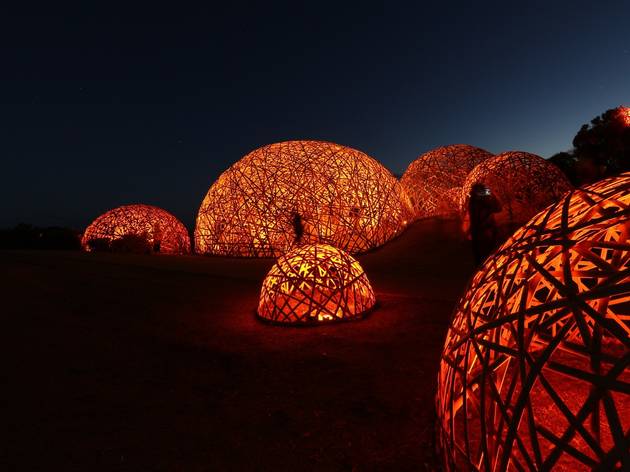 Your 48-hour itinerary to make the most of Melbourne during Rising
Heading south for Melbourne's most exciting event? Make a weekend of it and get the most out of your trip
Whether you're a regular visitor or you haven't been in a while, Melbourne always has something new to explore. This year exciting new arts and culture event Rising is taking over the city from May 26 to June 6, and it's well worth a visit to our southern neighbour to check it out.
If you're coming for the weekend, you want to make sure you get the most out of your trip. That's where Time Out and Visit Victoria come in. We've curated a bespoke itinerary for you so you can see all kinds of cool stuff at Rising and also make the most of your weekend in Melbourne.
Melbourne's winters can be chilly, particularly for those from warmer climates, but you can still get a warm welcome to Rising. The event has set up a streetside soup stall to dish out ladles of warming pho, aguadito, consommé and other broths throughout Rising. The stall is set up in front of Melbourne Town Hall, and flavours change every day. Over the course of the festival, the Stock Exchange will be helmed by the likes of Melbourne-based food writer Julia Busuttil Nishimura, social enterprise Free to Feed, restaurateur Tony Tan and artistic food practice Long Prawn.
A plush red carpet greets you at this new four-star hotel, so it should come as no surprise that the overarching theme of the hotel is the theatre. A grandiose chandelier that once adorned the Palais Theatre rests on a podium and a widescreen TV in the lift features an actor playing Frederick Federici, the Italian-born British opera singer who famously died on stage at the Princess Theatre in 1888. You can order room service until midnight from next door Bodega Underground (hello, fish tacos), and Southeast Asian diner Longrain have created a three-course curated dining experience. The sunlit rooftop is a highlight: lounge on the beachy daybeds or warm up by the contemporary fire pit. There are 113 rooms on offer with art, LM beds, ensuite bathrooms with rain showers, Hunter Lab amenities, and well-stocked mini bars.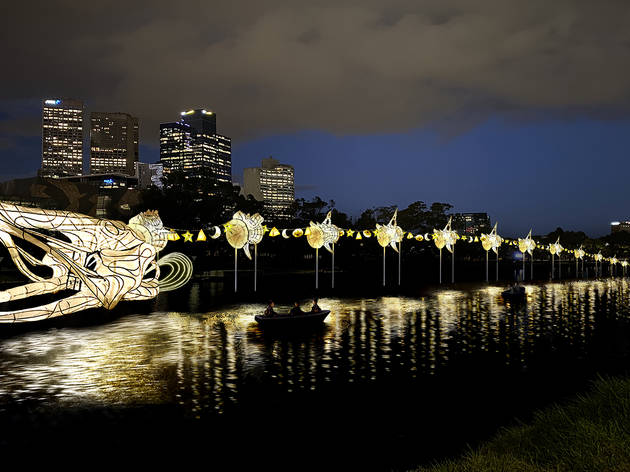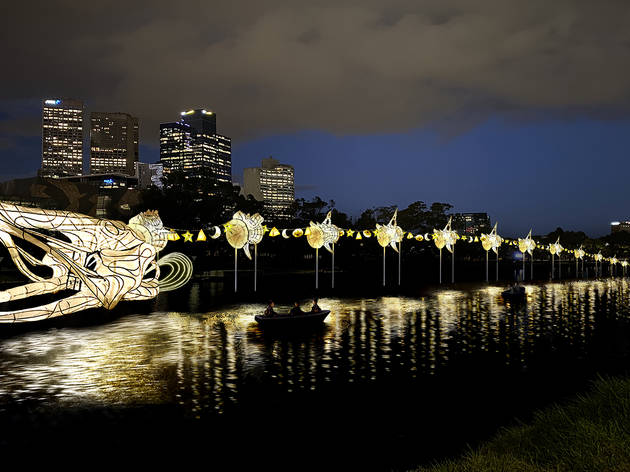 Photograph: Supplied / Common State
Friday night: Stroll along the Yarra and immerse yourself in art
The banks of the Yarra River are being transformed into an artistic precinct for Rising, and all the installations are free. Check out 'Wandering Stars', which features a 200-metre-long illuminated eel made from lanterns. It's located on the equally undulating Yarra River banks. Keep your ears open for 'The Rivers Sing', a sonic work by opera singer Deborah Cheetham, Thomas Supple and Byron J Scullin. It took six weeks to record, layering voices upon voices to sing for the river. If you're feeling snackish, there are riverside stalls serving up fire-licked foods from a variety of cuisines. While you're there, watch a Spirit Eel slither across the iconic façade of Hamer Hall with large projection work 'Ancestral Memory'.
A Melbourne take on a New York version of a Parisian bistro, Bar Margaux ticks all the right design tropes – chequerboard floor, shiny white subway tiles, booths, wired glass dividers, golden back bar lighting. Like the fitout, the menu is a roll call of classics, offering the kind of French bistro dishes you'd expect in a place that looks like this. What you might not expect in a watering hole where the kitchen's open until 3am (and beyond on weekends) is that you're going to get such a good French onion soup or credible steak frites or such a ridiculously rich lobster croque monsieur. The cocktails are just as good – or just go full Parisian and order one of dozens of Champagnes.
There is a reason The New York Times said Lune Croissanterie's croissants were "the best in the world". Lune croissants are almost mathematically perfect: crisp and golden with visible layers of delicate pastry. Come early if you want to nab a twice-cooked almond croissant or the lemon curd cruffins, piped to the gills with a tart curd and sprinkled with citrus sugar. One of the baristas takes coffee orders from the queue to the pastry service counter, and by the time you pick a croissant or cruffin and have it served to you warm from the oven, your coffee will be ready.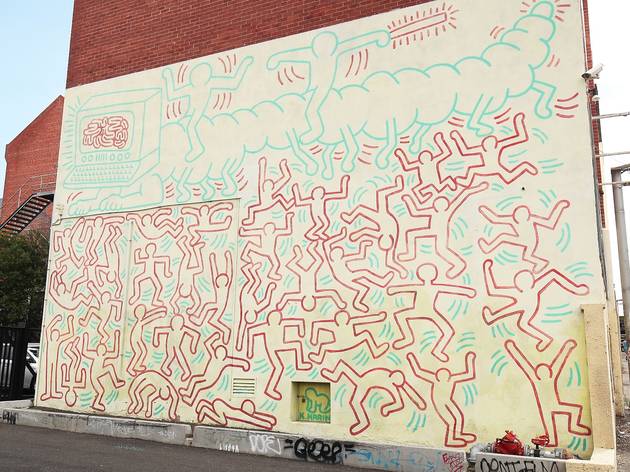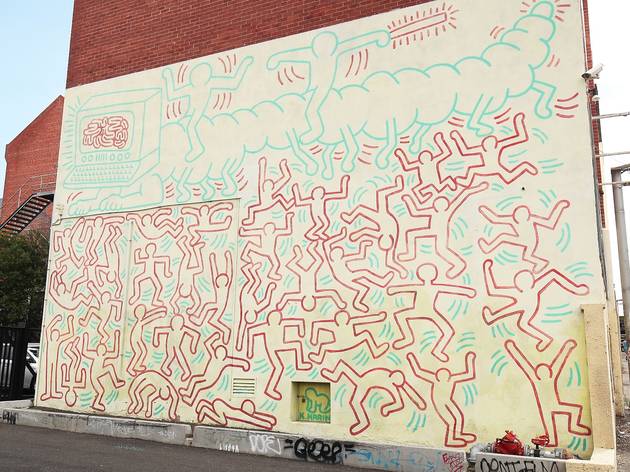 Photograph: Graham Denholm
Saturday mid-morning: Browse the shops and check out street art in Fitzroy
The streets of Fitzroy and Collingwood are a colourful playground, filled with street art and expressive murals. Spend some time checking out the suburb's famed street art, and make sure you don't miss the famous Keith Haring mural on Johnston Street. The legendary New York artist created this mural for Melbourne back in 1984, and it's been one of the city's favourite pieces of public art ever since. Fitzroy and Collingwood are chock-full of cool, quirky retail outlets, too, so you can browse everything from original artwork to vintage clothing to vinyl.
Yes, it's on a rooftop, but that shouldn't stop you from enjoying Johnny's Green Room in winter. Plenty of gas heaters will keep you warm and toasty as you enjoy spectacular 270-degree views towards the city skyline. On a Saturday arvo the space has a chill vibe, with a wide range of ages enjoying a catch-up in the sun. Enjoy a rainbow delight of heirloom tomatoes in Caprese salad form, or an eggplant parma comprising slabs of eggplant baked with layers of sauce and melty cheese. Wash it down with a glass of wine or a Spritz – hey, you're on holiday.
Hop on an Art Tram (like a normal tram, but wrapped in artwork by First Nations artists and on during Rising) from Carlton down to one of the most beautiful oases in Melbourne: the Royal Botanic Gardens. Located on the city's fringe, this expansive garden is home to a cool 8,500 plant species, zen lakes and lush lawns. It's free to enter, so stretch your legs and take in the verdant scenery. The camellia collection is one of the world's best, with more than 950 different types; Fern Gully recreates a cool forest, which showcases many fern species; and the Tropical Glasshouse is filled with colourful flowers and palms.
You might have seen a gig at Sidney Myer Music Bowl, but we guarantee you've never seen the Bowl like this. The entire space is being turned into a supernatural forest, illuminated by a huge moon suspended high above and swaying gently in time with the bespoke soundscape. There are open fires to keep you cosy, and plenty of atmosphere. If you're feeling energetic, try out your pirouettes at the purpose-built ice skating rink on the stage. Hungry? The Lighthouse by David Moyle at the top of the amphitheatre offers a luminous gastronomic experience.
Head up to another rooftop, this one in a car park in Chinatown. Golden Square is a contemporary art hub, which Rising describes as 'a concrete temple to big ideas'. It's a multi-level art installation, with works from some of the most exciting artists working today. Start on the roof and get a cocktail from the impressive bar team at Fancy Free, who hail from famed Melbourne cocktail bar Black Pearl. Make your way down the levels and take in video works, underfoot murals, performance art and sculptural works.
Golden Square is in the heart of Chinatown – and there are few restaurants in the district with as long a pedigree as Supper Inn. The menu is long. As in really, really long, but among the best dishes are: the congee with chicken, flecked with ginger; whole steamed flounder; sizzling chilli quail; hot pot with pork; and the roasted suckling pig with the sweetest meat and skin like chewy, salty toffee. If you've dallied over your art-filled evening, never fear: Supper Inn is open until 2.30am, so take your time.
You were up late, so no need to jump up at the crack of dawn. Brunetti is a Melbourne institution – a triple-threat café, bar and restaurant where you could pass the whole day, going from meal to meal and then browsing the pastries and cakes in the interim hours. The décor harks back to 1950s and '60s Italy, with a dedicated gelato bar, a bunch of whirring coffee machines, a mini paninoteca serving sandwiches and deli eats, and a massive mural of a bustling Italian square by illustrator Filipe Jardim. Get yourself a coffee, a leisurely breakfast and read the paper or people-watch. Bliss.
If you haven't had enough of art by now, finish your coffee and get ready to take on Australia's oldest and most popular art museum, the National Gallery of Victoria (universally called the NGV). The permanent collection includes a Rembrandt, a Bonnard and a Tiepolo. The ground floor is where you'll usually find the gallery's major exhibitions, and it's also where you'll find the magnificent, boiled lolly-like stained glass ceiling in the Great Hall. Upstairs you've got the permanent collections, as well as the smaller visiting exhibitions. Visiting exhibitions usually cost money, but the permanent collection is free. Check out the NGV's shop, too, for some killer gifts to bring home.
The Australian Centre for the Moving Image (called ACMI, pronounced Ack-me) reopened after a massive facelift in early 2021 and now boasts a swanky new architect-designed space with new and improved exhibitions, facilities, artworks and displays as well as some of the most incredible, cutting-edge technologies we've ever seen in a Melbourne museum. Got a couple of hours to kill? Head to The Story of the Moving Image, where you can check out a collection of costumes, cameras, TikTok clips, contemporary art and everything in between. Or go straight to the extensive Disney: The Magic of Animation exhibition, featuring original artwork and exhibits spanning from 1928 to the present day.
Have a bit more time?
If you have a bit more time in Melbourne, head off to the Mornington Peninsula for an arty day trip, only an hour and a half from the city. Visit Pt Leo Estate's Sculpture Park, which includes a giant Kaws statue on its perfectly manicured lawns among many other sculptures. It's all set against a backdrop of the vineyard and the glittering blue waters of Western Port Bay.
A produce-led, fantastic restaurant, a fascinating sculpture garden and delightful wines crafted with care – Mornington Peninsula wineries don't get much better than Montalto. The winery is also famous for its yearly sculpture prize. New sculptures are installed in the winery's sculpture gardens every year, and visitors can wander through the art and enjoy each piece, cool-climate wine in hand.
If you want to stay the night, you literally cannot do better than Jackalope. The cutting-edge, ultra-luxe hotel is what you might expect to find in New York's uber-hip Meatpacking District, not set among rolling hills and gently swaying vines. The theme of the hotel is alchemy, the process of turning ordinary things into rare and precious things. The most famous examples are lead into gold and the creation of the elixir of life, but Jacklope turns an ordinary hotel experience into something special and extraordinary.
Just an hour on the other side of Melbourne is the world-famous Yarra Valley wine region.
Feeling arty? At TarraWarra Estate you'll find TarraWarra Museum of Art, the region's top gallery, which features Australian art from the second half of the 20th century. The gallery has an ever-changing program of temporary exhibitions, so you'll always find something new and thought-provoking.
If you're after something beyond just the standard Yarra Valley cool-climate gems of chardonnay and pinot noir, Helen and Joey Estate is worth a stop. There is a large cellar door and tasting room inside, but if the weather is good the best seats in the house are outside on the terrace, overlooking the vines and gently rolling hills. Its Wild Child range comprises boundary-pushing drops that defy categorisation. They are the result of experimentation and the winemaker's imagination, and they are bang on trend of funky, low-intervention, skin contact and interesting.
In the mood for sparkling? French behemoth Domaine Chandon is here, ready to provide top-notch sparkling wine in all hues, as well as a whizz-bang behind-the-scenes tour, complete with interactive digital displays and glimpses into the barrel rooms.
If you want to stay the night, drop into Balgownie Estate and Spa in Yarra Glen for a luxe experience. Accommodation ranges from a 29-square-metre standard queen room up to an 88-square-metre two-bedroom spa suite, which includes a circular spa bath in the middle of the room with views out over the vines.