The 20 best Japanese restaurants in America
Eat your way through flawless sushi, ramen and teppanyaki at the best Japanese restaurants in America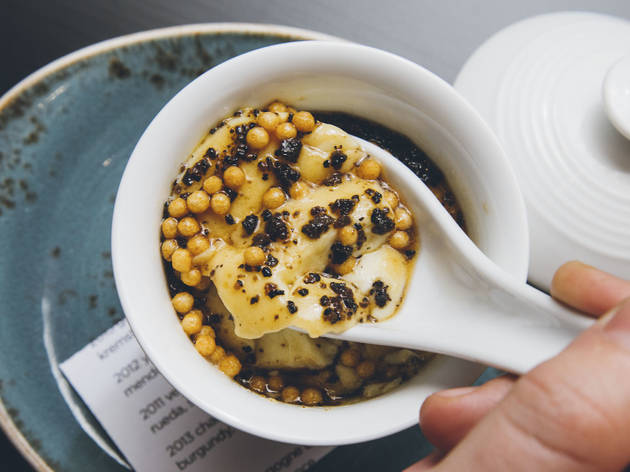 Japanese food seems to be available everywhere these days, at strip-mall restaurants offering lunchtime bento fixes and at trendy ramen joints in New York, Los Angeles, Chicago and Austin. (For our picks, check out our list of the best ramen restaurants in America.) On this list, we celebrate the very best Japanese food we've ever tasted: restaurants that serve incredibly fresh sushi and sashimi (for more, check our picks for the best sushi restaurants in America), often with innovative twists. They offer expertly crafted traditional dishes, as well as modern takes that fuse American techniques and flavors with ancient practices. And we love them a little extra if they serve great sake and Japanese craft beer. Join us in raising a glass (kanpai!) to the best Japanese restaurants in America.
Best Japanese restaurants in America
Osaka-born chef Tomohiro Naito started his career as a seafood buyer for a Japanese company, where he honed his eye for the world's best fish. As a sushi chef, he eventually rose to the rank of omakase chef at Nobu in Las Vegas, where he wowed diners with his creative tasting menus. Later, he moved to Atlanta and opened Tomo in an elegant space, with a commitment to serving the best ingredients possible. You'll find a few obscure offerings, including live scallops, on the nigiri and sashimi menu. The rest of the lineup is full of delicacies such as yellowtail collar, a particularly prized cut, and monkfish liver, sometimes called the foie gras of the sea.
The Boka group's (Boka, GT Fish & Oyster and others) foray into Japanese fare is a reminder that the cuisine goes far beyond sushi. The sushi is excellent, though cooked dishes from Mark Hellyar consistently amaze—the namesake momotaro tartare melds dehydrated tomato, a spicy hit of Dijon and onion puree into a slightly sweet, savory spread, while roasted king crab legs come to the table dripping in kosho butter. A whole cedar-roasted sea bream, spritzed with lemon and drizzled with shiso dressing, is a testament to how clean and fresh Hellyar's flavors are.
Remove your shoes and slide into a pair of slippers to enter Sakedokoro Makoto, a pint-size wood-paneled restaurant that's a favorite of Japanese embassy staffers. The emphasis here is on exquisite seafood, whether served as sushi, sashimi or creatively composed dishes. Lunch is a terrific bargain at $17-$18 for a bento box or sushi platter, while the omakase dinner runs $100-plus per person before drinks. And since "Sakedokoro" means "place of sake," you'll definitely want to order some to accompany your meal. Reservations required.
More bar than proper restaurant, dim, divey Tanuki nonetheless turns out a super affordable omakase menu of unexpected creations with nary a piece of sushi in sight—in fact, the motto, posted at the entrance, is "No Sushi. No Children." What you'll get instead is a choice of omakase (chef's choice dinner) ranging from $15 on up, a parade of dishes that might include trout melting into a seaweed butter sauce, kimchi mac-and-cheese, different seafoods including perhaps something pickled, possibly even duck hearts. It goes on and on, which is basically how a meal unfolds here, always with more food than seems possible for the price. Some people complain about the waits (long), the movies (Japanese porn) or the inflexibility of the set menu (sorry, no dietary restrictions), but if you can get beyond all of that, you're in for a terrific meal.
This sleek, dimly lit Center City gem has been a Philly favorite since it opened its doors as a freewheeling, BYOB spot in 2007. There's now a full bar, but the sushi counter's creative spirit remains evident in funky house rolls such as the Sea Breeze (tempura mussels with salmon, avocado and spicy mayo) and the Mr. French Kiss (shrimp, bacon and onion tempura with spicy crab stick). The pork katsu, a plate-sized cutlet pounded thin, breaded and deep-fried, is like the best Japanese wiener schnitzel you'll ever stick a fork into.
Don't expect to find sushi, ramen or any other familiar Japanese foods a this "Western-style Japanese pub." Fort St. George is dedicated to yoshoku, a Western-influenced style of Japanese food that originated in the late 19th century and gained particular popularity after World War II. There's spaghetti 10 ways, including with meat sauce and garlic mayonnaise or cod roe and kimchee; a meat sauce-topped hamburger steak; and a hearty beef curry with a choice of 14 toppings, including mozzarella and crispy fried cod. More distinctively Japanese is Doria, a rice casserole with tomato or white sauce and any number of fillings, including bacon-and-egg or eggplant-and-chicken. Since you'll definitely need a beverage or two for these savory salt bombs, wash them down with a speciality cocktail like the Bloody Samurai, a Bloody Mary perked up with wasabi.
You know how you can get into some places without a reservation? Otoko is not that place. This much-lauded Austin spot is strict about your participation in their multi-course omakase experience, with tickets purchased ahead of time granting you access to a mix of creative and challenging dishes from head chef Yoshi Okai. The meal might include tiny flash-fried crabs, sweet raw spot prawns or robust slices of seared hamachi. At $150 per ticket, this is one of the most expensive options in Austin, but Okai's whimsical, beautifully presented plates are well worth the price of admission.
Walking back through Intro to Naoki Sushi feels like navigating a secret passageway. Unlike its sister restaurant, Naoki offers a more laid-back atmosphere that still feels high-end—but maybe not so posh—and complements that with candid, savvy servers. Whether you're a sushi veteran or just starting to explore dishes beyond tuna rolls, the menu offers familiar items and interesting, original plates. Before diving into the sushi, the appetizers are a must, ranging from traditional to fun—like addictive tuna tacos made with crisp wonton shells and truffle chawanmushi, a truffled egg custard with a dashi broth. A melting salmon nigiri crowned with smoked soy and shallot is a great choice in the classic nigiri section.
19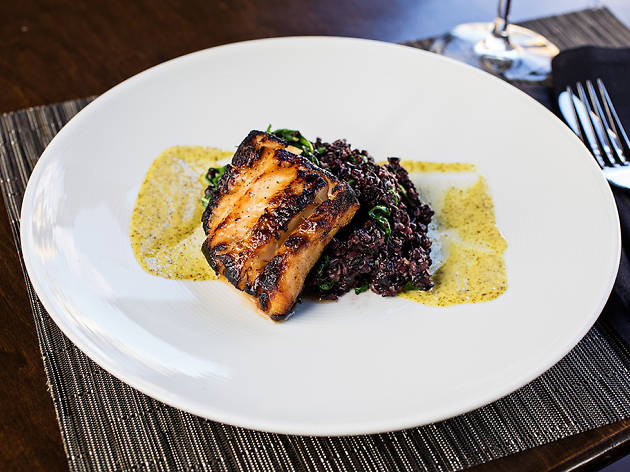 Photograph: Andrew Cebulka
In a classic Charleston space with exposed brick walls and high ceilings, O-Ku turns out exquisite sushi and other creative Asian fare. More than two dozen kinds of raw fish grace the nigiri and sashimi menu, while rolls and other dishes offer playful flavor combinations. The potato roll is stuffed with tempura shrimp, avocado and shoestring potatoes to delightfully crunchy effect, while the Green Eggs and Hamachi Hako dish features spicy tuna, asparagus and wasabi tobiko (the green eggs in question). We're not the only ones who love this place: Forbes included it on its 2016 list of the best restaurants in America, while others have called it one of the best sushi restaurants in the U.S. Don't miss the excellent menu of sake, cocktails and wine, either.
Scoring a reservation at Zuma is a small victory worth working for. The London transplant's acclaimed Japanese izakaya, an increasingly popular style of informal dining, is anything but casual (see: no shorts or beachwear allowed). The riverfront restaurant is filled—day and night—with stunning people who know they're as much a part of the show as the orchestrated action in the spacious open kitchen. Expect a massive selection of modern Japanese bites, from sea bass sashimi with yuzu, salmon roe and truffle oil to tiger prawn tempura. Zuma also has one of the best brunches in town. It's a baikingu (buffet) set-up, meaning you have access to a generous spread of the menu's most talked about items. Short on time during the workday? Opt for the set lunch that aims to serve guests in less than one hour.
See the best Japanese restaurants in American cities