101 things to do in New York: Your essential guide to Gotham
Discover what every local needs to tick off their NYC checklist in our roundup of the coolest and most quintessential things to do in New York.
By Time Out editors Fri Jan 25 2013
101 best things to do in New York City
41. Smell the roses at Central Park's Conservatory Garden
The skinfest in the Sheep Meadow isn't the only thing worth eyeballing in Central Park come spring. The Conservatory Garden is a flowering paradise, with some varietals like the Lenten rose blooming as early as mid-March. For an extensive tour, download the Central Park Conservancy's Bloom Guide from its website and rent a bike from Bike & Roll.
42

Elbow your way through a sample sale
New Yorkers can turn almost anything into a competition, especially when there's a bargain to be had. Find designer duds on the cheap at the city's myriad sample sales. Many brands hold their own events and advertise them on their websites, while others rely on generalist companies like Clothingline (clothingline.com) and 260 Sample Sale (260samplesale.com), both of which have mailing lists to keep you abreast of their calendars. The best sales organize garments by gender, type (pants, dresses, jackets, etc.) and size, but be prepared to dig through boxes and fight for truly righteous deals.
43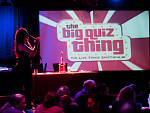 Show off your smarts at a trivia night
Remember what we said before about New Yorkers loving a good competition? The dozens of quiz events at venues around the city draw legions of smarties looking to demonstrate their prowess on myriad topics. Several bars like   Dempsey's Pub dedicate a specific evening each week and offer tabs or free rounds as prizes. There are also a few companies, such as TrivWorks and Time Out copy chief (a.k.a. almighty knower of all things) Noah Tarnow's Big Quiz Thing, that host events on a regular basis.
Take advantage of New York's enviable views by getting an aboveground buzz. Among Manhattan's wealth of hotel toppers, we recommend Upstairs, on the 31st floor of the Kimberly, which has a retractable glass roof. The urbane setting, with ivy-covered walls and nary a cabana in sight, is best experienced at night, when the canopy of lightbulbs strung above the terrace sets off the sight of the Chrysler Building. For more great vistas, check out our guide to rooftop bars in New York.
Upstairs, 145 E 50th St, (between Lexington and Third Aves)
More info
Price band: 1/4
Critics choice
There are certain old-timey treats that we'll never get sick of, and this is one of 'em. Many places throughout the boroughs claim to make the city's best version, but we're partial to the ones at Brooklyn Farmacy & Soda Fountain. Both the traditional chocolate (yes, it's made with U-Bet syrup) or the vanilla will run you a meager $2.50, and the fancier flavors (maple, coffee and butter beer) only cost only a dollar or two more.
Brooklyn Farmacy & Soda Fountain, 513 Henry St, (at Sackett St)
More info
46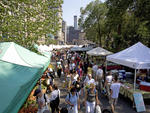 Hit the Union Square Greenmarket
At this outdoor produce mart, you'll find yourself shopping elbow to elbow with top chefs, perusing regionally grown culinary pleasures from more than 140 different producers each week. You'll want to keep coming back until you've sampled them all.
Union Square between 16th and 17th Sts
Mon, Wed, Fri, Sat 8am–6pm
47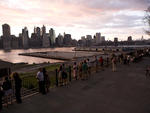 Spend an afternoon relaxing on the Brooklyn Heights Promenade
It's easy to forget that you're standing atop the hectic Brooklyn-Queens Expressway while strolling along this esplanade, which opened in 1950. But the thoroughfare is inextricably linked to the Promenade's existence: Community opposition to the BQE—originally intended to cut through Brooklyn Heights—led city planner Robert Moses to reroute the highway along the waterfront. He also proposed building a park atop the road to block noise. Stroll, run or make out along its third-of-a-mile length, pausing to appreciate postcard-ready views of lower Manhattan, the Brooklyn Bridge and the Statue of Liberty; then check out some of the 19th-century row houses down Brooklyn Heights' tree-lined side streets, or head down to Brooklyn Bridge Park.
48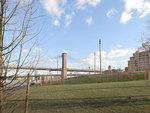 ...or in Brooklyn Bridge Park
Pier 1, BBP's largest pier (9.5 acres) and most happening stretch, boasts two lawns, one waterfront promenade and multiple tree-lined walkways, creating a green retreat right along the East River. For an elevated view across the water, climb the Granite Prospect, a set of stairs fashioned out of more than 300 pieces of granite salvaged from the scrapped Roosevelt Island Bridge project. brooklynbridgepark.org
Columbia Heights between Montague and Middaugh St, Brooklyn Heights
Price band: 1/4
Critics choice
On Fridays, seven of the theater's best players (including TONY's resident hack Silvija Ozols) create smart, patient improv in the comedy mecca's flagship show the Stepfathers (9pm; $10). And come Sunday night, NYC's long-form improv royalty play pickup-game style iduring ASSSSCAT 3000. There's no telling who will make an appearance on a given night, but the likes of Amy Poehler and Rachel Dratch have been known to pop in. If you want to check it out for free, line up outside the theater (early!) for the 9:30pm show; tickets are distributed at 8:15pm. Play-it-safers can buy advance tickets for the 7:30pm show for $10. 212-366-9176, ucbtheatre.com
50
Shop (and snack) at the Hester Street Fair
This pretty, tree-lined Lower East Side market packs in shoppers every weekend with a killer combination of stylish vintage wares—retro jewelry, antique decor, old-fashioned hats—and one of the best collections of food vendors in Manhattan. Delicious stalls have included Williamsburg darling Pies 'n' Thighs, artisanal ice-cream parlor Ample Hills Creamery and boozy cupcakery Prohibition Bakery. hesterstreetfair.com
Hester St at Essex St
Sat, Sun 10am-6pm; Apr–Oct
---
Users say
I love your 101 things to do in ny city, you are missing a couple of good ones like, Chelsea market, eataly at 23rd and 5th ave, go for a bike ride , run in the Hudson River park , Central Park , Kite fly ad the Hudson River park, Sunset under the Brooklyn bridge, cup cakes at magnolias bakery etc, etc.
This is great!! I've used loads, I also found a little gem called The Moth! They host weekly events around the city. If you go on their website. I'm new to the city and met lots of people there. Had a very fun night!!
Events calendar for New York City
Halloween junkies can get their spooky fix in this...

If the usual Halloween rank and file (zombies, vam...

The Village Halloween Parade is fun and all, but d...
424

more events »