The best restaurants and cafes in Thonglor
We count down the best places to eat in Thonglor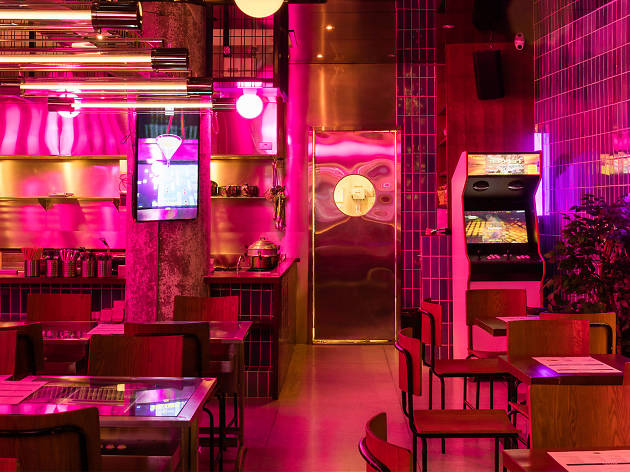 Sushi, tapas or som tum – Thonglor is utopia for the gastrophile offering a myriad of dining venues from cozy cafes to high-end restaurants to open-all-night street stalls. Stop by Nirai-Kanai for authentic Okinawan cuisine or try homestyle Thai recipes at Khua Kling Pak Sod. For dessert, The Blooming Gallery is a paradise of delightful cheesecake.
The best restaurants and cafes in Thonglor
In a city where Colonel Sander's fast-food chain and Korean hot spot Bon Chon have long established dominion over the realm of fried chicken, Chirayu Na Ranong, the man behind brunch establishment Chu, looks to introduce spice-loving locals to the aggressively fiery flavors of America's deep south.
Jess Barnes, the chef who transformed the city's food scene by introducing unconventional comfort food at Opposite Mess Hall, is collaborating with thefolks behind River City's riverside gastropub Viva & Aviv on an all-day breakfast joint that offers dishes brimming with Barnes' signature twists.
Located a few steps away from Rabbit Hole, Canvas is a dimly lit, two-story den handsomely dressed in dark wood. The open kitchen on the first floor, where a team of chefs diligently put together some of Thonglor's most inspired bites, is surrounded by an elegant bronze bar counter decked out with table lamps.
Starting out as humble food truck, Pizza Massilia transformed into a standalone pizzeria along Ruam Rudee last year, further captivating the city's pizza lovers. Now, the Italian eatery ups the ante by opening a new branch on Soi Sukhumvit 49.
Among many Japanese restaurants in Bangkok, Nirai Kanai is unique for its Okinawa style that brings the beach atmosphere from the southern islands of Japan to our Bangkok city as if you can feel sea breeze just when you enter the restaurant.
Now, thanks to a group of Thai business moguls, including Kamolsut Dabbaransi and Chalermchai Mahagaitsiri, Bangkok can enjoy the deluxe truffle experience at the first La Maison de la Truffe in Asia.
Having tempted plara (fermented fish) and chili-loving taste bud in Saladaeng as well as some international mega cities, Somtum Der recently opens the door to the second domestic branch in the heart of bustling Thonglor.
Starting out as a delivery service, the specialty-food purveyor has opened a standalone restaurant in Thonglor, becoming the only establishment in the area that's dedicated to Lanna cuisine.
The family-run Khua Kling + Pak Sod offers traditional southern Thai home cooking in a pleasant ambience.
This café in a hidden corner at The Ei8ht Thonglor mall sets to become the neighborhood's new hideaway.
Groans were heard all around when everyone's favorite Roots Coffee Bar at Ekkamai closed down at the end of last year. Jubilation ensued when fans realized that the coffee purveyor was relocating to The Commons, the newest feel-like-home community mall located on Thonglor Soi 17. Hoping to be that backyard hang-out where everyone comes to chill on their free time, Roots serves coffee at its very best. Their cold brew attracts coffees lovers across the neighborhood, even more now that Roots offers it fresh from the tap. Another gimmick that attracts brewed-bean fanatics is the Barista's Choice, which includes winning drinks from a barista competition in the menu for a limited amount of time. They now have Cherry Cola and Summer Peach cold brews on the grind – both are perfect for beating the heat. The owners also own popular eatery Roast, located on the top floor of The Commons. If you have a chance to stop by, don't forget to try their famous strawberry waffles! Roast also opened two new outlets within the city: one at EmQuartier, and a grab-and-go kiosk called Daily Roast at Bhiraj Tower (the office building behind EmQuartier).
Four years after launching their brand, the brains behind loose-leaf tea specialist TE, Nanthida Ratanakul and Nattakit Udomsrirat, have opened their first brick-and-mortar tea café called TE Time and Space.