Catalan restaurants with Michelin stars
These 54 restaurants in Catalonia have been awarded with one or more prestigious Michelin stars as of autumn 2016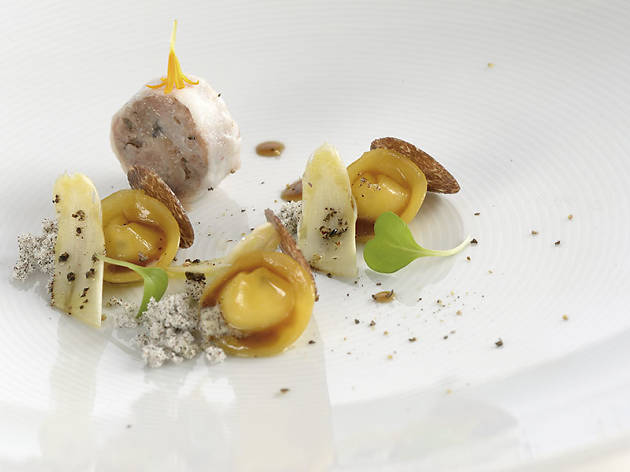 Year after year Catalonia shows it can swing with the big boys in the restaurant world, and what better way to prove it than with the prestigous Michelin award. From sea to mountain, with traditional and signature cuisine, Catalonia boasts 54 restaurants in 2016 with one or more of the coveted stars. These are spots that will always leave your taste buds dancing, but remember you may have to book well in advance, and don't forget to bring a credit card (or two).
Restaurants with three stars
Restaurants with two stars
Llançà
How symbolic it is that where the sea and mountains meet, Paco Pérez has his first restaurant, the most emblematic of them all, which saw him rise to international fame and earn two Michelin stars. Miramar went from being a hostal at the Llançà port to one of the restaurants at the forefront of Spanish gastronomy. The long menu is a seafood delirium of imagination and flavour, which employs top produce and astral reinvention of seafood cooking.
Read more
Barcelona
Chef Paco Pérez earned two Michelin stars for Enoteca – no longer is it just another restaurant in the Hotel Arts, but a heavyweight in Barcelona in its own right. Pérez also saw his Miramar restaurant in the Catalan city of Llançà get its second Michelin star. Few chefs can translate the flavour of the sea into haute cuisine the way he does, and his art speaks to the imagination and recalls the swell of the sea. The heights Enoteca's espardenyes (Mediterranean sea cucumbers) have hit make them deserving of their own chapter in Catalan avant-garde cuisine, and their rice dishes will satisfy the biggest food snobs and the Catalan cooking fundamentalists alike. Surrendering to their fragrant rice with lobster is the best way to pay tribute.
Read more
Barcelona
Raül Balam, son of Carme Ruscalleda, has earned his second Michelin star with this leading hotel restaurant. Like the original in Sant Pau, the concept is impeccable, innovative – but very Catalan – cuisine, with dishes such as the veal 'fricandó' (beef fillet with mushrooms) with Scotch bonnet mushrooms and the Maresme shrimp with glazed tomato petals, a vegetable medley and toasted pine nuts.
Read more
Barcelona
With El Bulli closed, what its former chefs Oriol Castro, Eduard Xatruch and Mateu Casañas offer in Distrutar is pure techno-emotional cooking that's a reminder of the mothership. The dishes are incredibly imaginative and made with tremendous precision, such as, for example, the already famous macaroni à la carbonara made with ham jelly. Here you'll find an explosion of the senses carried out with the perfect speed.
Read more
Barcelona
This restaurant offers high-level cuisine, produced by the twins Javier and Sergio Torres, on the top floor of the hotel Melià Barcelona Sky. Very original cuisine with flavours from distant countries, including dishes like cream of Amazonian roots with sagu caviar. And they've got two very well-deserved Michelin stars to their name.
Read more
Restaurants with one star