The 50 best restaurants in Barcelona: Asian cuisine
Our pick of the 15 best restaurants in Barcelona to sample delights from around the Asian continent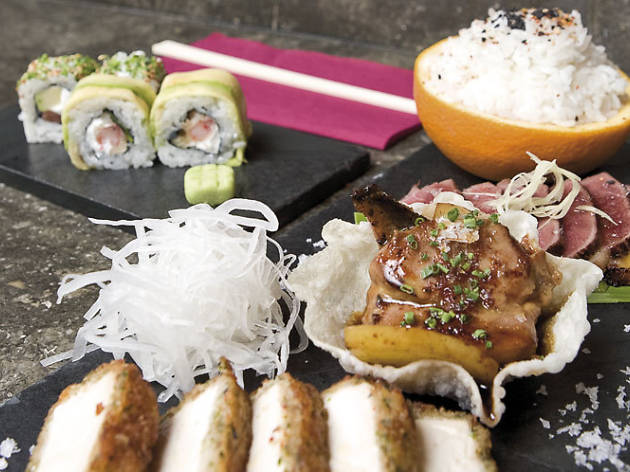 From Thailand to Japan, Indonesia to India, these are our 15 top favourite spots where you can sample delights from the Asian continent right here in Barcelona.
The best restaurants in Barcelona for Asian cuisine
A frenzy of Asia-inspired tapas, in which Ly Leap shows off his expertise with spices, citrus and aromatic herbs. This place is crazy: 1,000m2 of jungle, where the tables are tiny islands suspended above water, with fish in and everything.
Read more
This is Shunka's twin brother, and is a more sophisticated version; the menu is so extensive that you need to order at least eight dishes to get an idea of all the wonderful things they do here with sushi.
Read more
The popular Asian dumpling you might know as 'dim sum' has a different name nearly everywhere you go: 'gyoza', 'momo', 'siomay'... Josep Maria Kao approaches his dim sum from the perspective of haute cuisine. The idea is to offer ambitious cuisine at reasonable prices, and there are some spectacular results, such as the fried rooster crest with beef, courgette and ginger. Kao doesn't just make dim sum: you can also try dishes with Chinese and Catalan touches, such as the rib roast with sweet-and-sour sauce or the green beans sautéed with bacon and Maresme peas.
Read more
The kitchen at at Ramen-Ya Hiro is like a steam train, with its perpetual triple boiling going on. The other side of the bar boils with customers slurping up broths that have spent ten hours on low heat overnight. Hiroki specifies that they only make three varieties of ramen because they want to specialize in quality and speed. The menu features the classic ramen recipes: soy, miso and seafood. The home-made noodles are a marvel: you can put them on your plate and swirl them around your chopsticks tightly until the broth escapes and they're still perfectly elastic.
Read more
Yashima is a traditional luxury restaurant where you sit at low tables as if you were in Japan. They've also got a coveted 'teppan' (grill) that diners sit around, while the chef offers you whatever he's just cooked. It's not cheap here, but the quality of the food and service make it worth the expense. Eating at Yashima is a real experience.
Read more
This is the more gourmet and more intimate sister restaurant of Nomo. Here you'll find top-notch Japanese cuisine that's not afraid to give a nod to Catalan cooking, such as the brie or foie nigiris. They're also not afraid to innovate: try the warm flambéed salmon nigiris or their impressive crab in tempura with Padrón peppers, and you'll be won over.
Read more
Bangkok Café is a small space on whose walls the different types of curries are written – yellow, green and red curry, panang, massamang – showing off a cuisine that is sandwiched between the Japanese and Chinese culinary empires that reign supreme in Barcelona. Definitely get to this top Thai restaurant, but just be sure you're ready if you order spicy.
Read more
For some time now, Chen Ji has been known as the Chinese-Chinese of Barcelona – that is, an authentic restaurant without the usual ornaments such as red balls, dragons or illuminated panels with waterfalls. It's the most normal place you could imagine, all very simple and practical. They have long opening hours. From 9am to well past midnight you can stop off for a bowl of noodles or soup, or try the self-service menu for about €5. What's that? You've never had steamed dumplings for breakfast? What are you waiting for?
Read more
Mosquito is the height of exoticism. They prepare excellent Cantonese cuisine, especially the lovely Chinese dumplings known as dim sum. Owner Giles is an Englishman who, after travelling round Asia for years, decided to open a Chinese restaurant in Barcelona, while avoiding clichés. To make it even more different from the norm, he's got four taps of exquisite English beers and an offer of more than 70 brands of bottled craft beer from Catalonia and around the world. If you're in the mood for a certain type of beer, just ask. Giles seems to have written the encyclopaedia on the stuff.
Read more
The three friends and owners of top house of ramen Koku Kitchen, Mark, Ross and Bobby, have taken their next logical step with the opening of Koku Kitchen Buns, Gyoza and Ramen which specialises in these three Asian dishes that give the place its long name. Together but separate, upstairs you get the Asian sandwich upstairs, and the dumplings and ramen downstairs. They've got five different types of filling to stuff into the light, steamed bread rolls along with a sauce and fresh garnishes that are slightly different for each filling. In addition to a variety of rice dishes called 'dons' (the vegetarian donburi is phenomenal). Downstairs you'll find five types of gyoza and eight varieties of ramen. The texture of the gyoza wrapping as well as the flavours inside disarm you at the first bite; the edamame one with a hint of spicy ginger, or the duck with orange are two they must never take off the menu.
Read more
A place that is much more than a mere Asian tapas restaurant. Its cuisine is mainly based on Japanese cuisine, with Latin touches, so you get dishes such as white fish ceviche rubbing shoulders with Japanese eel.
Book now
Read more
Jordi Aros, co-owner along with Kuldeep Singh of Masala73, which opened in Barcelona in mid-2017, says that 'between the trends of Peruvian and Mexican food here, it seems the Catalan palate is changing'. The essence of Masala73 is 'to use the Kuldeep family's recipes and modify them, using local and updated techniques and products', says Aros. And the truth is that what they do they do well: the short menu at Masala73 features four excellent curries (green vegetables, aubergine, chicken tikka masala, and an especially tender lamb, with meatballs from Ternasco DO). The spirit of the contemporary food truck – new recipes crossed with street food – will take them far: the 'Bomba Mumbai', for example, looks like a meat-and-potato 'bomba' you'd pick up in a Barceloneta bar, but it's made with veg and chickpeas and features a potent curry mayonnaise. Bravo!
Read more
As a tribute to this spot that's so different from others of its ilk, so contrary to many that dare to call themselves Asian restaurants, this review will be like an inverted pyramid, and we'll start at the end. The desserts are simple and not ostentatious, but home-made and very good. The wine list reveals an interest in satisfying customers who want to eat and drink well. The tuna tartare is cut and prepared magnificently. The 'suke' salmon was the big surprise for its quality and taste. The 'nem' are carefully prepared with rice paper, prawns or crab, carrots, onions, soy beans, coriander, lettuce and thought, served chilled with sweet-and-sour sauce. So now we're up to the starters. The miso soup isn't just your garden variety but with well-selected seaweed and delicate, high-quality tofu. The 'gyoza' dumplings also put Momos apart from the rest.
Read more
Atsushi Takata is a sushi master who may look young, but who has loads of experience, having worked at Icho, Tempura-Ya and Yashima. 'We don't decorate our food or overload it with sauces,' he says. Instead, they serve phenomenal sushi, and at just the right price: as of early 2018 the set lunch menu for €19.50 gets you seven perfectly cut nigiris and four makis, with a miso soup starter and a warm Catalan speciality. At night you can opt for a Catalan-Japanese recipe of xató temaki, or Ral d'Avinyó pork ribs. La Cuina de l'Uribou opened in 2011, and it's held its place steadily among the best Japanese restaurants in Barcelona.
Read more