The best fine dining restaurants in Boston
Where to go when you feel like dressing up to enjoy delicious food and exceptional service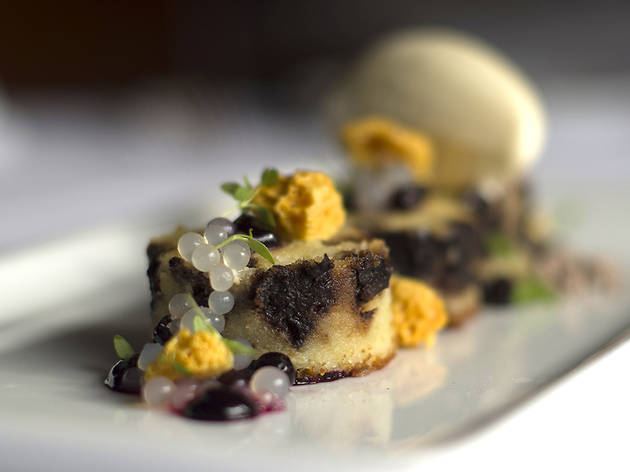 Boston has plenty of places to dine—both high-end and casual—when you want a great meal. But when you want something extra special, Boston's fine dining restaurants offer the kind of atmosphere, service, and fare that take eating out to the next level. Bust out your fanciest duds and make a reservation to celebrate at one of Boston's best fine dining restaurants. Other memorable dining experiences can be had at the best steakhouses in Boston, the most romantic restaurants in Boston, and even some of the best new restaurants in Boston.
RECOMMENDED: Full guide to the best restaurants in Boston
Fine dining restaurants we love so much that we welcomed them into Time Out Market
Restaurants, Contemporary American
Local "snout-to-tail" pioneer Tony Maws remains at the top of his game at his flagship operation. The chef-proprietor uses the best local and organic ingredients for his culinary creations. Locals and culinary tourists fill the dining room, where only a four course prix-fixe menu is served. At Time Out Market Boston, Craigie Burger offers variations of the highly-prized Craigie on Main burger experience, without the wait or risk of a sell-out.
The dining experience at o ya is luxurious from start to finish. The grand omakase menu incorporates a breathtaking assortment of artfully composed plates prepared by James Beard Award-winning chef Tim Cushman. Sake sommelier Nancy Cushman pairs each dish with selections from a world-class sake list. o ya is one of the most expensive restaurants in town, but scores of critics agree it's entirely worth it. For a wallet-friendly, gourmet bite, head the Cushmans operate a pair of kitchens at Time Out Market Boston: gogo ya and Ms. Clucks Deluxe Chicken & Dumplings.
Restaurants, American creative
Chef Peter Ungár's culinary talents bring foodies out to a hidden corner of Somerville. Ungár worked in the kitchen of the late, lauded Aujourd'hui, as well as in Paris, and is unafraid to push the envelope across all courses of his tasting menus. Creative dishes are prepped in front of the 20-seat counter, thus the "dining as theater" aspect of the experience. For a less formal, fine dining-caliber experience, head to Tasting Counter at Time Out Market Boston.
Best fine dining restaurants in Boston