It's about time you know about these secret Boston spots
From an underground art mecca to a hard-to-find distillery, these are Boston's best hidden gems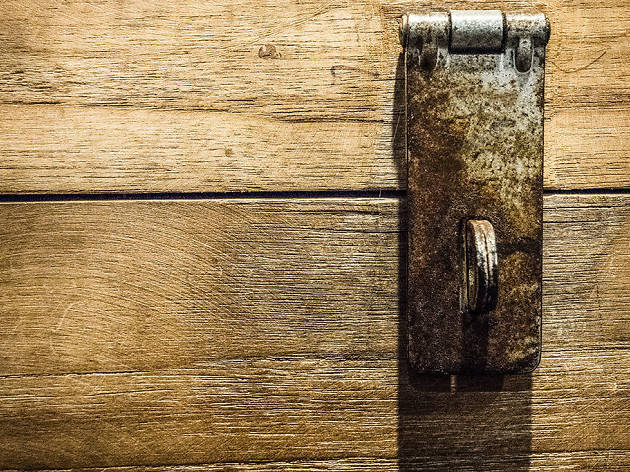 You've checked off all the essential things to do in Boston, been to the best bars and best brunches in town, and treated your paramour to the city's best date ideas. What next? It's time to discover the undiscovered. We've sleuthed out all the under-the-radar gems and offbeat curiosities that'll make you feel like an in-the-know Bostonian and bring you the best secret Boston spots.
Best secret Boston spots
The Underground at Ink Block is the city's latest triumphant effort to repurpose a forgotten space, this one tucked underneath a knotty snarl of South End/South Boston overpasses. The eight-acre park includes bike paths, boardwalks, a dog park and more than 150,000 square feet of mural work by artists from Boston, Los Angeles, New York and Puerto Rico. There is no better excuse to check it out than the Wednesday night bootcamps. Okay, fine, the pop-up bar is pretty convincing as well.
https://www.yelp.com/biz_photos/cambridge-center-roof-garden-cambridge?select=ywrBJuV6vNspt6BhmUwk6w
Mary Lennox would be proud. Atop a multi-story parking garage in Cambridge's Kendall Square sits a clandestine strolling garden beautifully besieged by tulips, trees and rose bushes. Though not as undiscovered as it was a few years back—there's actual signage now, and a ping-pong table, too—the garden remains the perfect spot for a restorative midday lunch for one.
A steakhouse speakeasy? Such a magical thing does exist, tucked inside a back room inside cocktail bar JM Curley. Only the tiniest of signs points you to the doorway in back, but beyond is a lilliputian chophouse doling out classics: caviar tray service, a wedge salad and surprisingly affordable steak cuts, adorned with the likes of bone marrow and foie gras butter. Equal love is given to the sides (sauteed spinach, bone marrow) as well as classic cocktails like the French 75 and the Ward Eight.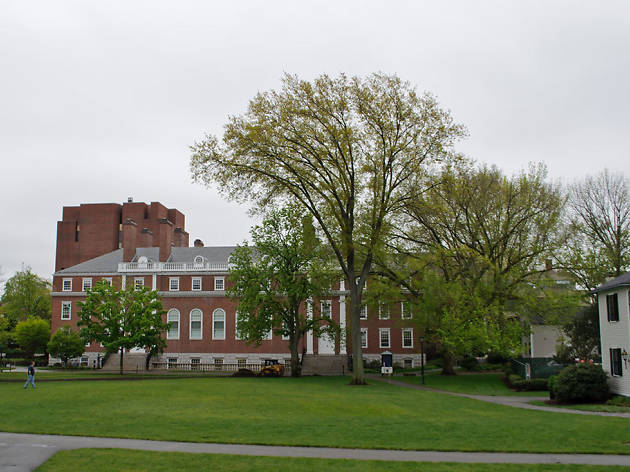 For the home chef, entering the Radcliffe College's Schlesinger Library is like stumbling upon a thousand kitchen secrets. About one-fifth of the library's collection is culinary related: ancient cookbooks, historical food journals and amusing commercial food pamphlets. Among the rare finds are the very first cookbook written by a woman, back in 1679, and Julia Child's private papers.
At first glance, it looks like any other convenience store, the window lined with faded bleach bottles and paper towels. Something's odd though—it might be the too-stylish kid behind the counter or the fact that the bottles of detergent look more like decor than retail items. So step in front of the faux Snapple vending machine to activate the hidden sliding door and reveal the secret store within a store. Inside is the ultra-modern interior of Boston's flyest sneaker shop—carrying rare kicks from Nike Tier Zero and Adidas Consortium—as well as deluxe streetwear and books on art and design.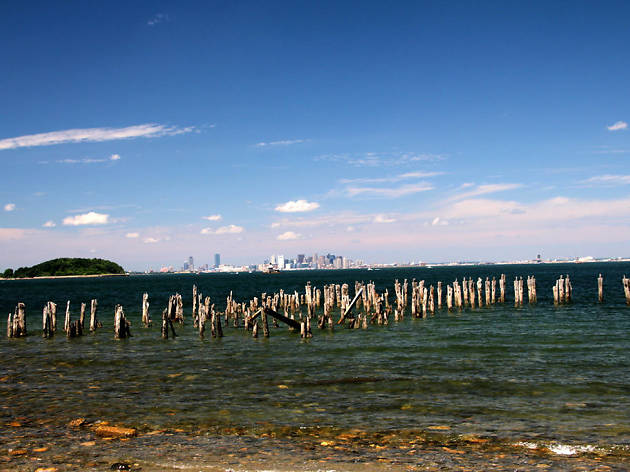 Photograph: Courtesy CC/Flickr/Bill Ilott
Pitch a tent inside the city limits: Long Wharf North
Urban camping on an in-city archipelago? It's a little-known but singular Boston attraction. Four of the Boston Harbor Islands (Bumpkin, Grape, Lovells, and Peddocks) allow overnight stays during the summer months; you're just a short ferry ride away from roasting marshmallows as the sun sets behind the city skyline. All of the islands offer grills, picnic tables, hiking trails and at least one group camping site; Lovells has a private swimming beach, and Peddocks even has six yurts for glamping types. Just reserve early, because these spots book up quicker than Cape rentals.
Shopping, Sports gear & clothing
City-dwelling golfers usually drive miles to hit the links, but they're the foolish ones. The William J. Devine Course is an 18-hole course located smack dab in the middle of Franklin Park—and is also the second oldest public course in the country (Van Cortlandt Park in the Bronx holds the number-one spot). The par-70 acre course features well-maintained greens, picturesque ponds, pretension-free staff members and a clubhouse complete with restaurant, bar and outdoor seating (keep an eye out for the grill sometimes set up at the end of the 6th hole).
In and of itself, Wink & Nod is a defacto speakeasy, a subterranean South End "scratch bar" (i.e. cordials and infusions made from scratch) that remains a bit of a hidden gem. But the cocktail bar also plays host to a "culinary incubator program," through which six-month capsule restaurants serving all manner of global cuisine from the city's emerging chefs. Enjoy a meal from the tenant of the moment and you'll likely know the name of the next big thing before most avowed foodies.
There are lots of observation decks in the city—Prudential, the Hancock—and they all cost a fair bit of money. All except one. Right on the Harbor Walkway is the Observation Deck at Independence Wharf, a semi-hidden, 14th-floor deck that grants you terrific views of the harbor and the surrounding buildings. Bring your binoculars and your ID (you can't go up without it), and get ready to check out the Harbor Islands and watch planes land at Logan Airport.
For those who favor five-star hotel spas: gird your loins. Dillons Russian Steambath, a 120-something-year-old Chelsea treasure, lets you dip a toe in the grand Russian tradition of schvitzing. For $23, you'll sweat out the toxins in the wet sauna and steam bath; an extra 13 bucks earn you the privilege of a thorough branch beating—aka the platza massage. Oh, and ladies? You're only allowed to come on Mondays from 4-9pm, September through May.
Show more