15 reasons to visit Time Out Market Boston
Boston finally has the curated, modern food hall it deserves. There are plenty of reasons to check it out.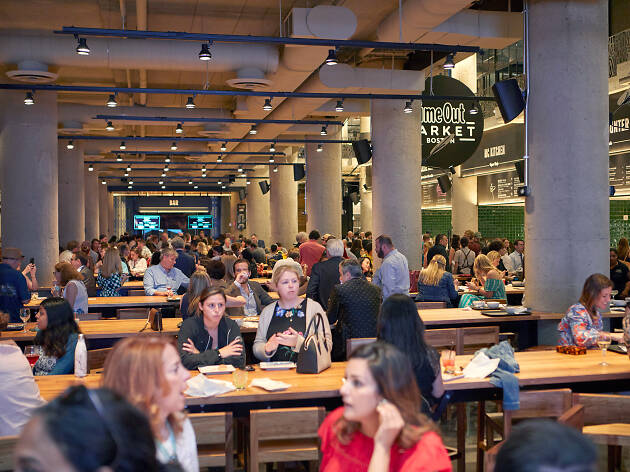 There's no need to settle for a mediocre meal when you can visit one of Boston's best food halls. If you're looking for the best of the best, look no further than Time Out Market Boston. Here we have assembled a best-in-the-city roster of standout chefs and leading restaurateurs. Curate your own foodie feast and choose whatever strikes your fancy, or seek out creative bites from some of the city's most acclaimed chefs. And when you're through, stick around and enjoy the coolest things to do in the Fenway.
RECOMMENDED: Full guide to the best restaurants in Boston
15 reasons to visit Time Out Market Boston
1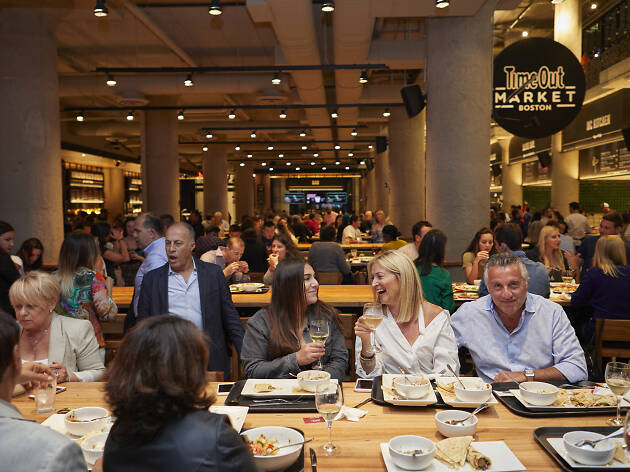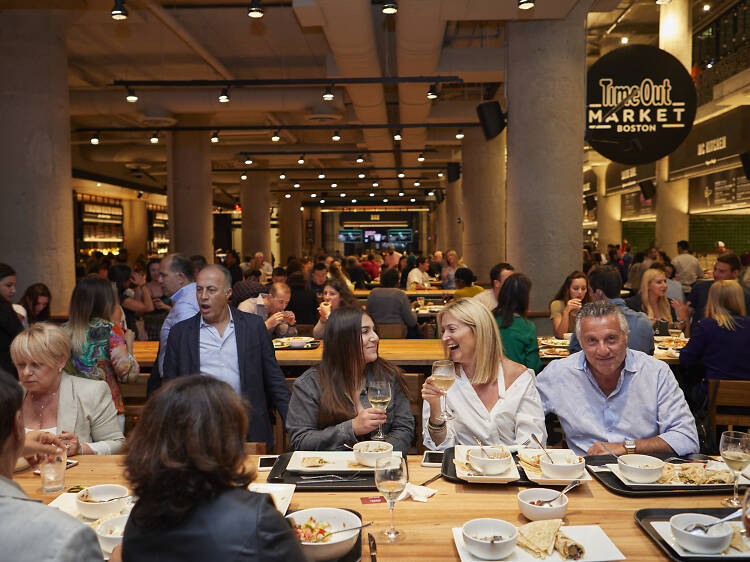 Photograph: Eva Sakellarides
A hallowed space for damn fine food
Our street-level home inside 401 Park Drive is a whopping 25,200 square feet of sheer dining pleasure. Inside this building—designed with Art Moderne and Art Deco motifs by architect George C. Nimmons back in the Roaring Twenties—you'll find a sleek and airy space lined with tall, iron-framed windows and stark concrete columns that both open it up and make it feel secluded; that means it's just as great for dining alone as it is a space for sharing a table with good company. And hey, if you'd rather feel some rays on your face, there's a beautiful patio outside bordered by some lush greenery.
You probably know Tim and Nancy Cushman—he's a James Beard Award-winning chef, she's a certified Advanced Sake Professional—for their nationally-recognized o ya and Fenway hot spot Hojoko. The Cushmans and Hojoko chef de cuisine Rob Wong bring two newbies to Time Out Market: At gogo ya, there are hefty torched-sashimi bento bowls and crispy nori tacos stuffed with delish fillings such as crispy maitake mushrooms, grilled lobster and spicy hamachi with truffled black-pepper butter. Then there's Ms. Clucks Deluxe Chicken & Dumplings, where fowl-centered dishes like chicken and foie gras spring rolls, egg crêpe wraps with sweet-and-spicy chicken, and some of the best damn fried chicken sandwiches in town take centerstage.
At his nationally-recognized Craigie on Main, Tony Maws created a culinary firestorm with his signature burger. Only 18 are available nightly, leading to pre-opening lines. At Time Out Market Boston, the first and only Craigie Burger gives customers easy access to what might be the city's best. Local, seasonal and organic ingredients make up the "OG" Craigie Burger (Northeast Family Farms beef, sharp cheddar, Craigie ketchup), and Maws presents new variations topped with kimchi Russian dressing and swiss cheese or burnt bread steak sauce and charred umami onions.
In a town with no shortage of fish-focused eateries, Kathy Sidell's Saltie Girl manages to stand out. At Time Out Market Boston, chef Kyle McClelland satisfies locals and visitors alike with warm buttered lobster rolls and cups of rich, pork belly-kissed clam chowder. Looking for a quick foodie bite on the go? Try the octopus empanadas or an uni arancini. The Saltie team constantly meets with local fishermen and purveyors to ensure they are offering the freshest seafood available, which explains why their fish and chips is always on point.
With his Tasting Counter, chef Peter Ungár takes his "0 percent carbon, 50 percent local, 100 percent natural" ethos to the Fenway, all while exhibiting the same culinary genius that has lured droves of hungry foodies to his original Tasting Counter in Somerville, where prepaid dining "tickets" are required. At Time Out Market, the French-trained master serves meticulously handcrafted dishes such as grapefruit-cured ocean trout and rice-smoked duck breast with garlic-braised greens, yuzu kosho and fermented black-bean vinaigrette. Best of all, no tickets are needed here.
6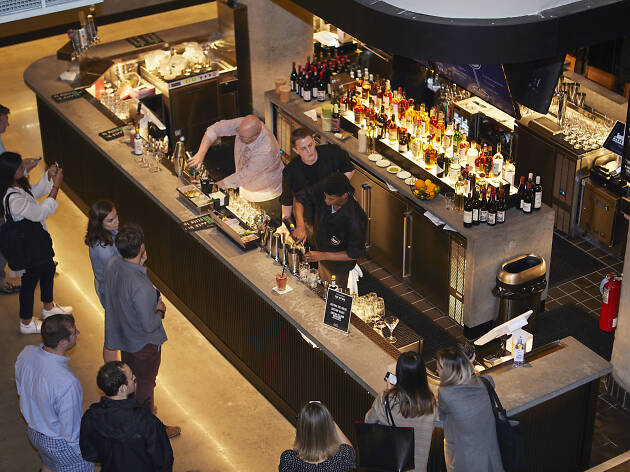 Photograph: Eva Sakellarides
We've got the tipples that are right for you at the Time Out Market Bar, from craft cocktails to the best local beers. We're talking about mixing things up with drinks like our signature marg, the Watermelon Wonderful, made with earthy Tequila Arette Blanco, agave, triple sec, lime and watermelon juice; Bushido's Way of the Warrior—the world's first Japanese sake on tap—with notes of tart raspberry and watermelon rind; the monk-brewed Spencer Ale, an unfiltered and unpasteurized brew made by the brothers of St. Joseph's Abbey in Central Mass; or washing down your prime eats with the low ABV of a Wild Blueberry Kombucha that's concocted from organic Maine blueberries. Cheers, Boston—here's mud in your eye.
Need a morning jolt? Coffee pioneer and local darling George Howell Coffee is known for delivering a tight caffeine game with their signature batch-brewed, single-farm coffees. Whatever you drink from their menu here, it does the trick, from pour-overs to seasonal coffee-based mocktails featuring handpicked micro-lot and single-origin beans. Don't forget to couple your buzz with some pastries and desserts—think Breton Kouign-amanns and finger-licking sticky buns—from bakeries Seven Stars and Praliné.
8
Photograph: Courtesy Mobile Cooks
Eat well and feel well with vegan and veggie options
Time Out Market's got its fair share of luxuriant, protein-heavy eats, but not everything you eat here has to have a face. Get your organic and plant-based kicks by sidling up to the bar of Revolution Health Kitchen for some avo toasts and acai bowls, or dig into the creative vegan fare of MC Kitchen, a chef- and local farmer-forward concept where dishes like mushroom ceviche or spun zucchini noodles rolled in a carrot, roasted garlic and corn sauce can be found. If you're looking for something a bit more traditional but no less flavorful, dig into mezze like walnut harissa, heaping scoops of hummus and baked chickpea fritters at anoush'ella. It's all fresh, nutrious and delicious.
From options fashioned after Roman street food to the classic sweets of a traditional gelatiere, Time Out Market's got a selection of spots that represent Italy in style. On the savory side, Boston can thank its highly-acclaimed culinarian Michael Schlow for delivering all the Italian favorites: His signature counter's where you go for a menu of simple dishes like Mimi's Famous Meatballs and cavatelli coated in spicy sausgae ragù, while his pizza counter Monti Roman Pizzeria slings handcrafted al taglio pies like Margheritas or exotics like wild mushroom, truffle and Parmesan. And if you've got a hankering for something sweet? Grab some hefty scoops of gelato or sorbet from Vincent Turco's Gelato & Chill, coming in smooth flavors like Sicilian pistachio and tiramisu. Now THAT's Italian.
10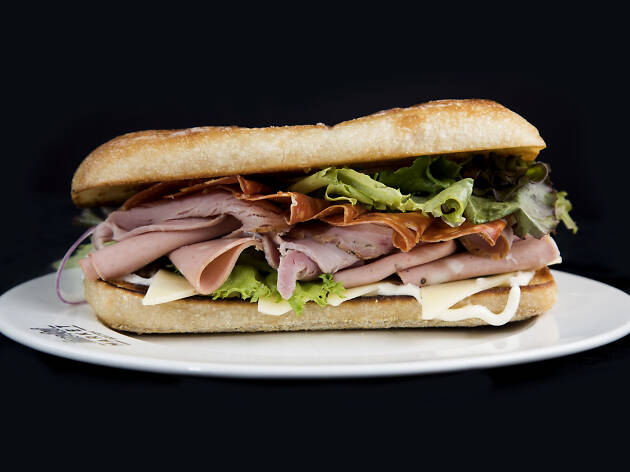 Photograph: Jaclyn Rivas
Cured meats that will cure what ails ya
A paradise for oenophiles, BISq—the Cambridge sibling of Somerville's Bergamot—boasts an impressive rotating selection of artisinal charcuterie. Now Time Out Market's the host to a repesentation of this restaurant and the work of its stellar chef, Alex Saenz. That means you can enjoy his highly cured 'n' curated meat-and-cheese offerings: Sample duck prosciutto, 'Nduja and cacciatorini (a hunter's sausage) with a balanced bite of some house-made ricotta or a chesse board. Then try an overstuffed muffuletta or roasted pork sammie, with sweet potato, salsa and aioli on ciabatta. It's at once simple fare, but all profoundly scrumptious.
Longing for Boston's old-school delis of yore? Check out how Kendall Square's celebrated modern deli Mamaleh's Delicatessen carries the flag for Ashkenazi-inspired delights at their Time Out Market digs. They've got scrumptious smoked fish platters and juicy pastrami sandwiches in spades, serving it all in the Fenway from breakfast until closing time. A major bonus comes from how they deal out hormone- and antibiotic-free meats that are all superbly cured, smoked and roasted in-house. And if you fancy yourself a vegetarian, they've got you covered: Their hearty smoked mushroom Reuben will unforgettably bust your gut.
Satisfying our sweet tooth for more than a half-dozen years, Union Square Donuts handcrafts its concoctions using brioche dough and thoughtfully selected ingredients. One taste is all it takes to see why Boston has fallen head over heels for the bakery's ingenious circular creations. Recommendations include—but definitely aren't limited to—the bourbon-infused sea-salt caramel, the brown-butter-hazelnut crunch or the maple-bacon sinkers. Try those, then get back to us.
13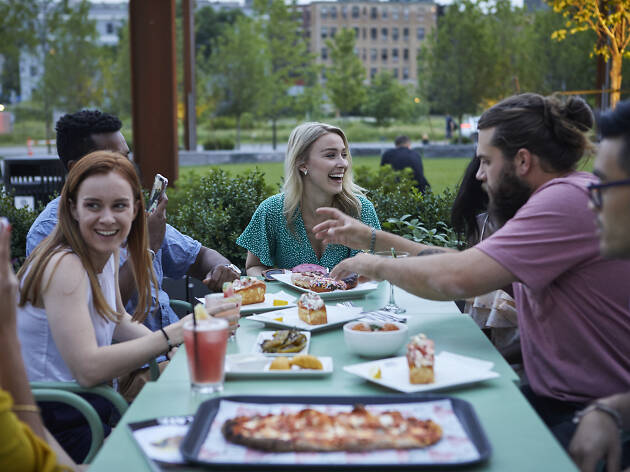 Photograph: Eva Sakellarides
Enjoy the summer sun at the city's newest green space
You've got to eat all the treats that Time Out Market has to offer, but consider enjoying some fresh air by exploring the immaculate green space in front of 401 Park Drive. You can dine on the patio, but once that's done, consider settling into your food coma alongside Boston's coolest new public art installation entitled Grouping of Works from Fountain by the celebrated contemporary artist Nicole Eisenman. That gives you a chance to take a breather, and—if you got 'em—provide kids of all ages with a fun, interactive art experience. Roll around in the grass, watch all the Sox fans hurrying to and fro, and drift off listening to the soothing ambient sound of water.
14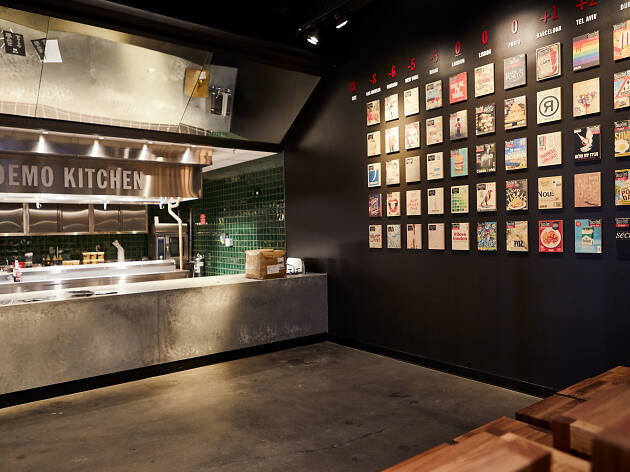 Photograph: Eva Sakellarides
Catch some live culinary action
Grabbing a bite at any one of Time Out Market's 15 curated eateries comes highly recommended, sure, but what about really getting a chance to watch some magic happen? That's where the Demo Kitchen comes in: This is the space where you'll discover truly original concepts and unexpected creations from guest chefs from around the world and promising new chefs bringing fresh talent behind the line. The space can also act as part test kitchen, part incubator for restaurateurs and chefs to try out new concepts, and it'll be a place where you too can take classes given by local instructors and partnering institutions to improve your cooking skills. All of this will be done with a connection to local organizations and communities to champion causes like ending food waste.
15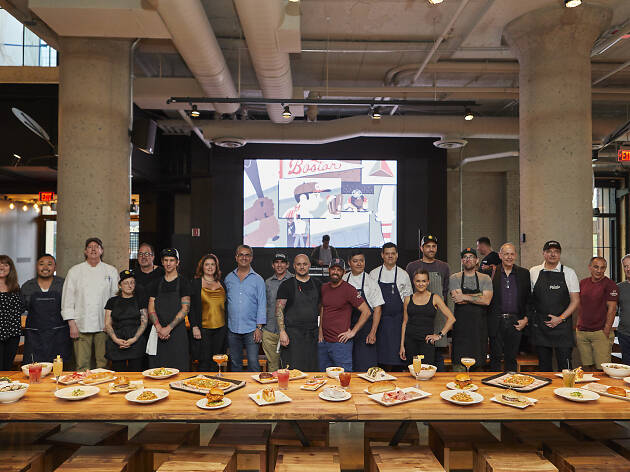 Photograph: Eva Sakellarides
Feast your eyes on the show
The Time Out magazine's one way to get all the information you need to have a great time in your city, but a trip to Time Out Market's got something similar worth checking out. Inside the food hall, on the Brookline Ave side, you'll find our curated video screen that regularly features Boston-themed illustrations by local artists, announcements for things to do around the city, fun facts and historical tidbits to learn about, and a lot more. It'll always be changing, so either drop in for a beverage and snack or a full meal, and enjoy: This is the kind of TV you want to eat your dinner in front of.