Heads up! We're working hard to be accurate – but these are unusual times, so please always check before heading out.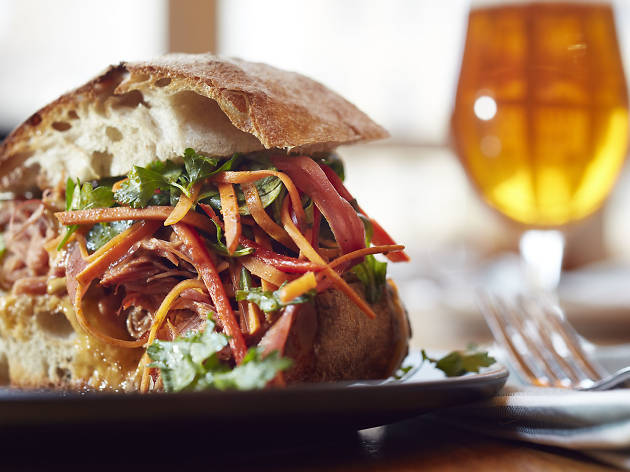 The 100 best dishes in Chicago 2015: burgers and sandwiches
These sandwiches—with smoked tofu, fat meatballs and sweet lobster—are the best things between sliced bread
Chicago's burger craze continued this year, and two very different burgers made our list. But this list is about more than just beef—we loved the smoked tofu sandwich at Smalls Smoke Shack & More, fell for the duck fat dog at the Duck Inn, easily one of the best hot dogs in Chicago, and added a newcomer to our list of the best lobster rolls.These are the best burgers and sandwiches of the year.
RECOMMENDED: The 100 best dishes and drinks in Chicago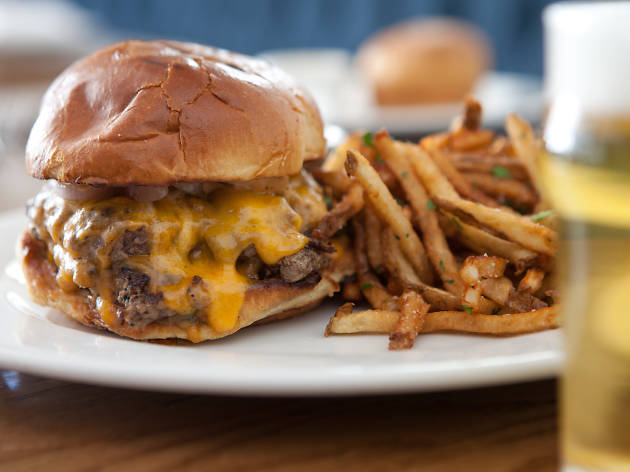 A great burger should be required of all neighborhood restaurants. Portage Park dwellers are lucky to have this double cheeseburger, with melted cheddar, grilled onions and a tangy sauce made with habanero, anchovy paste and ketchup. $16.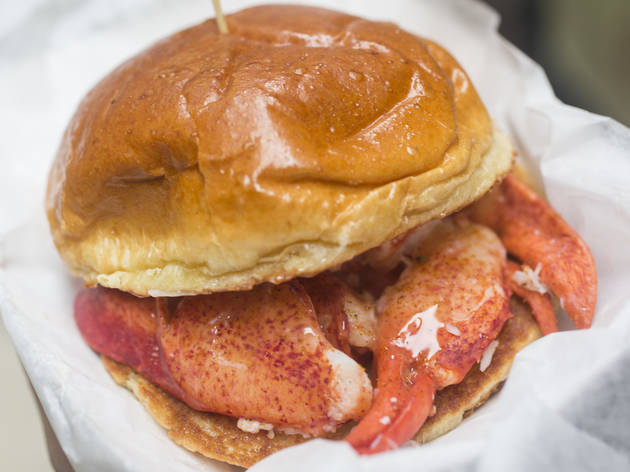 Photograph: Jaclyn Rivas
Happy lobster roll from Happy Lobster Truck
The cheerful truck launched this summer and instantly began serving one of Chicago's best lobster rolls, with sweet, tender lobster slicked with mayo and butter and served on a burger bun for easy eating. $17.
The star of Kevin Hickey's menu is the duck fat dog, a juicy duck and beef sausage, dragged through the garden and topped with house-made pickles. $10.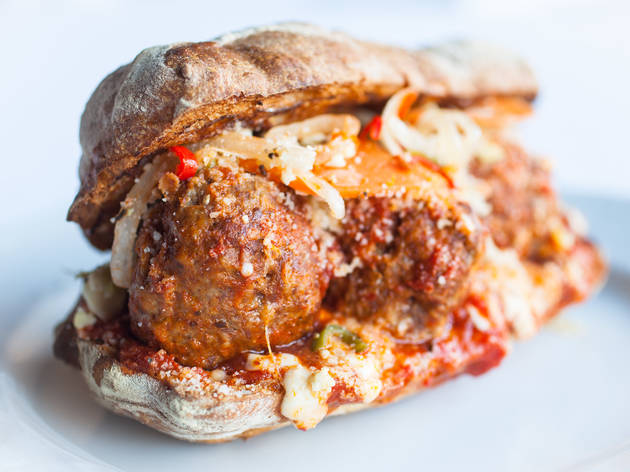 A good meatball sub has big, flavorful meatballs, melting cheese and crusty bread. A great meatball sub, like Nonna's version, has all these, plus a spicy house-made giardiniera to tie it all together. $10.
Everything we ate at this Xi'an newcomer was a delight, but nothing moreso than this sandwich, stuffed with tender, cumin-spiced lamb and tucked into seared, crisp bread, which we've dreamed about pretty much daily since eating. $3.50.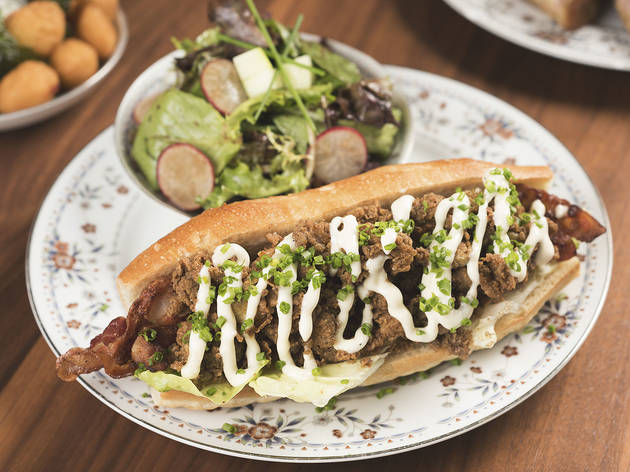 Clam bellies are frustratingly hard to find in Chicago, so that makes Wyler Road's clam sandwich extra special. Perfectly fried plump bellies are tucked into a bâtard with crisp bacon and a squiggle of lemon aioli. $14.
The luxe clientele at RPM Steak requires a luxe burger, and the lunch-only truffle burger, with melting foie gras butter, truffle aioli and red wine onions, delivers without sucking up your whole paycheck. $17.
Meat isn't the only thing Smalls is smoking—the gently smoky, crispy tofu is terrific when piled between Texas toast and crowned with a fried egg. $9.75.
Lunch at Humboldt Park's Boeufhaus is just as good as dinner. Proof: this cheesesteak, with tender shaved rib eye, caramelized onions and melted American cheese tucked into a D'Amato's roll. $11.
The lobster roll here is good, but it's the crab roll—overstuffed with sweet crab meat, lightly dressed with both butter and mayonnaise, and sprinkled with spices—that best channels days by the ocean. $13.
This pork belly and manchego bocadillo, served on Next's patio this summer, was so good, so gloriously fatty and such a terrific drinking snack, it deserves a permanent place on the Aviary's food menu. No longer available.
This walk-up window has zero seats, so to properly tackle the huge, smoky sausage, draped with griddled onions, mustard and peppers, you'll need to assume the Italian beef-eating stance. $3.75.
Avec's lunch service didn't come a moment too soon, since you need to eat as many slow-roasted pork sandwiches, decked out with marinated carrots, turnips and cilantro and spicy harissa aioli, as possible in this lifetime. $12.