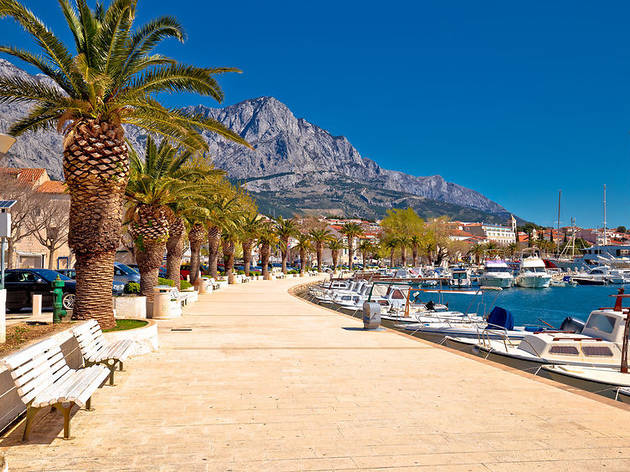 The 20 best things to do in Baška Voda
With brilliant beaches and easy-going eateries, Baška Voda is one of the Makarska riviera's firm family favourites
20 great things to do in Baška Voda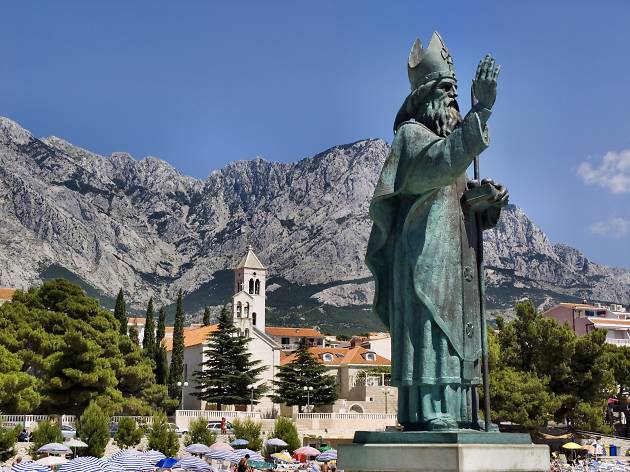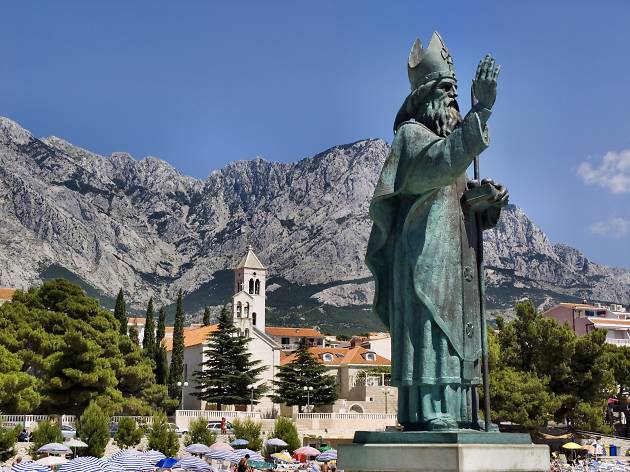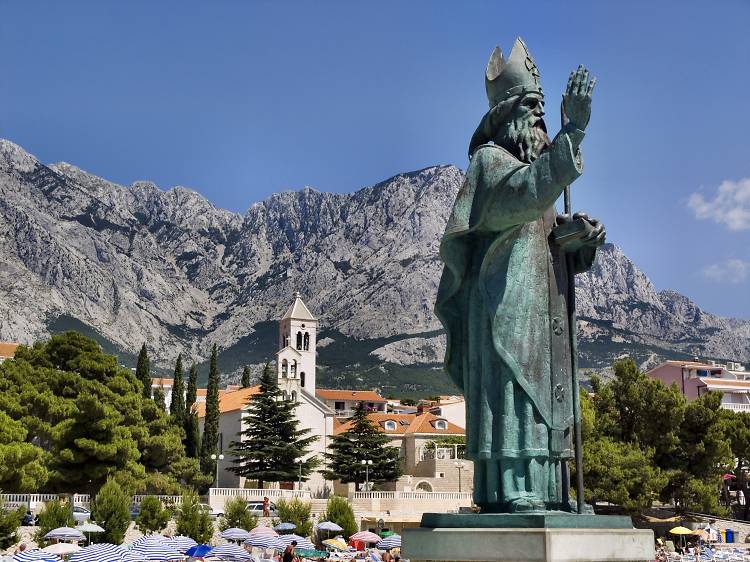 © Островский Александр, Киев
1. See Santa in summertime
The patron saint of Baška Voda is Saint Nicholas, the inspiration for modern-day Santa Claus. Usually, we only catch sight of the generous, long-bearded fellow in the cold months, but in Baška Voda you can see him all year round. Climb the stairs to his neo-Romanesque church, built in 1889. Right at the centre of town, the church's colourful stained-glass windows were installed in the late 1980s. Modern paintings of the 'Stations of the Cross' were added a year later and can be found inside. The impressive statue of Saint Nicholas, by the waterside in the town centre, blesses all who visit and depart from Baška Voda, including the town's sailors, its fishermen and you.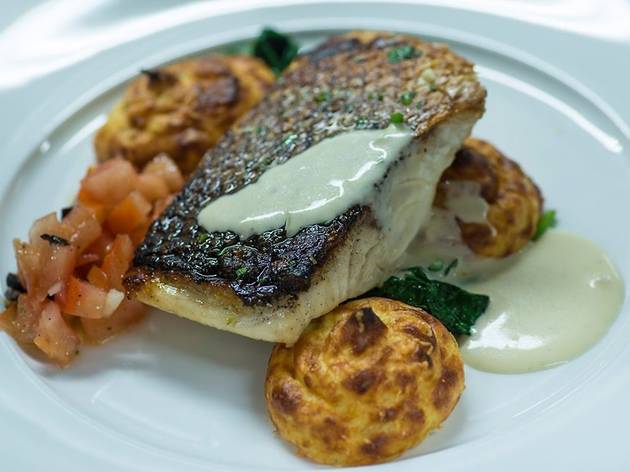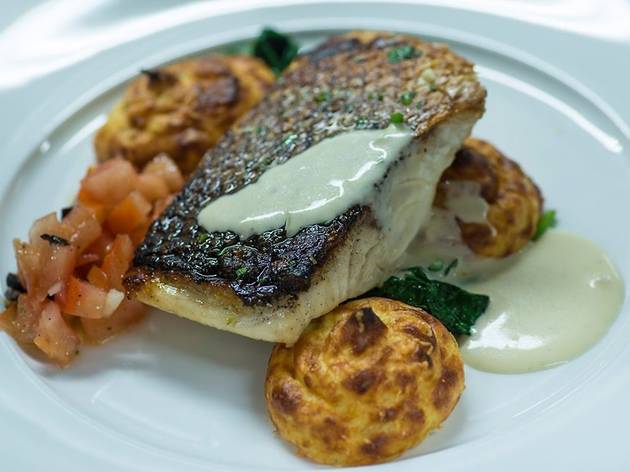 © Del posto at Grand Hotel Slavia
Nearby Brela has stellar restaurants, as do Tučepi, Makarska and many villages back from the shoreline. But, if you don't feel like venturing far, you're not stuck for choices in Baška Voda. Del Posto on Obala Sv. Nikole is part of Grand Hotel Slavia. With a more formal air than a traditional tavern you might lunch in, it does great pasta dishes, seafood and desserts, taking inspiration from both Italy and Croatia. Konoba Bratus sits by the shore in a lovely, out-of-the-way location. Its delicious seafood is accompanied by a pleasant musical soundtrack. King Restaurant, just off the main drag in the centre, has friendly service and well-presented dishes; it's easy to opt for three courses here. For something different, why not try the sushi options at Matrioska, although their fresh seafood is also treated to techniques more traditional locally than these Japanese ones.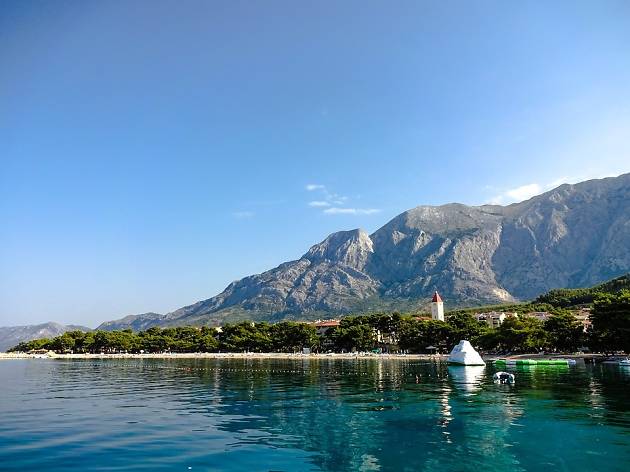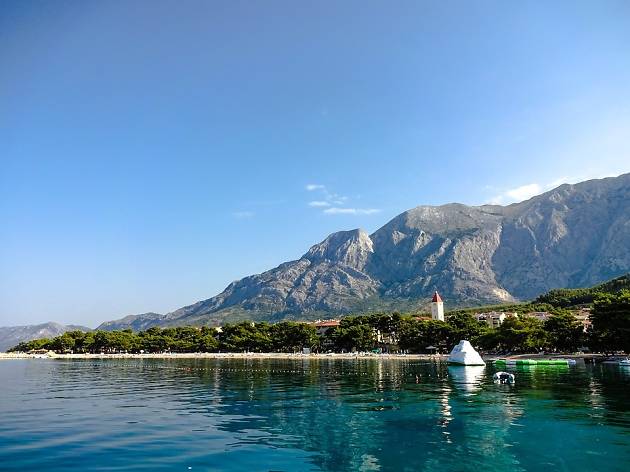 © Tereza106
3. Sunbathe and shade at the epic Promajna beach
Located 3km to the south of Baška Voda's centre, like many of the beaches on this stretch of the Makarska riviera, Promajna is equipped with plenty of facilities; toilets, deck chairs, showers. It also has some bars where you can grab a bite, so you can easily while away the hours here. This epic stretch of pebbles is popular at peak times, but it's so long that there's easily enough of it to go round. The beach here slopes at an easy gradient into the clear seas, making it a great place for those who would rather paddle than swim, grandparents and their grandchildren especially.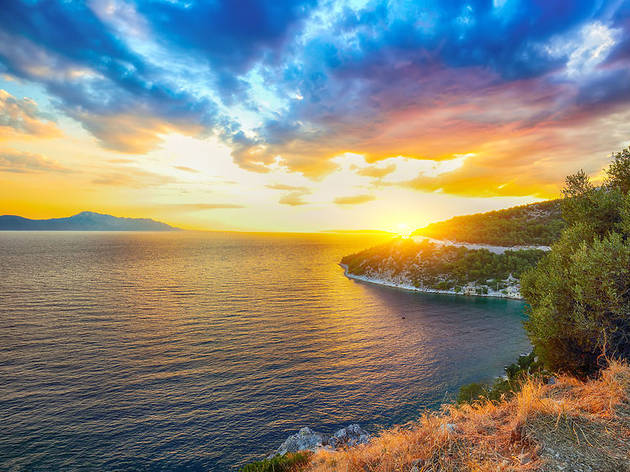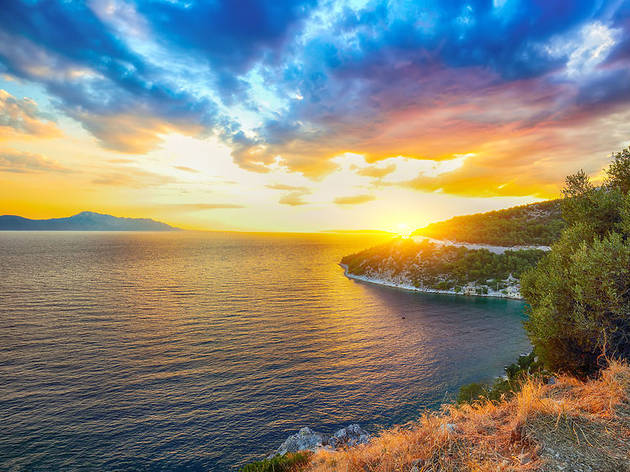 © Vadym Lavra
4. Swoon at the sunrise or sunset
Situated at the foot of the Biokovo mountain and with sea views that take in nearby Brač island and, just behind it, Hvar, Baška Voda showcases captivating vistas. By far the best time to take them in is at sunrise and at sunset. This part of Dalmatia lies closest to the Dinaric Alps, which run parallel, right down the coast. Glorious views of the Adriatic and the town itself are set before this spectacular mountain backdrop. The rocky sides of the mountains seem to alter in shades of colour almost every minute at sundown and dawn, in response to the changing strength of the sun's rays.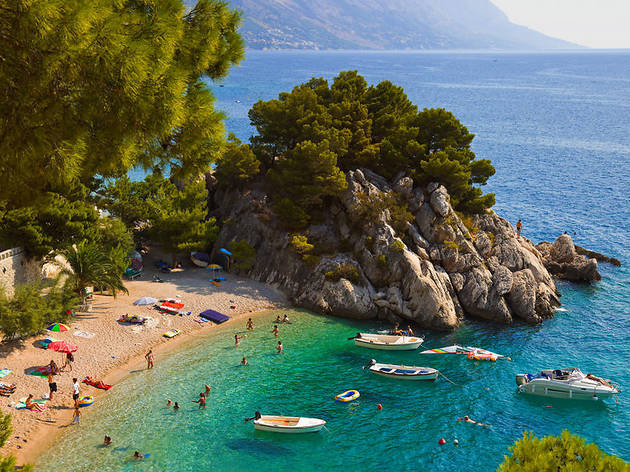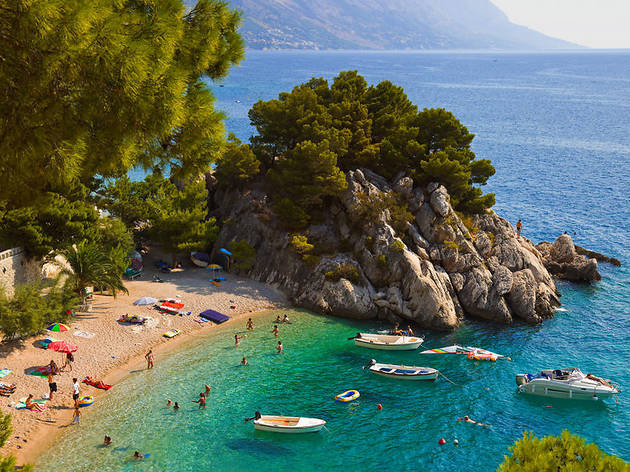 © Tatiana Popova
5. Take a stroll to Brela
Just two and a half kilometres north of Baška Voda, the town of Brela is the nearest place worth visiting and makes for a pleasant stroll along the shoreline at any time of day. This quick change of scenery is worth exploring for its beaches and restaurants. Try one of the seafood dishes or the six-course tasting menu at Obid on Obala Kneza Domagoj or, if you're feeling a little more upmarket, take the seafood option at nearby Konoba Feral. Konoba Galinac is a little out of town, up the hill, but there are bus shuttles. The view and food are definitely worth the trip and there's the bonus of staff wearing traditional outfits, sometimes accompanied by folk music.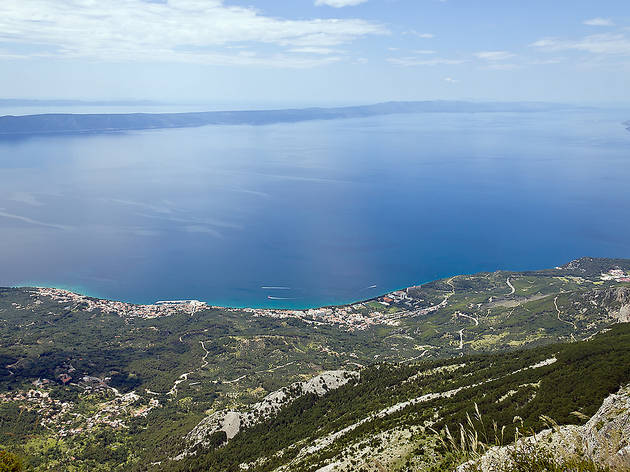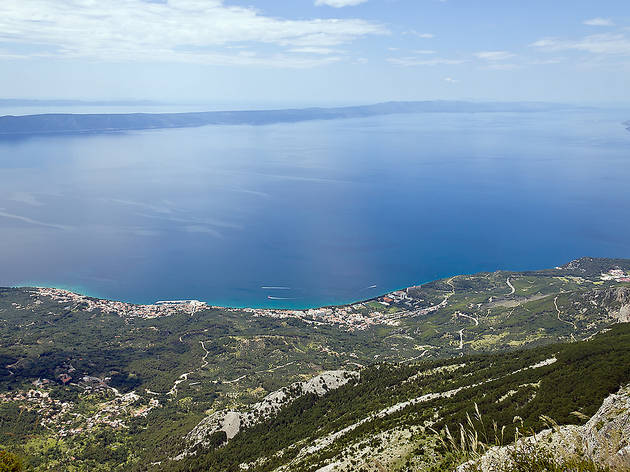 © ahenobarbus
6. Gasp at the view from Biokovo
At 36 kilometres in length, Biokovo mountain and nature park looms over Baška Voda, providing the unmistakable backdrop to all the photos. It's not as barren as it looks from the sea; flora stretches across this section of the Dinaric Alps, more so on the continental side. It's best enjoyed while hiking up the mountain or on a guided tour through the park. Look out for weasels, martens, horned owls, greyish eagles, serpent eagles, chamois and mouflon. The summit can be reached by car if you don't fancy the walk. Whichever way you get to the peak of Vošac (the highest point at 1422 metres), the views from here are considered some of Croatia's best. Ravna Vlaška, near Vošac, holds a great attraction for getting the most out of the view. Completed in 2020, the Skywalk is a viewing platform which sits 1228 metres above sea level and extends some 12 metres out into the skies, offering incredible views of the Adriatic, Makarska, Tučepi and Brač. You can check out an early video of the view from the platform here.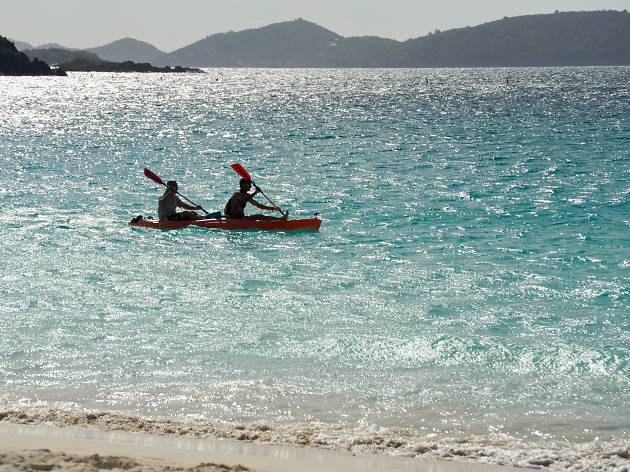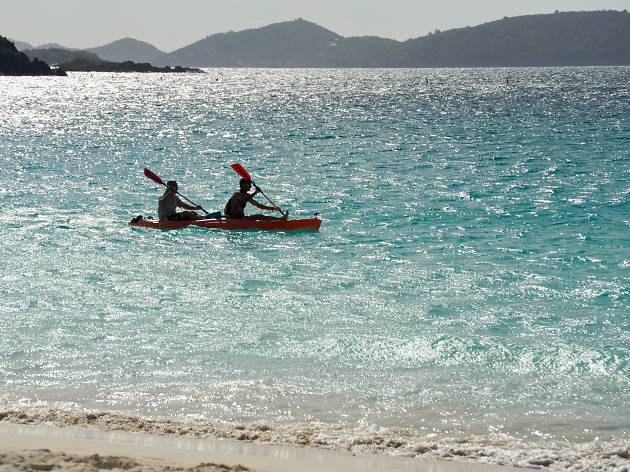 7. Explore by kayak or boat
The Makarska riviera is an intriguing stretch of coast to explore, filled with small and difficult-to-reach beaches. The seas are usually very calm all summer and so one of the best ways to do this exploring is by hiring either a kayak or boat. Make sure you're well prepared with lots of strong sun cream. Pass by happy holidaymakers and stop for a picnic or swim at a spot that suits you best. Difficult-to-reach beaches like Jakiruša or Vruja in Brela or Nugal beach south of Makarska are special because of their remoteness. By kayak or boat, their charms are instantly accessible.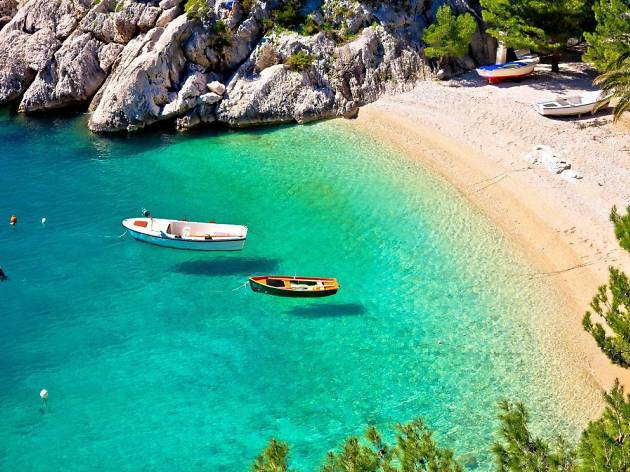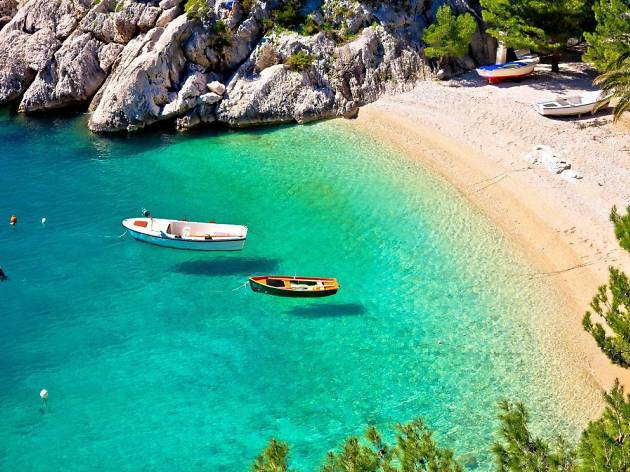 © xbrchx
8. Find out why Punta Rata beach is the locals' favourite
Punta Rata, two kilometres up the coast from Baška Voda, on the north side of Brela, is the favourite beach of many a local and visitor. It's famed for its calm air and marvellous views. It is an ideal beach for families, particularly those with young children who are looking for a relaxing day on a beach well suited to little feet. Here, the sea bed gently slopes down into shallow, crystal-clear seas. You can unwind carefree on a sunbed, under an umbrella, watching your children from just a few feet away.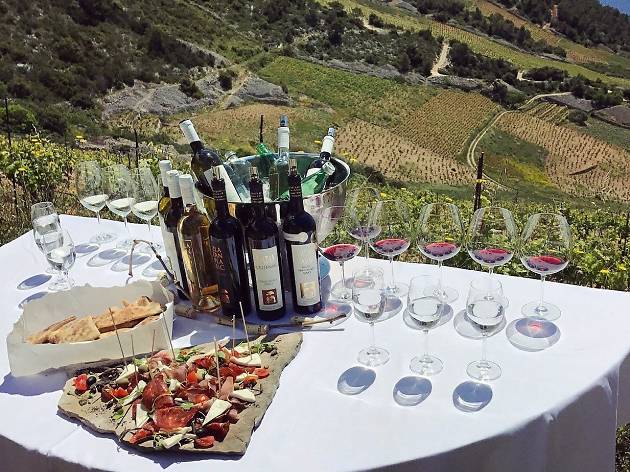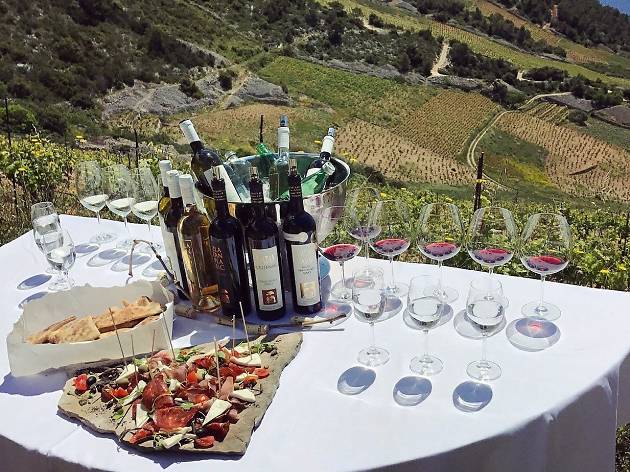 © Zlatan Otok
9. Get to know Croatian wines among the vines
The vines which cling to Dalmatia's steep island slopes or rest in hinterland fields produce some of the best wines you will ever try. A good way to get to know the different varieties is by touring a winemaking facility; there are many options. Zlatan Otok's vineyards near Baška Voda hold 75 hectares with 650 000 vines between the altitudes of 30 and 400 metres. A winemaker of considerable repute, they grow reds like Plavac Mali, Crljenak (zinfandel), Merlot, Cabernet Sauvignon and Syrah, and whites like Pošip, Žilavka, Dubrovnik Malvasia, Chardonnay and Yellow Muscat. They will teach you about the grapes and treat you to samples and snacks, presented before the rows of their vineyards.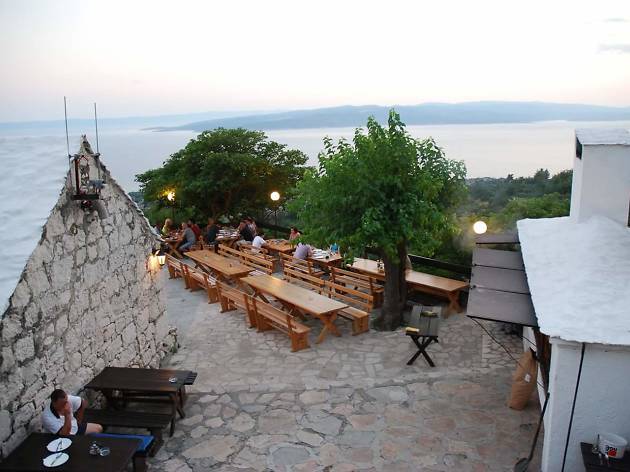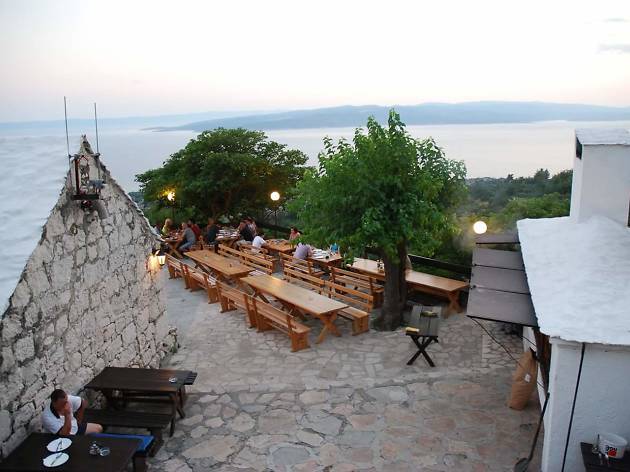 © Konoba Panorama
10. Savour specialty food and views
Fancy a traditional meal with an unforgettable view? Konoba Panorama is a 10-minute drive inland from Baška Voda, but there are free transfers to and from the restaurant from the town. Situated above the town on the slopes of Biokovo mountain, it offers a fantastic panorama of the sea and coastline. You'll need to order some of their more special dishes in advance, such as peka, meat and vegetables cooked under a bell. Make sure to call the day before, as other specialties, such as the beef dish pašticada, take a full 24 hours to prepare.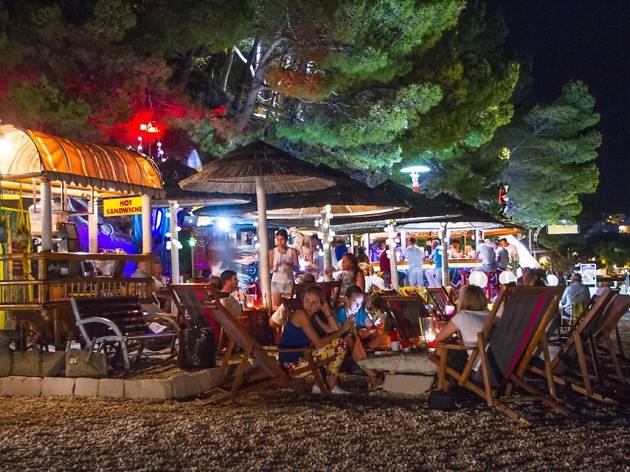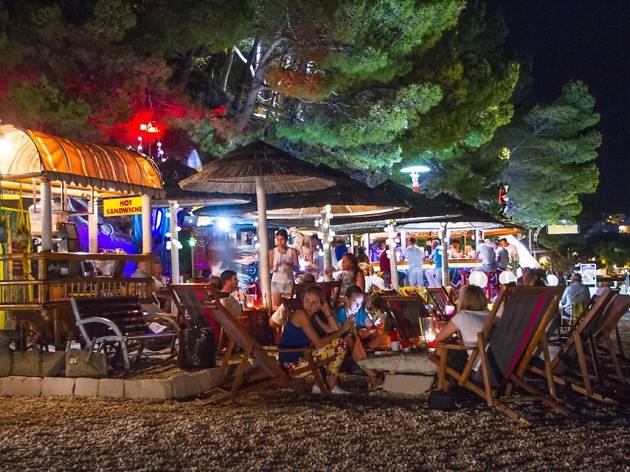 © Južnjačka Utjeha - Beach Bar
11. Hang out at Južnjačka Utjeha beach bar
Ikovac, located just a couple of minutes to the north of the town centre, is yet another Baška Voda beach that's well worth visiting. While you're there, be sure to check out Južnjačka Utjeha beach bar ("southern comfort", in Croatian). This chilled and inviting hideaway offers just that. It plays good music for resting swimmers in the day and offers a chilled out vibe for evening hangouts. Južnjačka Utjeha have honed the beach bar experience down to a T.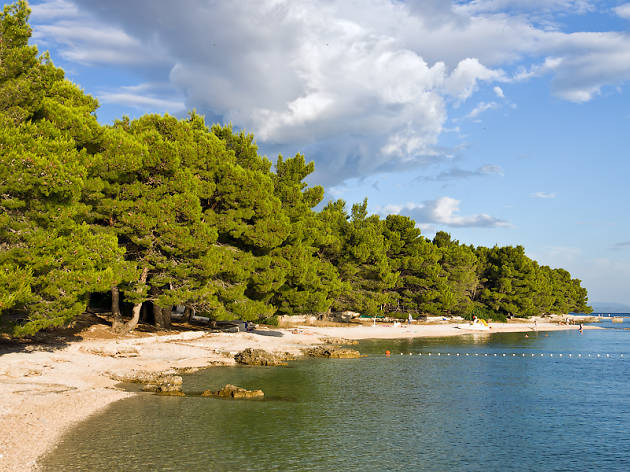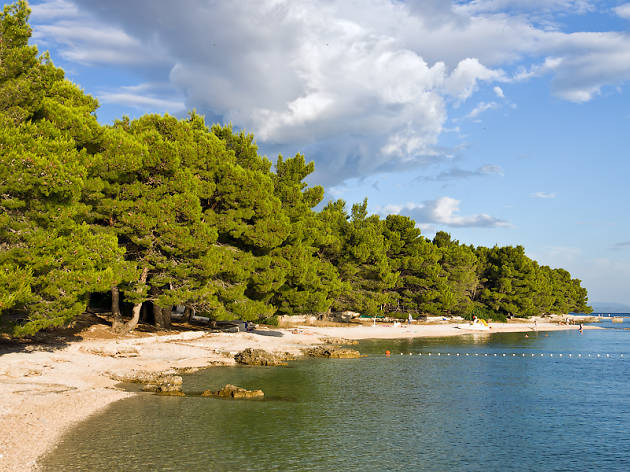 © Nikolaj Potanin
12. Take in the scent and sounds, not just the sights
The Adriatic coast can be a captivating sight, especially in Baška Voda. But, while you're visiting this part of Dalmatia, don't forget to take in the sounds and scent of the place too. It's not everywhere that the pine trees stretch in such thick patches, right the way down to the shoreline. In Baška Voda, Brela and their surrounding beaches, they do. The fresh smell is a beautiful balm, the perfect accompaniment to a stroll or escapes from the sun. It's almost overwhelming, as can be the sound of crickets in these trees. Upon arrival, their loud song might take a little getting used to but learn to appreciate it; you'll miss it once you leave.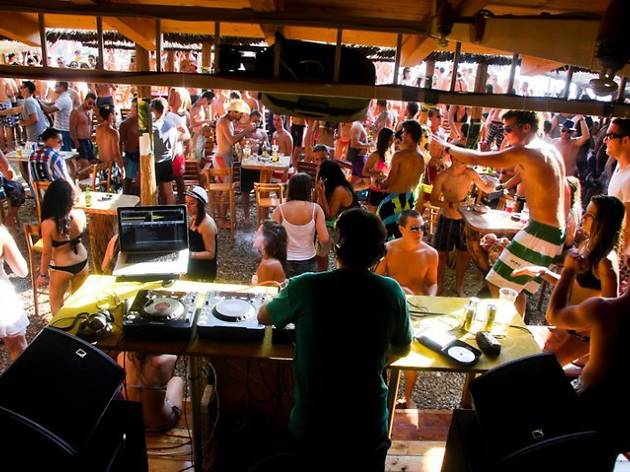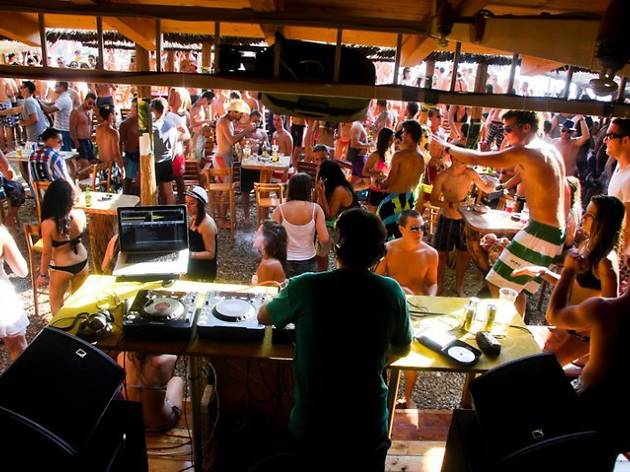 © Buba Beach Bar
Less than 10km south of Baška Voda, Makarska is easy to reach by bus or car and offers a change of vibe. Teenagers and young adults, in particular, enjoy Makarska, as the town offers nightlife options, including several clubs. Buba Beach Bar, just to north of the town centre, has DJs throughout the afternoon and evening. The soundtrack can range from relaxed deep house on calmer days to full-on party mode. Deep Makarska, very near the town centre, is the late-evening club option. Though there are many cheaper places to drink, the club is situated spectacularly inside a cave and the music might be more agreeable to visitors than the local pop-folk music aired at other Makarska clubs.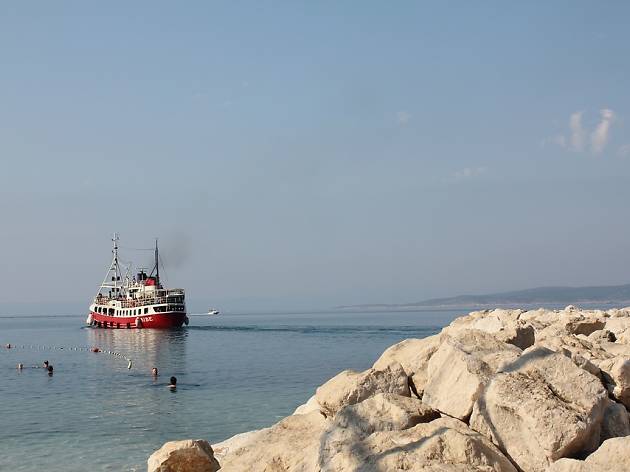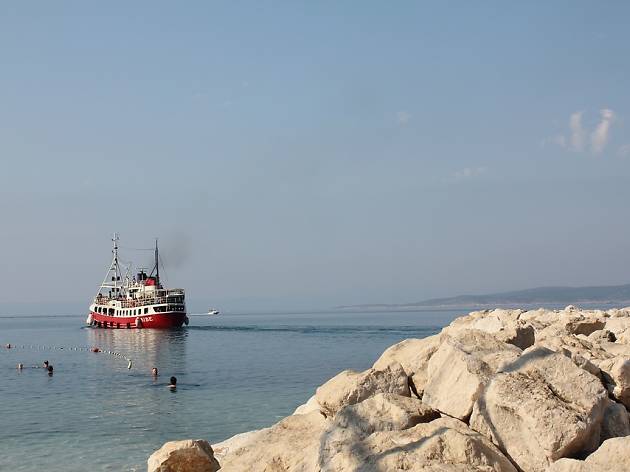 ©Rafal_OKA
14. Hop on a boat to the islands
Some would argue you've not really seen Croatia until you've visited its islands. Brač is the closest, famous for its distinctly shaped Zlatni Rat beach and the traditional organic farming which supplies the island's taverns and restaurants. Just beyond Brač, the island of Hvar has a reputation for glamour. This is where you'll find the superyachts moored and the paparazzi hiding in pine trees, ready to snap visiting celebs. The island is famous for its partying, which is known to extend late into the night, and for its premium restaurants.
© ck_novalja
15. Trek to pretty seclusion at Jakiruša
Situated six kilometres north of Baška Voda, Jakiruša is a beach which is far from easy to get to. Getting there involves driving in a car and then clambering down some steep rocks. But its inaccessibility is what keeps Jakiruša so special. The beach is extremely beautiful and usually uncrowded, a sharp contrast to others on this strip of the Makarska riviera. If you want to take someone special to someplace special for some sunset-watching together, Jakiruša is the place. Its rock formations are difficult to forget. Don't try to clamber down to the beach in flip flops; bring trainers. Disabled, elderly or very young visitors determined to reach Jakiruša are advised to do so by boat or kayak.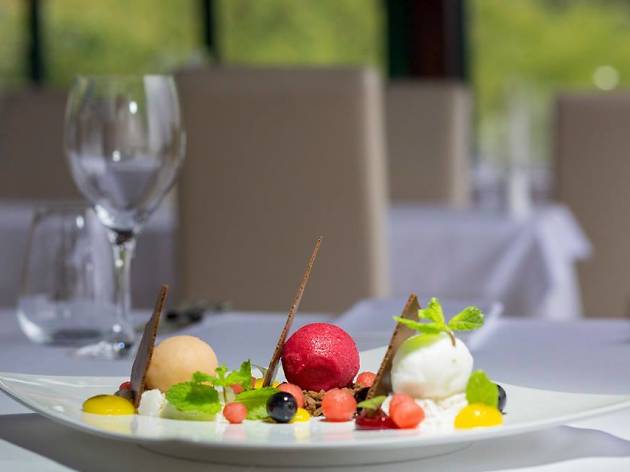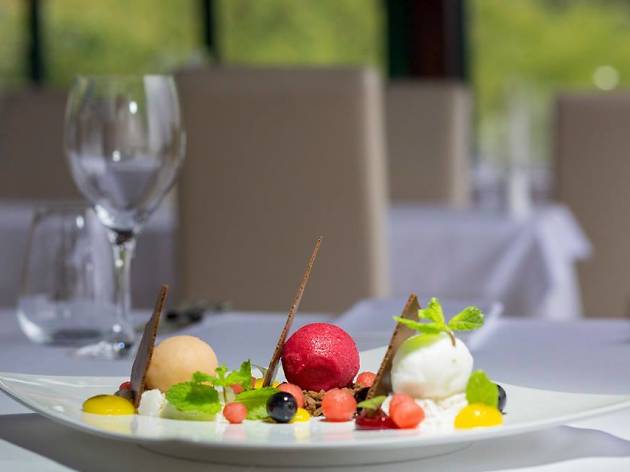 © Restaurant Jeny
Located 15 km south of Baška Voda, the small town of Tučepi has good options for those who like sporting activities. It also has a couple of restaurants which are definitely worth travelling to. The Michelin-nominated Jeny, just north of the town, offers impressively presented fine dining; well-sourced ingredients, an awareness of the region's traditional cuisine and a wild and wilful imagination all collide on your plate. The nearby Konoba Ranč is more low-key but still an unforgettable experience. Located in the middle of an olive tree garden, it serves great peka (meat and vegetables cooked under the bell) and seafood and has a truly special ambience.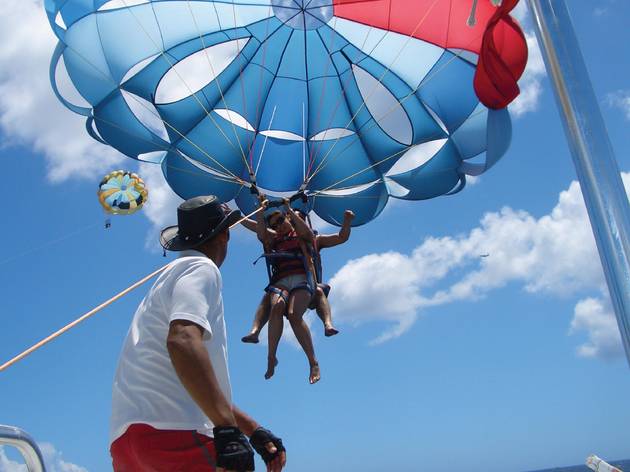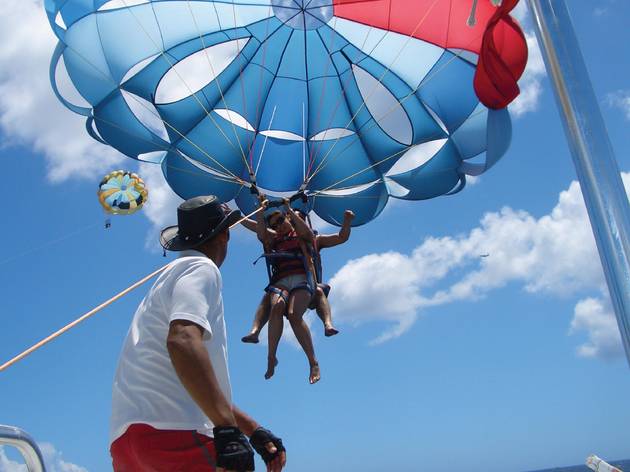 © Cre8tive Source
17. Be active on Nikolina beach
Stretching from Baška Voda's town centre port to Stazica beach, Nikolina is a real highlight of a beach with something for everyone. It holds a Blue Flag status, awarded for the cleanness of its water, has facilities for disabled visitors and plenty of pine trees and bars for anyone needing to get out of the sun for a while. Pedolas, boat trips, a children's playground, kayaking, bicycle hire, jet skis, inflatables, parasailing, snorkelling, trampolining and billiards are just some of the activities on offer. There are showers and toilet facilities too. All of these assets help attract considerable crowds in peak season. If you can't find a spot, just take a walk; you're not short of beach options in Baška Voda. Thrill-seekers can also check the Poseidon Diving Centre, by the port. Catering to beginners and the experienced, they've earned a great reputation over 20 years of service.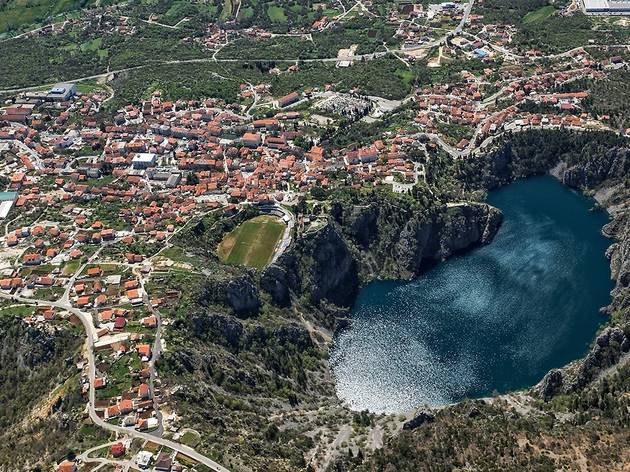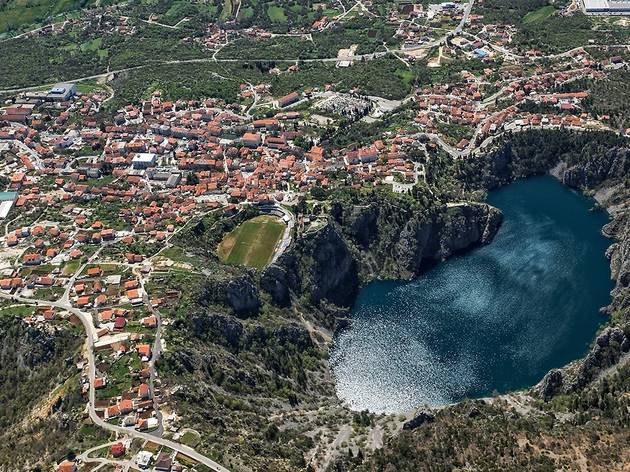 @ TB Imotski
18. Catch a different vibe in the hinterland
Less than 30 km inland, the town of Imotski (pictured) offers a true taste of traditional Dalmatian life which has hardly been touched by tourism. Its centre is nice, but unremarkable, although in summer you can catch worthwhile orchestral or brass band performances on the streets. If thirsty, try the shaded courtyard out back at Caffe Bar NU on Šetalište Stjepana Radića (it's also the best place to hang out on Imotski's wild annual city day (August 2). Imotski is best known for its medieval fortress and its Blue and Red lakes. You need to see both lakes to appreciate the contrast; the Red lake is inaccessible but following the long descent down to the Blue lake offers the opportunity to swim in its calm, fresh waters - an unforgettable experience, wholly unlike swimming in the sea. Also, restaurant meals dip in price the further you travel into the hinterland.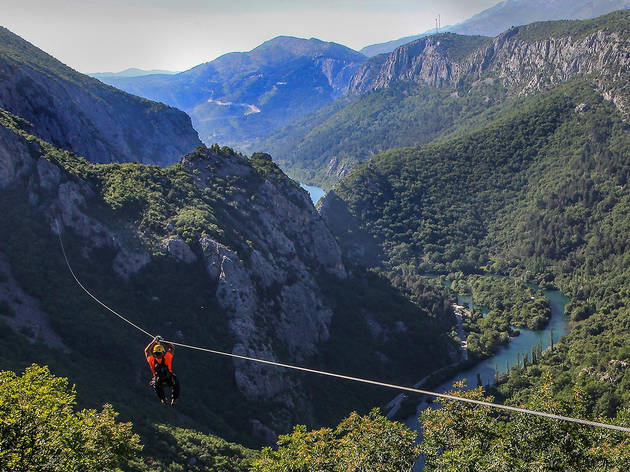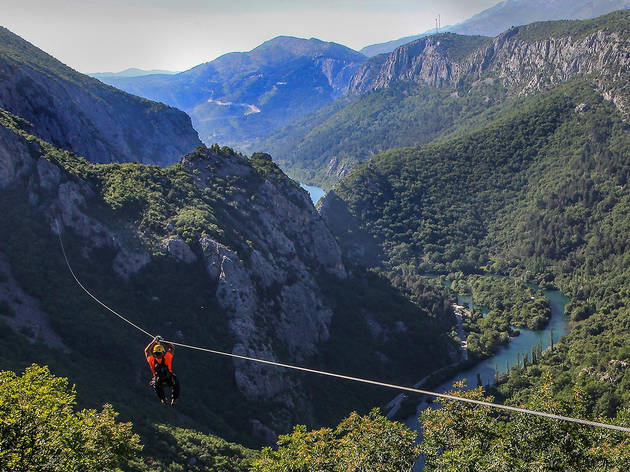 © Dražan Mimica / Malik d.o.o.
19. Get an adrenalin rush at Cetina
The Cetina is a river that winds its way through some 100 kilometres of the Dalmatian hinterland before reaching the sea at Omiš (25 km north of Baška Voda). You don't need to travel so far to visit it though, as its nearest point to Baška Voda is just 10 km away, beyond the upper part of Brela. Along the river you can take part in various activities such as canyoning, rock climbing, kayaking, white water rafting and more. There's also a high zipline over the river; it's a bit of a trek but worth it for adrenaline junkies who will appreciate the incredible setting. There's also one at Tučepi, in the valley below Biokovo, which is fun and easy to reach by car, but with less picturesque views.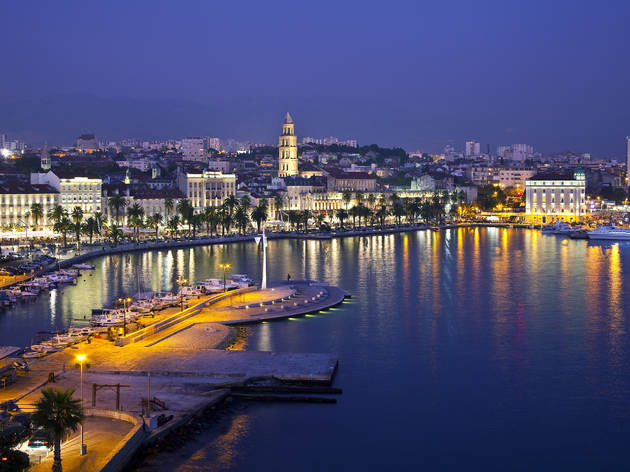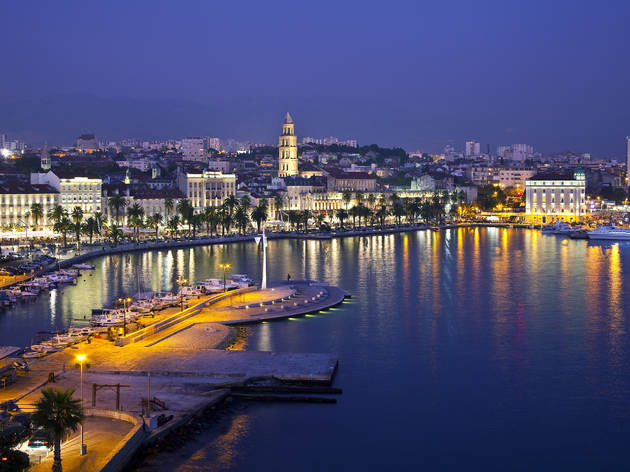 © Split Tourist Board
20. Take a day trip you won't forget
The ancient walled city of Dubrovnik, famed as the backdrop for Game of Thrones, lies 150 kilometres south of Baška Voda. Exploring the old town's alleys and historic architecture is a popular way to spend a day. Lying 50 km to the north of Baška Voda, the city of Split (pictured), has Roman emperor Diocletian's Palace as its centrepiece. Much more than a remnant, it is still a focal point of city life to this day and deserves to be explored at least once. The highlights of both these cities can easily be done in a day, although bear in mind they get swarmed by tourists in the peak season.