HKDI Master Lecture Series Autumn 2021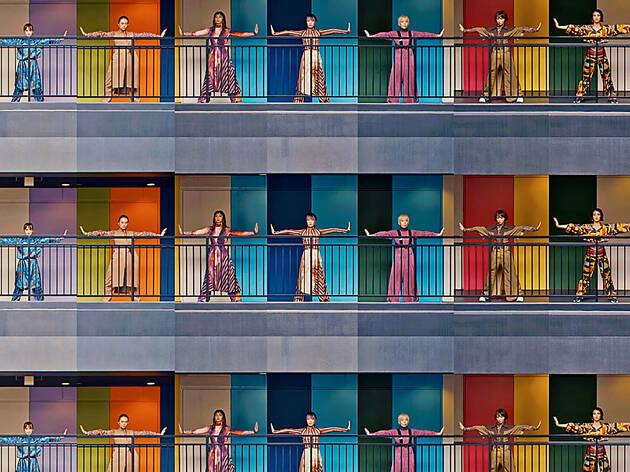 Time Out says
Calling all artists, designers, and creative students! Don't miss Hong Kong Design Institute's online Master Lecture Series happening now until November 5, 2021. HKDI has invited a number of global creative wizards to shed light on what the future may bring to life, work and study across Branding, Immersive Media, Food, Visual Communication, Fashion, and Architecture. Get ready for some mind-blowing, nerve-wracking design sprints that can be incorporated into any scenario to unlock your creativity and innovative thinking.

The series will be conducted via Zoom and registration is open and free. Each topic will feature two 30-minute lectures (except the Food Non-Food theme, which will consist of three 30-minute lectures), followed by a 30-minute panel discussion.
Register for the sessions today via eventbrite.hk. Once booked, you will receive an email confirmation from Eventbrite, and HKDI will email the link for you to access the live sessions two days before the schedule. Do note to check your spam folder as your confirmation email may be hiding.
HKDI reserves the right to make changes without prior notice.
Below is a rundown of the programme schedules and speakers, be sure to bookmark those dates and register to get a slot!
September 28, Tuesday
People-centred Visual Communication

4pm: Designing Brand Identity
Speaker: Bo Linnemann, influential brand and graphic designer and co-founder of Bo Linnemann and Kontrapunkt, Denmark
October 7, Thursday
Immersive Media

5.30pm: A New Relationship Between Body and Technology
Speaker: Daito Manabe, Interaction Designer, Programmer, DJ, and Founder of Rhizomatiks, Japan

6pm: Understanding Interaction
Speaker: Dr Bert Bongers, Associate Professor, Faculty of Design, Architecture and Building, University of Technology Sydney, Australia
6.30pm: 6pm: Panel discussion, Q&A
October 13, Wednesday
Food Non Food

4.30pm: How Eating Design Changes the World From Within the Mouth?
Speaker: Marije Vogelzang, Eating Designer and Head of Food Department, Design Academy Eindhoven, the Netherlands
5pm: Food Design and Eat Design
5.30pm: Why are Pizzas Round and Fish Sticks Square?
Speakers: Dr Sonja Stummerer and Martin Hablesreiter, Founders of Honey & Bunny, Austria
6pm: Panel discussion, Q&A
October 19, Tuesday
People-centred Visual Communication
4pm: The Future of Brand Identity Design
Speaker: Bo Linnemann, Influential brand and graphic designer and co-founder of Bo Linnemann and Kontrapunkt, Denmark
October 20, Wednesday
People-centred Visual Communication
4.30pm: Designing for the Future: Diverse and Inclusive Typeface Design by Default
Speaker: Professor Gerry Leonidas, Programme Director of the Department of Typography and Graphic Communication, University of Reading, UK

5pm: Speculative Fiction for Anti-Capitalist and Decolonial Futures
Speaker: Cassandra Troyan, Senior Lecturer and Programme Coordinator of Visual Communication + Change, Linnaeus University, Sweden
5.30pm: Panel discussion, Q&A
October 28, Thursday
Fashion for the Future
4.30pm: Subtraction Cutting 1998-now
Speaker: Julian Roberts, MA tutor for Mixed Media Textiles at School of Material, Royal College of Art, UK
5pm: In a volatile and ever-changing landscape, how can young creatives find solutions to the problems of the next decade?
Speaker: Nabil El-Nayal, Course leader for MA Fashion Design Technology, London College of Fashion, University of the Arts London, UK
5.30pm: Panel discussion, Q&A
November 5, Friday
Radical tectonics for an absolute sustainable architecture
3.30pm: Re-constructing Architecture (TBC)
Speaker: Professor Anne Beim, Professor at the Centre for Industrialised Architecture, Royal Danish Academy of Fine Arts, Denmark
4pm: The Super Tight City
Speaker: Dr John Doyle, Programme Manager and Head of the Master of Architecture, RMIT University, Australia
4.30pm: Panel discussion, Q&A
Details