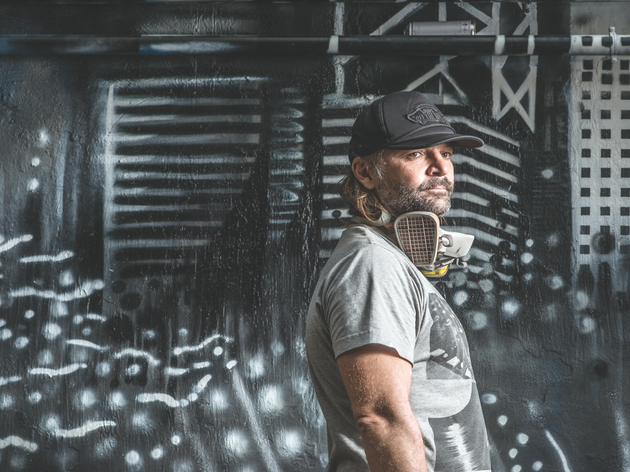 Interview: Hong Kong street artist Szabotage on the negative connotations surrounding graffiti art
"It's time to stop scribbling your name on the back of the bus and be a bit more grown up and think about what you can deliver"
Hong Kong is slowly becoming a hub for street art. These days, it's hard to walk down the streets in Sai Ying Pun and Quarry Bay without seeing vibrant colours and images splashed across the walls of buildings. Artists from around the world, including Shepard Fairey just last month, have come to the city to add their mark to the ever-expanding canvas. Szabotage is no different. Since moving to our city three years ago, the London-born artist has become a prominent figure in the local street scene. Now, he's presenting a culmination of two years work at an exhibition at California Tower's Loft 22 in Lan Kwai Fong. The four-day event showcases 30 artworks and installations including his signature koi fish and new work featuring deconstructed aerosol metal cans.
Hailing from Shoreditch, London, Szabotage – whose real name is Gustav Szabo – is a former architect and designer. However, like many artists, dissatisfaction and the need to express himself pushed him along a trajectory towards street art. "My career didn't feel like it was giving me everything that I wanted," says Szabotage. "In architecture, there's too much of a team game. You have to go through a hierarchy. There's something inside of me screaming to be more independent. In a selfish way, I feel like I wanted to put my mark on things."
Inspired by the mayhem of graffiti that decorates Shoreditch, created by everyone from Banksy to the 'person by the corner painting by my doorstep' remarks Szabotage, street art provided the artist the independence he was seeking and the means to express himself. But competition is incredibly fierce in the East London neighbourhood, so Szabotage made the jump to our SAR. "[Shoreditch] is polluted with street art," he says. "The competition is far too much. There're too many [graffiti artists] and too few walls. So when I came to Hong Kong, I just jumped at the opportunity and tapped into the scene that's here."
The city is a creative haven for Szabotage, from its untouched walls to the diversity of artists and the positive vibe from bystanders. "There's something quite energetic about Hong Kong where art stops people in their tracks, " he says. "They're taking photographs, coming over to us to have a chat about our work. It's really great." Szabotage has also participated in events like HK Walls, the annual street art festival where dozens of local and international artists come together to showcase their work, and was a finalist in the 2014 street art competition Secret Walls.
His vividly coloured works, which can be seen around areas like Sai Ying Pun, Big Wave Bay and Yuen Long, incorporate elements of popular culture and hints of nostalgia, often including Hong Kong's cityscape and iconic buildings. "I can't lose the designer and the architect in me," Szabotage explains. "I'm heavily influenced by the urban fabric of Hong Kong itself. How it's so tightknit and everyone is living on top of each other. I love seeing the depravation of these elevations and seeing water cascading down the side of the walls. It's mainly trying to be not too clean about it." Throwing and spraying layer upon layer of paint on his large canvases, Szabotage's art is a reflection and representation of the cultural melting pot that is Hong Kong.
SzboFish Canvas
But the former Londoner is best known for his koi fish graffiti, an image born out of spite that would eventually became his signature. "Originally, I asked a local restaurant owner if I could paint a side of his wall," Szabotage recalls. "They asked to see my designs and to sketch a fish. So I drew a koi fish for them." After almost 10 different sketches, which the restaurant owner all rejected, they questioned whether he could actually draw fish. "I was really taken aback by it and it really annoyed me. I bit my tongue and, in defence, I started to paint koi fish around the area. That's how it started and now I draw it everywhere. It was a time of my life where I was very sensitive about what people said about me and my work. But now I don't give two fucks about it." The koi fish became a symbol of his change in attitude. He says: "The koi jumping out of water is jumping out of its comfort zone, from water to air. It is enjoyment, it's invigorating. There's a sense of jubilation and freedom in its movement."
Szabotage's signature koi can be seen at his upcoming new exhibition held at California Tower's Loft 22 as he pays tribute to Hong Kong's empowerment and explores art in a new perspective through recycling and upcycling. "I felt there was a responsibility as an artist to be more environmentally friendly," he says. "The aerosols that we [graffiti artists] use are not. But we've got to use our tools." To be more green and to challenge the typical canvas limitations, Szabotage has created canvases using deconstructed metal cans and wood, sculptures from the tops and bottoms of aerosol cans, and constructed frames made from tin. The new approach also allowed Szabotage to inject humour and wordplay into his pieces – one is named the Can-Can Girls – and incorporate characters like Tintin and the Tin Man from The Wizard of Oz. Full of energy and flamboyance with its bright neon colours, the show features around 30 installations and artworks, and the collection is growing every day until the opening.
Aside from presenting a portfolio of the works he's completed over the past two years, the exhibition is about the notion of 'I can', tying back in to the story of the koi fish, how the metals cans are being reused and themes of self-confidence and empowerment. "It's about the 'I can' moment," Szabotage states. "Thinking that I can achieve, I can make a difference, I can recycle. It's encouraging people to jump out of their comfort zone and be responsible about what they do. We can all make these little changes in our life by starting to say I can."
Szabotage also strongly believes that his role as a street artist is to change the negative connotations that surround the genre. "Artists all got a message," he says. "Graffiti can be seen as lacking in depth and in thought. Your task as an artist is to make sure whatever you do, it's something that can be appreciated and aspired to. It's time to stop scribbling your name on the back of the bus and be a bit more grown up and think about what you can deliver." Through this exhibition, along with his existing art pieces around town, Szabotage hopes to show people that he takes his work just as seriously as any other artist you find in a high street art gallery and encourage new blood into the growing street art scene in Hong Kong. "I want the young to be influenced and inspired, and the old just as much in the same way," he says. "People are realising what an impact street art makes. There's still plenty of room for artists to grow and for people to understand. And what better place than Hong Kong to do it and make your mark and see if you can make that difference and change."