Chuan Alfresco Bar & Restaurant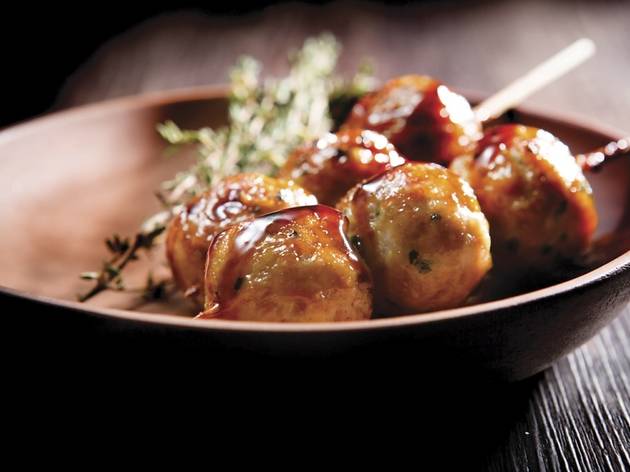 Time Out says
Don't: bring a first date because a large portion of the menu is drowned in garlic. Do: come here with large groups of friends (the sort who won't care how bad your breath stinks) because you'll want to share the loungy balcony and cheap kushiyaki fare.
The terraced eatery comes from the guys behind Chuan Shao – the vastly popular skewer joint just off Chatham Road. While the original digs showed a Sichuan bent with cumin-based seasonings, this location focuses on Japanese preparations and ingredients such as silken tofu topped with uni and tobiko ($38). Before we get too deep into the food though, there's a libations list that deserves attention. It's a strong selection of wines, sakes and beers (bottled and three on tap) but the main attractions from the well-stocked bar are the house-designed cocktails such as the Alliswell (gin, bitters, orange juice and lemon, $48 during happy hour).
They're designed to go with grilled plates ranging from ox tongue ($48) dusted in spices to au natural shiitake 'shrooms ($16) that are still moist in the centres. The kitchen also slings chicken tails ($28) that burst with umami fat, and sheets of Kurobuta pork wrapped around peeled and pitted Kyoho grapes ($30). The most brilliant still is the halved onsen egg that's tucked into a delicate 'cradle' fashioned from grilled yuba ($44). And though they're not from the grilled division, deep-fried chicken gristles ($28) – crunchy morsels housed in a perfectly balanced batter – are another example of why food and booze should stay together.
So yes, we're happy with most of the menu, but we're not impervious to weaknesses, especially when a certain aforementioned pungent bulb comes into play. Roasted eggplants ($36) are smothered in an unapologetic mound of minced garlic and scallions – so much that the veg itself tastes second fiddle. There's also the signature 'pizza' ($28), which is really more like a toasted crêpe stuffed (yet again) with garlicky pulp. And with the grilled Hiroshima oysters ($46), there's really no reason to overpower the creamy mollusc and its smoky juices with the heady clove.
Sanuki udon ($36) is skippable, though we love the sweet bean curd sheets that bob about in the otherwise bland broth. Go for the grilled mentaiko onigiri ($24) instead, which has a delectably smoky flavour reminiscent of bacon. And, if you're really lucky, the blackboard specials will include a tangy yuzu sorbet ($58) that'll have you refreshed enough for another round. Dorothy So
5/F, The Lamma Tower, 12-12A Hau Fook St, Tsim Sha Tsui, 2311 0123. Mon-Sat 5pm-3am. Closed Sun. Dinner for two: around $600.
Details
Best selling Time Out Offers