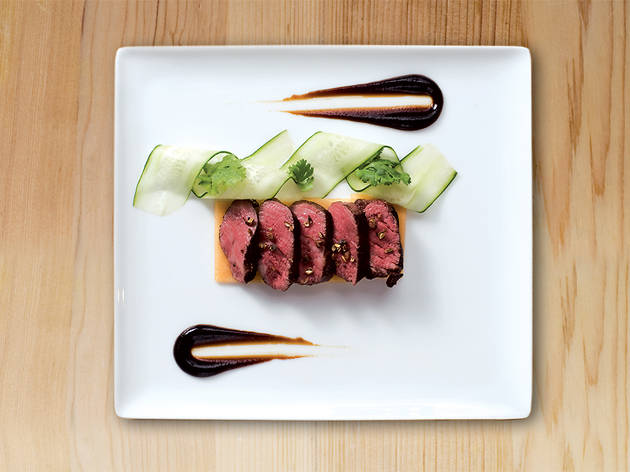 Time Out says
Private kitchens have been a burgeoning phenomenon in Hong Kong for some time, but the bar has been upped in the past couple of years by the likes of Ta Pantry and Liberty Private Works. Aiming to push the envelope still further – and taking the term 'private kitchen' to its logical extreme – is Commune Lab, an innovative new concept from the people behind popular Soho hangout Posto Pubblico.
Situated above the Elgin Street bar/restaurant, Commune Lab is housed in a 1,500 sq ft industrial kitchen that produces Posto Pubblico's baked goods, as well as gourmet bread for a clutch of other restaurants in the area. Helmed by executive chef AJ Bellarosa, who uses the space as a test kitchen during the day, the Lab is open by prior arrangement only, and requires a minimum booking of eight people (the maximum is 18). Bellarosa then proceeds to whip up a multi-course degustation menu based around the freshest seasonal ingredients, many of which are grown on organic farms in the New Territories.
Being a bona fide kitchen, the space is replete with reminders of this fact, from dangling pots and pans, to wooden chopping surfaces and shiny storage units, to an array of culinary gadgetry worthy of the restaurant's name. At one end is a glass-fronted kitchen-within-a-kitchen, where you can view Bellarosa and his team at work. The eating, meanwhile, takes place around a large counter-cum-table surrounded by leather-backed barstools. It makes for an unpretentious, intimate setting that's slick in appearance and yet yields enough intriguing quirks to feel authentic.
At this point I should mention that we departed from our usual Time Out review policy for this taste test. While we normally visit restaurants anonymously and pay for our own meals, due to the cost and logistics of an eight-person booking, this review is based on a press preview.
The menu varies according to what's in season and what inspiration strikes Bellarosa. He's a Southern California native, and it shows in his light, healthy, attractively presented cuisine, as does a stint spent amid the passionate and flamboyant food culture of Barcelona. On the night we visited it began with a salad of tomato, melon, cucumber gelée, pickled red onion, ricotta salata and basil. The presentation was a delight; a mélange of colours and shapes framed by a rectangular white plate, it could have been a lost Joan Miró painting. The flavours also sparkled, both individually and combined, with the watermelon and the ricotta scoring particularly highly.
Next up was a whimsical upmarket take on 'eggs and toast', comprised of truffled scrambled egg served with crème fraiche, chives and ossetra caviar, followed by a delectable chunk of miso-glazed sablefish, ponzu daikon radish, wasabi fava bean puree and sambal veal jus. Light and fairly subtle, these dishes set us up for two courses that were the highlight of the meal. First came a gnocchi dish made with sweet potato from Homegrown Farms, the local organic produce distribution company set up by Posto Pubblico founder Todd Darling. Adorned with sage, three varieties of local mushrooms (golden cup, white beech and willow), brown butter and parmesan reggiano, it packed a big punch flavour-wise, while being considerably less heavy than pretty much any other gnocchis we've had around town. This was succeeded by the Kuroge wagyu beef (pictured), which was given the lightest of sous vide treatments to be served perfectly medium rare. Able to be cut with a fork, this one was primarily about the sashimi-like texture of the meat, although the cacophony of flavours – running the gamut from sweet to salty – provided by the accompanying Charentais melon, garlic soy pudding, Sichuan peppercorn and yuzu ran a close second in the enjoyment stakes.
Of the remaining three courses, the standout was the pleasingly tart summer fruits sorbet of locally grown dragonfruit, Chinese lemon and custard apple, while a cheese selection (Abbaye de Tamié, Beaufort and Neal's Yard Finn) with gel pairing, and a dessert of yogurt coconut parfait, coriander sponge, coconut paper, basil and local papaya sorbet rounded things out.
The accompanying wine pairing, sommeliered by Sabrina Hosford of Altaya Wines, augmented the meal nicely, with the most memorable combinations being the Malecasse Haut Medoc 2005 served with the wagyu, and the sparkling La Spinetta Moscato D'Asti Bricco Quaglia 2009 with dessert.
While we had no complaints with the food, one factor to consider is the price. At $1,488 per person it's around the same outlay as the tasting menus at Caprice and Amber, and considerably more than those at Pierre, Bo Innovation and SPOON by Alain Ducasse. That's some pretty big shoes to fill in anyone's book, and – though it's early days yet – Commune Lab isn't quite in the same bracket. Add to this the fact that you need a minimum of seven likeminded dining companions to make a booking and most will be unlikely to experience this place outside of corporate dinners or extra-special occasions.
Questions of value for money aside, however, we applaud the ethos of Commune Lab. Their desire to provide something new for our often reactionary dining scene, and to champion locally sourced and organic produce is commendable. And with the multi-use location and by-appointment-only opening policy, they've made it a far less risky enterprise than if it were a straight-up restaurant. An experiment it may be, but it's one conducted with serious nous.
Paul Kay
1/F, 28 Elgin St, Soho, 2147 9020. Bookings by prior arrangement only. 72 hours notice required. $1,488 for chef's tasting menu, $1,988 with standard wine pairing, $2,988 with premium wine pairing.
Details
Best selling Time Out Offers