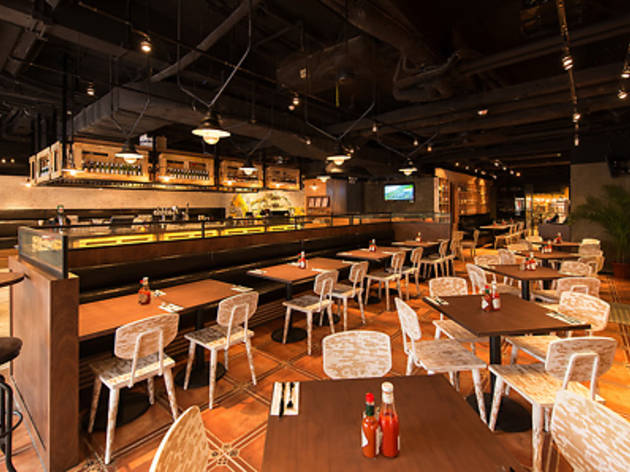 Time Out says
Much fuss has been made about Pico, the new tapas bar opened up by Shore in Tsim Sha Tsui East's bar-happy Mody Road. But there's been less chatter about Eastside Tavern, the dining group's new New York-style gastropub sitting right next door. However, we don't believe this silence will last too much longer. Lovers of comfort food from the US of A are bound to start shouting about this laidback spot pretty soon.
The spacious Western sports bar has a comfortable ambience that can be enjoyed by a wide range of patrons – from families opting for some casual eats (the menu boasts an impressively large selection) to sports-loving buddies who can sit at the bar nursing some beers (there are 18 craft beers from across the globe available) over a big game. The semi-alfresco dining space is comfortable on a balmy summer night and there seems to be just as many lofty communal seats as there are quieter, more private tables for dinner parties of two to four. Wine bottles formulate the word 'Eastside' on a wine rack which line up along one wall while urban-cool graffiti decorates another. And there's a games room attached to the space, with foosball, pool and darts. It all makes for an easygoing vibe – a great place to kick back on a lazy weekend.
Expect a sizeable selection of comfy fare on Eastside Tavern's menu. Fresh salads and pizzas are well represented, as are giant burgers and other American staples. The pulled pork roll ($138) makes for an excellent start to our meal. Sticky and sweet – and absolutely slathered in honeyed barbecue sauce – the slivers of juicy pork rest gently inside a soft, chewy roll. And that's a relief because if there's one rookie mistake some Western-style joints in our city make, it's serving up bullet-hard bread that cuts the roof of the mouth with a mere bite. Eastside Tavern gets it just right – we can go hog-wild for this pork bun.
The problem is – we can't really say the same for the other mains we sample at the gastropub. The half roast chicken ($130) comes off a tad dry. It's a generously sized chook – but it doesn't juice up enough even when we dunk pieces into the tasty gravy sauce which accompanies it. And then the steak and Guinness pie ($148), which the restaurant touts as a highlight, comes off a little underwhelming once you get through the satisfyingly crispy pie crust. The steak is a little on the chewy side and we're disappointed at finding only a mere smidgen of the gooey gravy which traditionally swims around the meat chunks in this classic dish. Again, a main on the dry side, which is a shame.
In other news, though, we're chuffed with the baby spinach and sautéed mushroom sides ($50 each). They're done well and, again, the portions are a good bang for your buck. In fact, you better come hungry to ET. The dishes are hefty, whatever you order.
On the day we visit, we aren't able to test out the dessert sizes (the menu wasn't ready for desserts then – it is now, with classics like apple rhubarb crumble and caramel chocolate layer cake on offer) but a friendly staff member surprises us by dropping off some complimentary lemon sherbet from Pico (it's convenient having two restaurants next door to each other, right?).
It's still early days for Eastside Tavern. We may have been left a little dry with a couple of the mains but we truly recommend the saliva inducing pork bun.
Eastside Tavern's super location, charmingly chipper staff and menu of heftily sized American comfort dishes make it an easy sell. Looks like the Shore Group's going to be hanging out at TST East for some time coming. Janice Jann
The bill:
Pulled pork roll $138
Steak and Guinness pie $148
Half a roast chicken $130
Mushroom side $50
Baby spinach side $50
Service charge $51.60
Total $567.60

Shop G30-G33, G49-G51, Empire Ctr, 68 Mody Rd, Tsim Sha Tsui East, 2367 8770. Daily midday to late.
Details
Best selling Time Out Offers