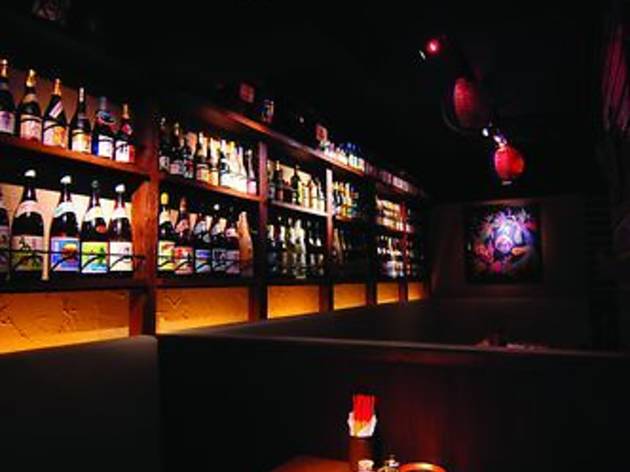 Time Out says
Okinawan cuisine is influenced more by the Americans than most Japanese would like to admit. Host to a large US military presence since WWII, stateside flavours have bled into the food culture of the Okinawans, supposedly the longest living people on the planet. Praised for their nutrient-rich diet of vegetables (an average of 20 servings per person per day), scientists flock to the Ryukyu Islands to study the so-called 'fountain of youth'.
However, if the islanders truly are the longest lived people on Earth, then our meal at Okinawan restaurant En – newly opened in Lan Kwai Fong – would suggest otherwise. The fact that meat and liquor dominate the menu already negated the idea that this would prove to be a traditional dining experience. And judging from the after work crowd heavily consuming sake, pulling grilled meat off sticks, swallowing sushi, and gorging on gzoyas, En is more a euphemism for all thing Japanese, than an eatery dedicated to Okinawan cuisine.
Indeed, their sake barrel décor, and outdoor balcony overlooking D'Aguilar Street, brought back memories of late night dining in Tokyo (they're open until 2am). Drinking too: the menu included a great list of awamori (Okinawan sake), Orion (Okinawan beer) and shigusa juice (made from a very sour, thin-skinned citrus fruit).
Although standard Japanese izakaya fare dominates the menu, they have a few traditional Okinawan favourites, including goya champuru (rough skinned, dark-green gourd) and umibudou (a type of circular seaweed, the name literarily translates as 'sea grapes'). But they didn't have those other island staples: mimi-gaa (sliced pig's ears) and rafute (glazed pork belly). Shame. However, they did have different styles of pig knuckle ($110), which we loved gnawing on. While not exactly the sexiest thing to eat (you just chew and spit), the smoked pork skin was crispy and gelatinous to the bite, while the rest was sinew and collagen – though my Japanese dining partner remarked that this dish is much better at their sister outlet, Ku-Suya Rakuen in Causeway Bay.
Their Agu gzoya ($55), however, was out of this world. The juicy dumpling paired with a simple soy dipping sauce was the perfect two bite snack. The skin was thin and slightly undercooked, which gave it a crisp bite, and the pork filling was generously portioned. Unfortunately, the buta toro (pork toro) with yuzu kosho sauce ($110) was not a life changing experience, and could have done with an extra hour of marinating. The bland sauce did little to help the flavour, and we ended up double-dipping into the gzoya sauce just to taste something.
With all the ups and downs, we were glad we'd saved our two favourite dishes for last: tori kara-age negi ($88) and taco rice ($90). A disturbing marriage of Japanese and American cuisine, tori kara-age negi is essentially deep fried chicken thighs loaded with salt and pepper, and then placed in a garlicky pool of green onion and soy dip. They were so crunchy, juicy and addictive; we had to order a second helping. Eat your heart out Colonel.
Next up, the US- influenced taco rice. Missing the taste of tacos, homesick American soldiers had to forego unavailable tortilla shells for rice instead. Yup rice. And we don't mean the alien rice burger buns McDonald's likes to serve. Here, a big scoop of tomato-stewed beef goes on top of a plate of plain white rice, and is topped by shredded lettuce, diced tomatoes and a sprinkling of parmesan. The sauce was sweet like bolognaise, the sweet rice of sushi quality, and the combination – truly wonderful. It was a bit like eating Japanese-interpreted curry, pasta, or even a Mos burger; strangely familiar, yet completely foreign.
Sitting on the balcony at 1am on a school night, listening to the faint sounds of Lan Kwai Fong below, we enjoyed our refuge from the rowdiness usually associated with the area. Despite some mistakes, En had overall proved to be a worthy new addition to the district. Does this mean LKF has finally gotten its culinary game on?
Angie Wong

4/F Ho Lee Commercial Bldg, 38-44 D'Aguilar St, Lan Kwai Fong, 3102 2255.
The bill
Smoked pig knuckle $68
Agu gzoya $55
Buta toro with yuzu kosho sauce $110
Tori kara-age negi $88
Taco rice $90
Service charge $41.10
Total $452.10

Details
Best selling Time Out Offers