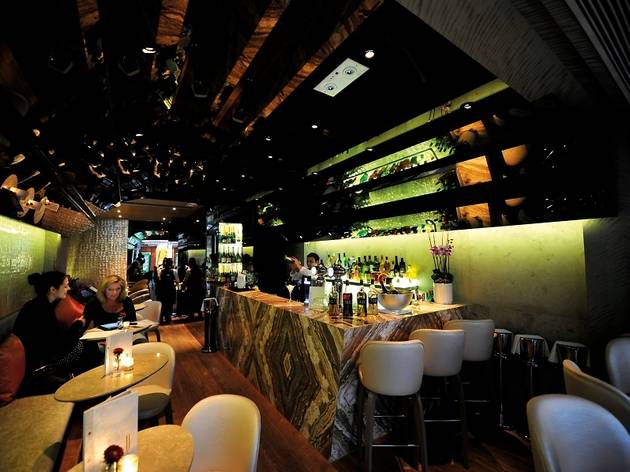 Time Out says
Soho's bars aren't known for their originality. After all, originality doesn't always pay the sky-high rents on Elgin and Staunton, which is why most proprietors are content with cookie cutter dives as long as the draught beer continues to draw in customers. With so many samey spots littering Soho's streets, the arrival of new champagne and cocktail bar Flutes seemed like a much-needed breath of fresh air. Finally, something a little different for the Soho sipping scene... well, that's what we thought, at least. And then we actually went there.
Turns out, Flutes doesn't add much to the neighbourhood. Like most other bars in the area, Flutes isn't the most sizeable of spaces; the lounge holds just one long banquette on one side and an L-shaped wooden bar on the opposite end. Thankfully, a beautiful curved mirror ceiling adds some extra illusory height to the room, making it feel slightly more spacious than it really is. The interior is done up in a generic, contemporary-chic fashion with a colour palette of soft woods, glossy blacks and light monochrome greys. A few high tables and stools are fixed up by the entrance for those who prefer to people-watch while drinking. It's the standard Soho set-up, complete with Empire State of Mind blasting repeatedly over the sound system.
Where Flutes really disappoints, though, is with its mediocre drinks list. Despite claiming to be a champagne bar, the venue only offers seven bona fide bubblies by the glass, most of which are common and predictable, like Veuve Clicquot Yellow Label ($120) and Perrier-Jouët Grand Brut ($120). The by-the-bottle selection is slightly – only slightly – more impressive (at 17-deep), including the likes of Billecart-Salmon Brut Rosé ($1,300) and Louis Roederer Cristal, 2004 ($3,300).
But things really take an ugly turn when you get to the cocktails part of the menu. The eponymous Flute champagne cocktail ($120) muddles fresh strawberries and raspberries together with mint and strawberry liqueur in what can only be described as a waste of good champagne. Worse still are the signature cocktails, most of which are made with a whole paragraph's worth of ingredients. The Elgin Rouge ($90), for example, is a jumbled concoction that includes limoncello, black raspberry liqueur, fresh raspberries, basil leaves, pineapple juice and balsamic vinegar. The bar also slings out a wide range of martinis in all the flavours of the rainbow, including the waitress's recommended melontini ($80) – a strange and not-exactly-savoury combination of mint, fresh watermelon, whisky and bitters, overpowered by vodka and garnished with a thick wedge of watermelon. Surprisingly, the sake cocktails fared the best, like the peach wasaki ($70), which is a refreshingly simple mix of peach sake and fresh orange juice.
The highlight is probably the cheese platter, which includes a ripe Cashel Blue and Coolea cheese from Ireland, a hard L'Etivaz from Switzerland, and a soft Brie de Meaux from France, served with quince jam and enough bread and crackers to feed two. It's a deal at $98 and probably the best, if not only, reason to stay for another glass of bubbly. Dorothy So
27 Elgin St, Soho, 2810 0005; www.flutes.com.hk.
Details
Best selling Time Out Offers