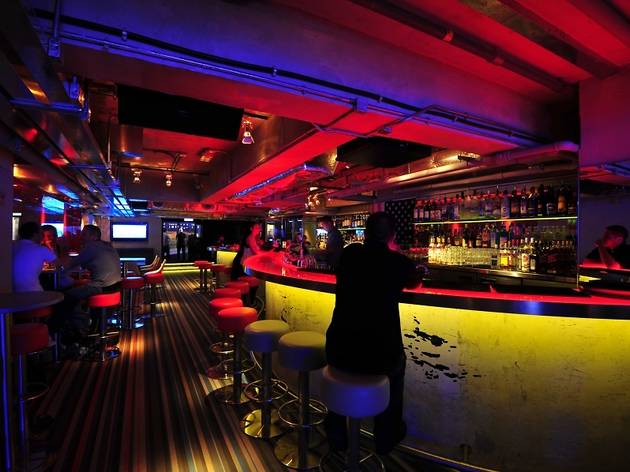 Time Out says
So where's the graffiti? That was our first question at one of LKF's more curiously branded bars. In reality, Graffiti could have been a brilliant concept. After all, when the original Graffiti bar occupied this same space in the late 80s and early 90s, it offered crayons to patrons so they could make their own doodles on the tables. But that gimmick seems to have died with the original venue.
Situated a few steps below street level, Graffiti is almost cavernous, like something plucked from the nightmarish visions in Being John Malkovich. Then you walk into the bar and wonder if they hung the sign over the wrong entrance. There is nothing urban, edgy or graffiti-like about the interior. Branding is a promise, or at least a taste of what is to come. The only 'graffiti' we saw was outside, a stencilled image on a white wall near the door. We hope they plan to cover it with real art, and fast. Even so, it wouldn't change the fact that Graffiti is a total misnomer.
We enjoy the exposed ceiling of pipes and gritty innards in any working building. But that was the best part of this interior. The rest is a baffling concoction of ideas. The floor is a striped design of aqua, grey, black and orange-brown. Come again? The bar surface, meanwhile, is made from jarring red-lit panels (you expect John Travolta to appear at any moment in full disco get-up). On another wall are light fixtures dangling with crystals, and a flat screen tuned in to... Fashion TV. Really? Models preening down the runway in a bar named Graffiti? Who's minding the shop here?
Cocktails are enjoyable enough but we'd hoped for more personality consistent with the name of the bar. The Graffiti Martini ($80) was a refreshing drink made with vodka, fresh lychee, kaffir lime leaves and green apple juice. The Choya Graffiti ($80) with sake, fresh plums, cranberry juice and choya didn't release the full flavour of plums, but was tasty nonetheless. Sake Bubbles ($105) was a huge disappointment. It came without the fresh kiwi stated on the menu, so it ruined two of our favourite drinks – sake and sparkling wine – by simply mixing them together. Being giddy for champagne, we were pleased to see a good selection, yet once again you can't but wonder if this should be the case for a bar named Graffiti.
What else jolts here? Well, there is a gargantuan TV screen that covers the entire back wall of the bar. This, to us, is very uncool. Note to manager: a TV screen can actually be too big for the space it inhabits. And here's why: Graffiti is far deeper than it is wide, shaped like an elongated rectangle. Any time someone in front stands up, they block the view from behind because that screen is just so big; it stretches clear across the room and from floor to ceiling. On our visit, a mere four excitable rugby fans stood to cheer their team and instantly covered a third of the screen.
We also felt for a group of young women visiting the bar for the first time who clearly had no interest in live sports yet were forced, by the sheer bloody size of that TV screen, to have their conversation sucked into its flickering vortex. So they left. And we changed seats. I found myself watching the rugby instead of watching a cool urban crowd which the moniker had suggested. Our grandmas were right all along: size does matter. Graffiti needs to be whitewashed and made over from scratch. Jason Spotts
Shop C & D, UG/F, Ho Lee Commercial Bldg, 17-22 Lan Kwai Fong, Central, 2526 2520.
Details
Best selling Time Out Offers