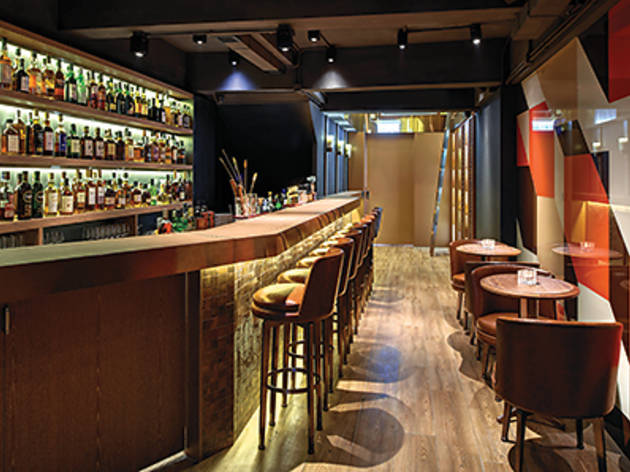 Time Out says
You never feel like you're hip enough for Poho. The eateries in this district around Po Hing Fong, along with the mini-galleries and designer boutiques, just scream cool, despite the laidback residential charm that also inhabits the same space. The streets at night here are filled with people walking their dogs or couples going home after a date – and rarely is a rowdy crowd found disturbing the peace. Because it's just not cool to do so here.
So when a whisky bar opens in Poho, you know it's gonna be laidback and trendy. And Malt is just that. Whisky bars, especially in Japan, have long been hailed as the height of sophistication and if you ask any Japanese fanatic they usually enthusiastically tell you about an 'underground' one nearby that serves top-notch cocktails. Take Mizunara in Wan Chai. It's classy, chic and stocks an awesome array of bottles – but it has the price tag to match. Malt, however, seems to be a neighbourhood version that's can be easier on the pocket. It has that underground, hidden quality – being that it sits in an alley behind Hollywood Road – and it also looks the part, particularly with its nondescript brass door and large 'M' as signage. The exterior, in fact, gives no hint that the interior holds alcohol – and a lot of alcohol, to boot – at all.
Earth tones dominate the interiors, with leather-backed barstools set against a few regular seats in the narrow space. The wall behind the bar showcases an expansive collection of whiskies and, when we take a look at the menu, we understand why. Thick and leatherbound, this is more a detailed catalogue than a drinks menu because there are even maps of the different whisky regions of the world in the tome, alongside notes on the tipples' particular characteristics. Not only are the obvious areas in Scotland and Japan represented, but the esoteric dram makers in less obvious places like Australia and India are also stocked here. The choice is overwhelming.
To truly test the bartender, we select a smoky old-fashioned ($130). A precise concoction of whisky, Angostura orange and chocolate bitters, and applewood smoke is trapped in a decanter and then poured into a glass of ice. We dive straight in and we're impressed as the flavours are extremely well-rounded with a prominent but pleasant smokiness that's freshened by some citrus peel. It's a strong start. We then move on to a Highland dress cocktail ($110). Highland whisky is mixed with crème de pêche, lemon juice and peach nectar. The description also includes egg white in the recipe – but this actually comes as a thin film of foam on the top. It's sweet and flavoursome – and masks the alcohol dangerously well. In fact, it's more of an ice lolly drink than a hard cocktail, with a bouquet of fruitiness that sits on the palate before being rounded off with a hint of the dram at the backend. It goes really well with the blue cheese on our cheese platter ($150) – a recommended accompaniment to many of the whiskies on offer.
Nondescript, tucked-away whisky bars are definitely on the rise in town, but this one instantly shines as it's hidden in an obscure part of Poho and certainly fits right in with the serenity the area affords. It's relaxed, incredibly stocked and creates some fab cocktails that leave a pleasant taste in your mouth. So, if you're ever looking for a quiet place to drink or chat in or around Poho, we couldn't think of a cooler place to hit up. Lisa Cam
Malt 19 New St, Sheung Wan, 2858 0058; malt.com.hk.
Details
Best selling Time Out Offers