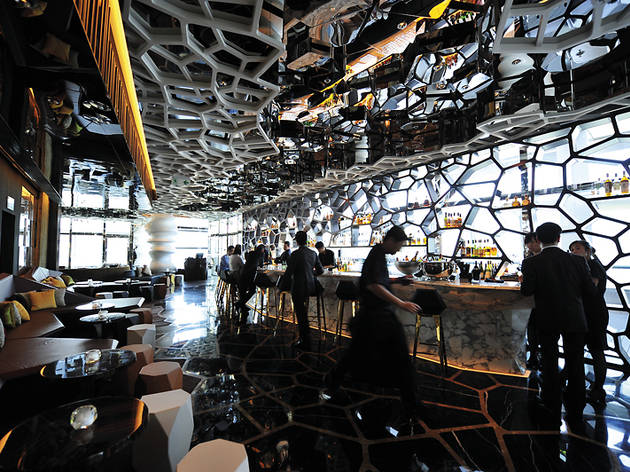 Time Out says
Sky-high cuisine
As a concept, Ozone can hardly fail. The whole world and his dog knows by now that this new cocktail bar and light eatery, perched on the 118th floor of the ICC as part of Hong Kong's latest luxury hotel launch, the Ritz-Carlton, is the highest watering hole on earth. Even a sawdust bowery serving tepid beer would attract the masses up here with the promise of fantastic views across Victoria Harbour. But Ozone has obviously been designed to draw in the sexy cashed-up crowd. Design is the key word. It seems the Ritz-Carlton has jettisoned its refined elegance and got down with the cool kids. That's not necessarily a good thing. A narrow black leathered elevator (which vaguely hints at a padded cell) shoots you up to the bar where you're immediately greeted by low-lit moody green neon, avante-garde chairing, and stretches of refracted swirling glass walls. One minute you're here, the next you're there. It's as if several designers waged war over the same space, the result being a projection of too many personas (Carl Jung would love this place).
We visited on a Tuesday evening during their soft opening period, so it's no surprise to find the staff attentive, alert and incredibly welcoming. The hologram-covered menu is a wowzer. The front half is a wonderful selection of US and European oysters ($800 a dozen), a fine sushi and sashimi selection, tapas, tempura, and some heart-fluttering Iranian black beluga caviar (based on market prices). The wine list, naturally, is mindblowing; anything you want and lots of it (although a little shy on South American choices). We saw a bottle of Chardonnay for $300 and a vintage red for $160,000. It's who's buying, right?

But we came for two reasons: the drinks and the views. First, the drinks. Ozone doesn't have the widest cocktail selection on offer, but a taste of their martinis – classic, lychee and vesper (each $95) – showed a masterclass of mixology. Their take on the stiletto and the Cosmopolitan was also supreme, but we would suggest serving napkins with these drinks (we weren't alone in rim spillage). The blackberry moijito was bland and unnecessary, as was the choice of music. Memo to Ozone: 90s acid jazz belongs in car adverts, not sky-high bars.
And of course, what about the outdoor seating views? Well, they're spectacular. The Bank of China looks like a toothpick at this height, and the glittering lights of the harbour will make your soul glow bright. But someone needs to make sure the glass is, well, clean (no hard feat at 118 floors up) because the night we were there the scene was just this side of smudgy. Anyway, we can't see Ozone failing. It's made for Hong Kong and the glam crowd are gonna love it. We'll be back in a month to see what's changed. Jake Hamilton
Details
Address:
Level 118
The Ritz-Carlton Hong Kong, ICC
1 Austin Road West
West Kowloon
Hong Kong


Contact:
Do you own this business?
Users say