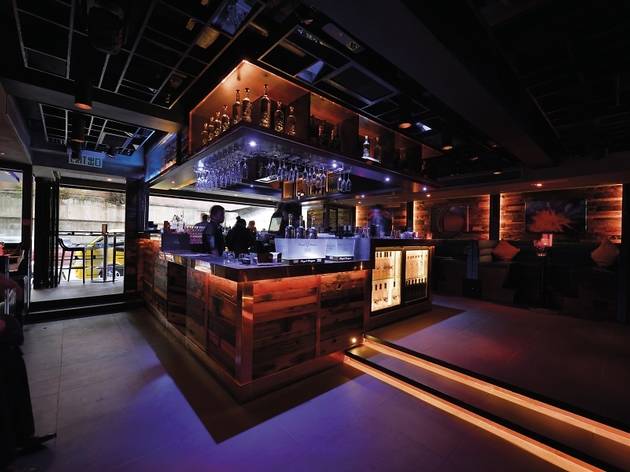 Time Out says
We're getting tired of saying this but another bar in Central has opened its doors and it's practically the same as every other one. We guess that doesn't come as a surprise because it has to 'fit' the corporate crowd looking for something 'classy-yet-lively'. But we had been hoping for a little more USP from Café Deco Group's latest venture.
Pulp sits plum on Wyndham Street and, although just opened, it's already been a hive of activity. It's serving up the correct lighting – neon blues and pinks set against the relative darkness – and the smoking area at the front, looking out on to the street, is a winner. It's got staff from across the world, buzzing music, a lush centralised bar and a room upstairs to add to the mix. But it doesn't sparkle with anything new. Take your pick on Wyndham – apart from a few tweaks here and there, they could all be the same venue.
We grace Pulp on a busy Friday night with all and sundry happy to fill out the place. That's why these bars play safe. They know their crowd and they pander to them wholeheartedly. And one of the big sellers is obviously the drinks (there's a snack menu too but we're all about the liquid). There isn't a great amount of choice when it comes to cocktails but what Pulp does offer up is, on the whole, pretty decent. We recommend the Patrón Margarita ($98) which is high on alcohol and flavour, as well as the spice-perfect Bloody Mary ($88). The Singapore Sling ($88) is a little watery but refreshing and, for a sweet change, the Passion Fruit Martini ($88) is a treat. There are plenty of beers, wines, champers and spirits on the menu (all at the usual Central prices). So, in the drinks department, Pulp is on form.
But, in the music department, it's a few notches high on volume. We're impressed by the tunes blaring out from the DJ – upbeat and loud. But, even for a Friday night, we find it hard to hear ourselves talk and would prefer a tiny lowering of bass. This isn't a club – it's a bar and conversation is paramount (are we getting old?).
Another gripe is the time it takes to be served. Okay, this is just after the opening and there are bound to be teething problems. The staff are extremely helpful (they scour the venue for extra chairs so our group can sit at the front) but they take an eternity to serve the booze. Our first round doesn't appear for almost 20 minutes. Maybe that's a good tactic, though, as we demolish those tipples in seconds...
So, if you're a 'know-what-you-like' type of person – and you know you like classy Central bars – you'll be more than at home at Pulp (check out their Thursday 'fashion nights' which feature in-crowd designers). But, if you're yearning for something different in the heart of Central, give it a miss. In fact, give Central a miss and head to Wan Chai instead. Oh, wait... Matt Fleming
55 Wyndham St, Central, 2868 6026.
Details
Best selling Time Out Offers