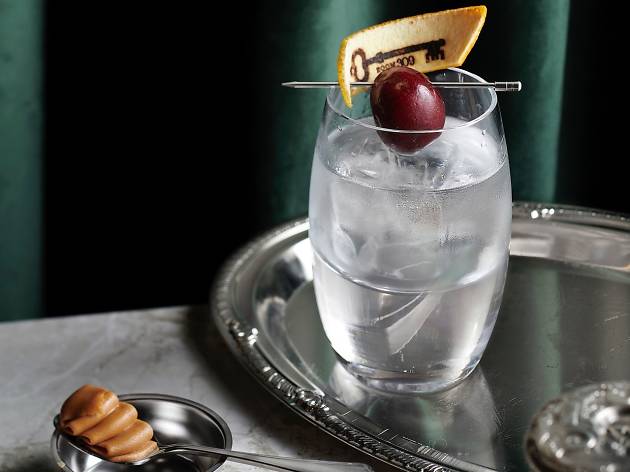 1/3
Photograph: Courtesy Room 309
Room 309's Crystal Old Fashioned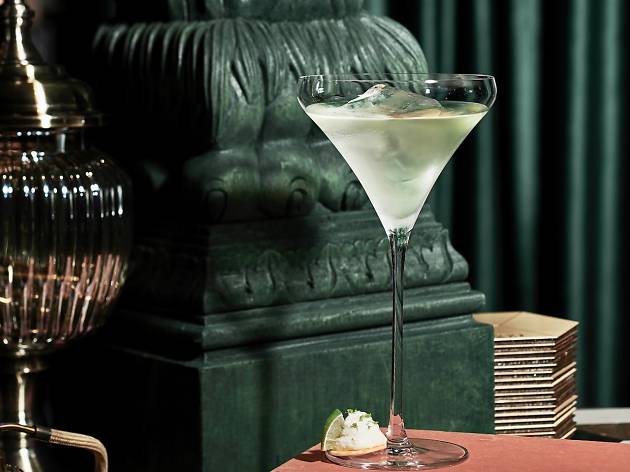 2/3
Photograph: Courtesy Room 309
Room 309's Gone Gimlet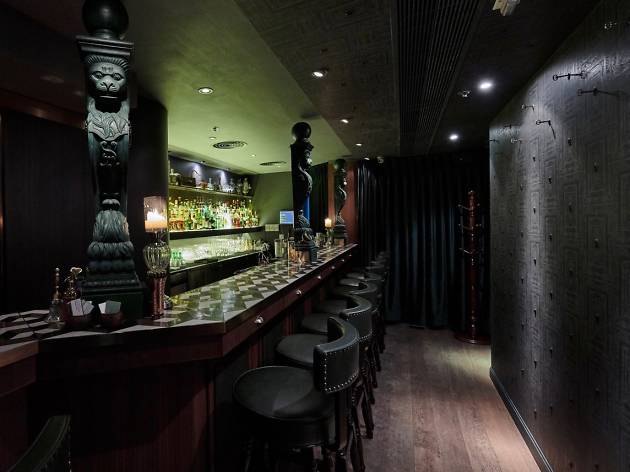 3/3
Photograph: Courtesy Room 309
Time Out says
One of Antonio Lai's bars in Hong Kong. A literal hidden gem, serving excellent creative cocktails.
If Hong Kong has a superstar mixologist, it is local hero Antonio Lai. After apprenticeships in different bars across the world, Lai opened Quinary on Hollywood Road in 2012, a game-changer that brought 'multi-sensory mixology' to Hong Kong for the first time. A fixture on the World's 50 Best Bars list, Quinary was soon followed by Origin, The Envoy and the bar component of the Michelin-starred VEA Restaurant and Lounge. Quite simply, in the Hong Kong beverage scene, no-one so far can match Lai's string of successes.
Room 309 in The Pottinger is a bar that prefers to be described as 'surreptitious' rather than a speakeasy, even though customers must go next door to The Envoy to request a key card – at the 'Reception' – that will allow them entry.
With only six rooms to each floor of The Pottinger, 309 is positioned as a fantastical place that ought not to exist. Windowless, with suppressed lighting and candles that barely touch the dark, richly decorated interior, Room 309 does bring to mind some Victorian-era alchemist's den. It's a thin, sliver of a bar – something that enforces a certain cosy intimacy – carved out from space that formerly belonged to its neighbour, The Envoy. The wonderfully ephemeral feel of the place is carried through to the 'invisible' signature menu – a transparent sheet of plastic that requires you to remove the plain backing before you can read its white text.
To discover whether this is all artifice, we order a Crystal Old Fashioned ($138), comprised of re-distilled peanut butter bourbon, homemade wood chips bitters and banana concentrate. True to its name, the cocktail arrives crystal clear, befitting the bar's fugacious theme. Wonderfully balanced, the peanut butter is strong on the nose, while hints of fruit linger pleasantly afterwards. It might not appeal to old fashioned purists – Don Draper would likely turn his nose up at this reimagining – but judged on its own merits, it's a cracker.
The Gone Gimlet ($138) is another success. A souped-up version of the classic, this features re-distilled yoghurt gin with lemon peel, tonka beans, cream and a special lime cordial made in-house. The sour aroma of yoghurt is apparent as we raise our glass, but the gin washes over it on the palate, mixing with the citrus flavours for a zingy, robust finish. The miniature key lime pie attached to the base of the glass helps accentuate the flavours and is more than just a funky garnish.
Looking to move beyond these innovative new creations, we push further into 309's menu and select a 20th Century ($128) from the range of classics. An oft-forgotten cocktail – we've seen more than one bartender turn to Google when we've requested it elsewhere – the staff at Room 309 are spot-on with their mixing of gin, Lillet Blanc, crème de cacao, and lemon juice. It's light, refreshing and just ever-so creamy.
It would be easy to dismiss certain aspects of Room 309 as a novelty for novelty's sake. After all, who really cares what colour a cocktail is so long as it tastes good? But to do so would miss the point. We taste as much with our eyes as with our tongue and Antonio Lai, with his multi-sensory approach, has never looked to focus solely on flavour. Room 309 might not be as revolutionary within the local scene as Quinary – which, after all, serves similar 'crystal' cocktails – but it's still a near-flawless experience demonstrating that Lai remains at the forefront of his profession.
Time Out Awards
2018Best bartender — Antonio Lai
2019Legend Award – Antonio Lai
Details
Address:
3/F, The Pottinger
74 Queen's Road Central
Central
Hong Kong


Transport:
Central MTR Station, Exit D2.
Contact:
Best selling Time Out Offers