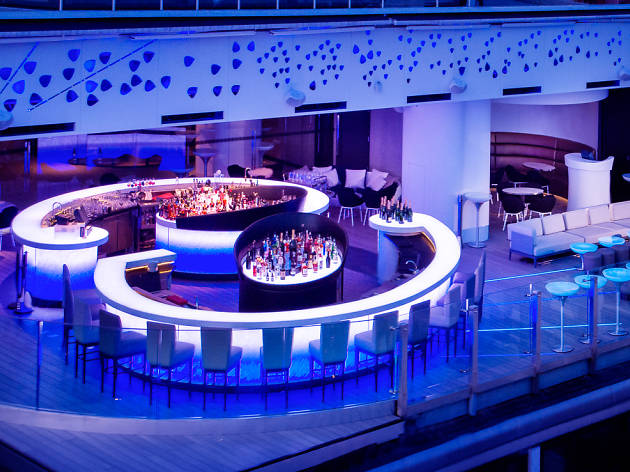 1/2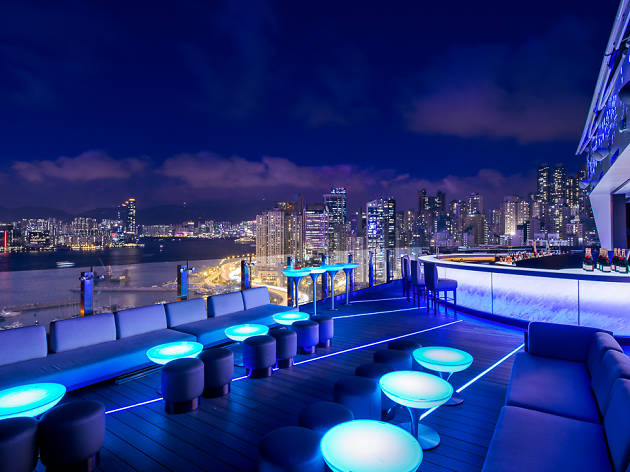 2/2
Space-age bar with sky-high views
Pullman Hotels and Resorts is famous throughout the world for its bold designs and modern ambience. So when the group took over the Park Lane Hotel in Causeway Bay a couple of years ago, sparking a lengthy process of rebranding and refurbishment, there was an air of expectation. The rooms were remodelled floor by floor and one of Hong Kong's most overlooked terrace spaces – 27 Restaurant – was given a complete facelift and has just reopened as Skye, a bar and an eatery that boasts an incredible view of our city.
From floor to ceiling, Skye's reception area is completely clinically white alongside sleek curvatures that are reminiscent of futuristic sci-fi flicks like Gattaca. We glide through to the dining area where we're immediately hit with the iridescent blue and green lighting emanating from the circular entrance that leads to the terrace bar outside. These lights create an otherworldly ambience on our way to that stunning harbour view, which is unobstructed all the way to North Point.
For such a trendy location, the cocktails at Skye are reasonably priced. They come in at between $110 and $130, and all feature cheeky names like the Tai Hong, the Park Typhoon and the Stratosphere Martini. We begin our evening with a Park Typhoon ($110). The medley of Asian tasting notes such as pandan and coconut are combined with tequila and what's only described as a 'French herbal liqueur'. Coconut milk certainly takes the forefront in this concoction and when we're expecting a strong note of pandan mid-palate, we only get hints of it at the back end. This is a pleasant light drink to start with, so next we opt for what we hope is a stronger tipple, the Frankie Goes to Hollywood ($110). It's described as a variation of the classic gin-based clover club cocktail. Well, it's not. But it's not bad either. Served in a metal tankard that's packed with ice, the gin and raspberry flavours are well-balanced and combine effectively with the toasted hazelnuts that come as garnish, providing a slight candy-like flavour. This isn't a groundbreaking drink but, like the Park Typhoon, it's pleasant.
So, the cocktails are decent at Skye. And we find the food is good too. The crumbed lamb breast ($160) comes in bite-sized portions and strikes the right combination of fat and flesh without being too gamey. The meat is cut by a lightly tart parsley and mustard mayonnaise, creating a bite that would pair well with a lager rather than a cocktail. But, sufficiently satisfied, we wash the lamb down with a Creamy Gimlet ($110). This gin-based mixture is prepared with a housemade cordial that's described as tasting like a creamy, nay 'milky', oolong tea, so it's a bit of a surprise when the drink arrives clear and transparent. The texture is smooth and the gin is fragrant, making for yet another pleasant tipple, but the menu could do with reflecting the actual appearance of its drinks a little better in the future.
All in all, Skye is well worth the visit. We love the views, and the space-age ambience of this sleek and smart bar as you float through is a real winner. The prices are more than reasonable given that the tipples are above-par and the snacks are also tasty. If we have any beef it's that the menu's cocktail descriptions are off-kilter and could ruin the mood of a guest who's expecting a different experience. It's hardly a big problem to solve, though, as long as the bartenders work some magic with their magic pens. If so, you've got a Causeway Bar that's going to, quite literally, leave you on cloud nine. Naomi Locke
Venue name:
Skye
Contact:
Address:
27/F, The Park Lane Hong Kong, a Pullman Hotel
310 Gloucester Rd
Causeway Bay
Hong Kong


Do you own this business?