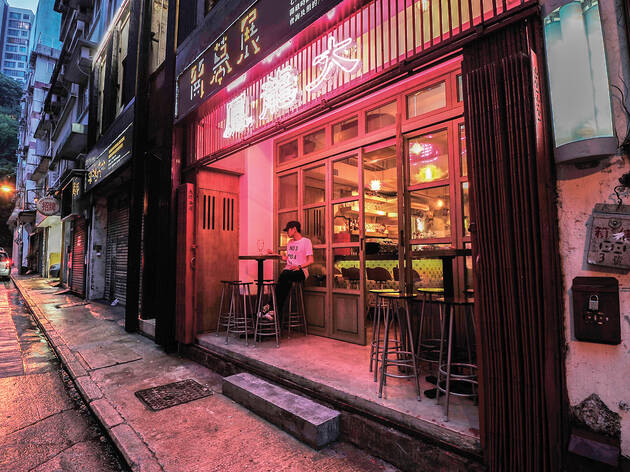 Time Out says
Neat neighbourhood bar with local character that serves reasonable drinks at reasonable prices
Wan Chai has its fair share of watering holes but the selection isn't exactly varied. There are the dive bars and sports pubs on Lockhart and Jaffe, and then you have the few classier hotel spots. It's not easy to find much outside of these two categories. Tai Lung Fung seems determined to be an exception though, opening with a fun concept that pays tribute to Hong Kong's cultural heritage.
Originally the name of a renowned Cantonese opera troupe from the 1960s, the term 'tai lung fung' has since been adopted into modern-day local slang to refer to the showy and ostentatious. It's fitting then that the entrance signage is the bar's name in bold Chinese characters lit up in pink neon lights. Inside, the décor is a playful throwback to Hong Kong culture circa The World of Suzie Wong. Plastic light fixtures from Hong Kong's iconic 'Red A' brand dangle from the ceiling while old movie posters, antique clocks and yellowed newspaper clippings decorate the deliberately worn walls.
But it's the tranquil location that's the most charming aspect of the venue. Housed on a much quieter stretch of Wan Chai past the wet market and historical Blue House on Stone Nullah Lane, Tai Lung Fung is one of the few proper bars in its immediate area. Old heritage buildings and temples are just a stone's throw away from the bar's front steps. By the entrance, two high tables and a scattering of stools look into an old mom-and-pop stationary shop across the street. The whole set-up starts to feel like a scene from Echoes of the Rainbow, especially after a few drinks.
Unsurprisingly, this quirky space attracts a mix of artsy types – many who drop by for a drink after visiting the Wan Chai Visual Archive on the floor above. Expect to see girls sporting Ann Demeulemeester and dudes with their jeans tucked into high-cut boots sipping drinks by the mosaic tiled bar.
Still a fairly new opening, Tai Lung Fung doesn't have a set drinks menu yet but the bar offers a selection of suds on tap ($60 per pint), including Beck's, San Miguel, Hoegaarden, Boddingtons and Stella Artois. The bartender can also shake up most cocktails upon request (all $60). The Sea Breeze – a classic summer cooler – is done here with an ample vodka-fuelled kick to balance out the tart citrus juice. The tall drink gets a little too saccharine near the bottom though and needs a regular stir. For those who don't have much of a sweet tooth, go for the grapefruit martini – a drier drink made with fresh fruit which has an enticingly bitter edge – or the Campari and gin, which is slightly headier and more mature.
Tai Lung Fung is a unique bar that boasts plenty of personality. Like all the other establishments in Wan Chai's heritage district, this is one gem that definitely deserves to be preserved.
Details
Address:
5 Hing Wan Street
Wan Chai
Hong Kong


Contact:
Opening hours:
Mon-Sun 4pm-1am
Do you own this business?
Users say