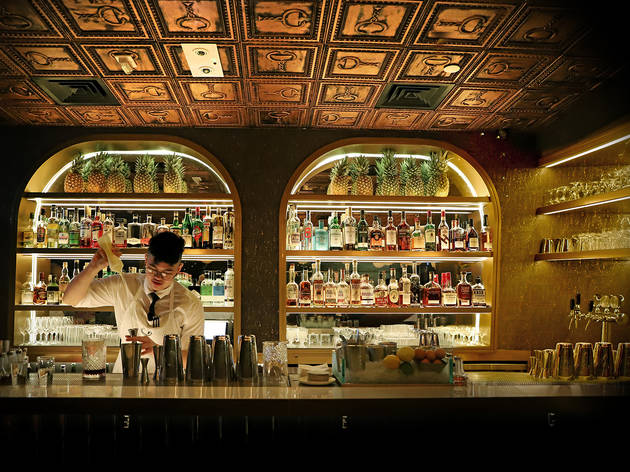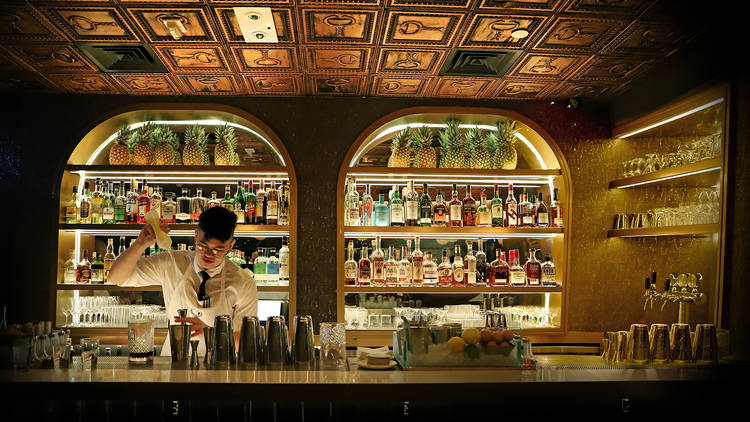 Time Out says
The Diplomat is the brainchild of award-winning mixologist John Nugent (formerly of Lily & Bloom) who is known for his innovative twists on old classics. True to the nature of a diplomat, you'll see Nugent being friendly to his customers, helping them decide on orders, and chatting with them at every opportunity.
At first glance, the exterior of the bar looks stiff and corporate with a suited bouncer greeting customers at the door. This all changes as you enter the premises and become immersed in the bar's light and welcoming atmosphere. The interior is replete with leather seats and brass finishings, and while taking these in, it's easy to miss the intricately detailed ceiling tiles that bear the bar's logo. Should your inner diplomat have important business to attend to, a lavish hallway with shades of pink and copper will lead you to the washroom.
The bar's menu is easy to navigate and reasonably priced compared to neighbouring bars. We started with the signature Diplo Daiquiri; house rum blend, pineapple, anise, and salt ($95) followed by Pearl, made with vodka, Campari, French herbs, Mr. Black Coffee Amaro, pineapple, and almonds ($95). The two drinks are okay to whet your appetite, made for easy drinking, but aren't standouts. To gain a better appreciation of the signature menu, ask the staff about the famous diplomats who inspired the drinks.
What seem to be the real crowd pleasers are the reimagined classics. "Oh, I should have gotten the same drink as yours!" "That is the best cocktail I've tasted!" you'd practically hear people envious of each other's drinks when it reaches their table. We ordered the Boulevardier ($100) that uses a rye-bourbon blend. It is rich, sweet, bitter, oaky, and holds its flavours even after you've finished your grub. Other reimagined classics on the menu are whisky sour, sazerac, and an espresso martini. You can also find a mini-sized martini called 50/50, Negroni, and Gibson ($40) on the menu – one for the road, or just when you want to try a sip and then move on to the next. Their savoury Gibson has vodka, fino sherry, dry vermouth, and uses a Japanese pickled shallot called rakkyo – instead of the usual pickled onion – adding a deep layer of sweet and sour notes.
The food menu offers eight options with influences from various cuisines, perfect to chow down while drinking your way to their bar menu. We finished the truffled mac and cheese ($90) faster than we could down the drink. Each piece of macaroni is evenly coated with the melted cheese, and the shaved black truffle adds an earthy flavour and aroma to elevate the dish to delicious heights.
The bar is still new, and as of writing, their VIP room – which boasts a more feminine interior – is not yet open to the public. Nevertheless, The Diplomat is a good American-style cocktail bar where anyone can enjoy good grub and classic cocktails whilst head bobbing to the loud music coming from the speakers.
Details
Address:
LG/F, High Block, H code, 45 Pottinger St,
Central
Hong Kong


Contact:
Opening hours:
Mon to Sun 6pm-1am
Do you own this business?
Users say