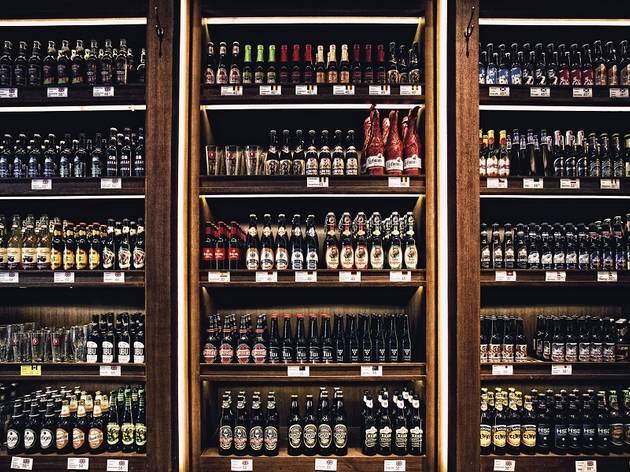 The Roundhouse might become your new hangout spot. Replacing the much-too-niche Manchester United Restaurant, this double-decker space boasts a miniature pub and beer retail area on the ground floor while the sprawling upper level covers the dining room and another well-stocked bar complete with a functional popcorn machine. There's plenty to do here, from watching sports on the multiple high definition television screens (note to dudes: there's one plastered above the urinals too) to playing darts and, most importantly, guzzling suds.
There are more than 70 draught and bottled beers on offer and customers are presented with a detailed iPad menu to help narrow down the selection. It's almost all craft-based, from Baird brewery and Abashiri selections from Japan to the award-winning Ekstra lager from Lithuania. There are cocktails too, including beer-centric ones such as the Beergarita ($78) – a fun twist on the classic salt-rimmed drink that has a full bottle of Corona protruding from the glass.
While The Roundhouse has all the makings of a great sports bar, it's also more than that. Proving itself worthy as a restaurant, the menu offers a strong selection with options beyond the typical chicken wings ($58) and French fries ($36). Food isn't Michelin-grade but, still, the homespun arancini ($58) are satisfyingly crisp, golden spheres oozing mozza cheese in the centres while crunchy Kurobuta pork nuggets ($78) are flecked with just the right amount of sea salt and pepper. Both win.
Aside from deep-fried snackish things, the restaurant also offers a good handful of items prepped with booze, like the steamed blue mussels pot that comes with a choice of beer sauce, tomatoes or tom yum ($175 for 250g; $325 for 500g). We go for the beer-based broth of course, which has a bitter tinge that accentuates the plump molluscs' sweetness. You get two slices of crusty garlic breadsticks with your pot but consider tacking on an extra portion ($15) if you want to sop up all the delicious sauce. There's also the California cobb salad ($108), which has enough beer-marinated chicken, bacon, eggs, jack cheese and croutons to keep the greens exciting.
Unfortunately, the signature beer can chicken ($185) is less successful than its initial novelty factor. The roasted whole bird arrives at the table, uncomfortably perched on a can of beer and ready to be dissected with a large carving knife. It's unevenly cooked – the breast is dry while some other parts turn out a little too rare to eat. Though the thighs are perfectly succulent, there is little flavour on the meat and needs to be heavily doused in gravy. There are much better mains, including the house special burger ($108) made with tender, juice-swelled beef simply garnished with tomatoes, lettuce and a side of fries. And though the angel hair pasta ($128) isn't prepped with bona fide truffles, it's duly perfumed with funghi oil and the generous dose of chopped mushrooms adds real earthiness to each al dente strand.
Don't save The Roundhouse for special occasions because this place is designed for frequent visits. After all, the food here is good, the drinks list is great and the experience as a whole is a guaranteed good time. Dorothy So
36 Lock Rd, Tsim Sha Tsui, 2366 4880; roundhouse.com.hk. Sun-Thu midday-1am & Fri-Sat midday-2am.
The bill
Deep-fried cheese risotto balls $58
Chopped Kurobuta $78
Blue mussels pot $175
Beer can chicken $185
The Roundhouse burger $108
10 percent service charge 60.40
Total (for two) $664.40
Venue name:
The Roundhouse Kitchen & Beer
Address:
36 Lock Rd, Tsim Sha Tsui
Hong Kong