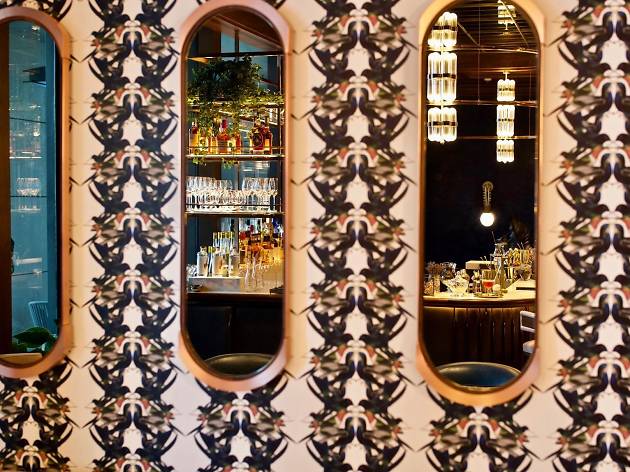 Time Out says
Hong Kong's first-ever ladies-only speakeasy housed in Rosewood
Head through the grand double doors, up the elevators and down a dim corridor somewhere within the walls of the newly-opened Rosewood hotel, and you will find an inconspicuous knob. Flip the panel up, enter the password, and with a resounding whoosh, the wall will open inwards, leading you into Hong Kong's first ladies-only speakeasy – XX. Named after the chromosomal combination only females possess, the sultry cocktail bar is a haven for girls. Sorry, gents, it's no man's land from here!
Much like the hotel, XX is furnished luxuriously without an ounce of pretentiousness or contrivance. With the birds-and-bees patterned wallpaper, plush, emerald green couches, and sensual lighting from ornate chandeliers, the hidden bar is an ethereal oasis specifically tailored to ladies' likings.
Among their signature cocktails, we were feeling Sexy. A champagne-based cocktail, the Sexy ($160) is an intoxicating concoction of jasmine, bergamot orange, fizz and London No. 3 Gin. Citrusy and sweet and velvety smooth when it hits the tongue, the fruity bergamot proves a perfect foil for the sharpness of the gin and the effervescence of the champagne. Topped off with a dainty jasmine flower in its tall, slender glass, Sexy is the quintessence of femininity. The BFF ($130), in contrast, is a refreshing, light, easy-on-the-throat highball that pairs Fair vodka with cucumber juice, pine needles, and yuzu vinegar. Combined with a decorative, rolled-up slice of cucumber containing pine needles and a fresh flower, the BFF strikes a balance between the cucumber's subtle sweetness and the yuzu vinegar's acidity; though, the cucumber can somewhat overpower the citrus. The Japanese-influenced Macho ($130) is equally sophisticated in its blend of lemongrass, matcha, Palo Santo, and Lillet Blanc – the light, delicate fragrance of matcha mingles perfectly with the aroma of side-served burning incense, making the drinking experience all-the-more soothing and therapeutic.
Besides cocktails and other alcoholic beverages, XX also provides delectable savoury and sweet bites. The herb-infused, appetising Red Prawn Tartare ($120) brings a slight kick and perfectly complements the Sexy, while the Mini Lobster Roll ($120), embellished with gold foil and caviar, harmoniously combines sweet lobster with rich Marie Rose sauce and crisp apple shavings. Despite the savoury splendour, the former is unfortunately a bit heavy on the palate, while the roll in the latter dish lacks sufficient crunch to complement the shellfish's softness.
All things considered, XX is perhaps one of Hong Kong's best bars for a girls' night out: private, intimate, quiet, with Hong Kong's shimmering skyline as the backdrop. This upscale yet casual joint is a 'gram-worthy sanctuary that's sure to become many a girl squad's go-to. Interested in visiting? You can obtain the secret password by calling 5239 9219 and making a reservation. By Cara Hung. Translated by Andrea Hui
Details
Address:
5/F, Rosewood Hong Kong
18 Salisbury Road, Tsim Sha Tsui
Hong Kong


Opening hours:
Tuesday to Saturday: 6pm-12am
Best selling Time Out Offers