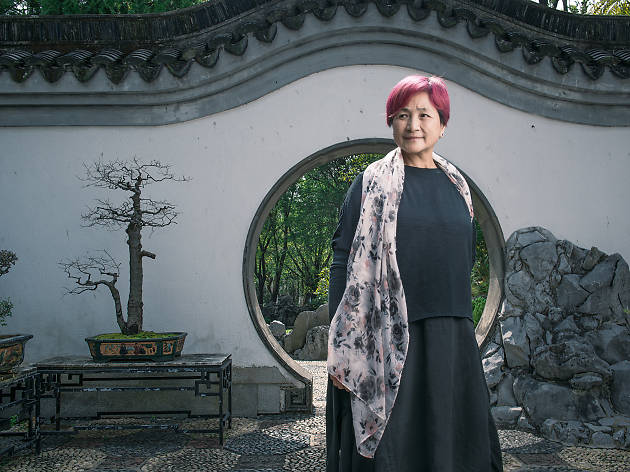 Cheng Pei-pei (鄭佩佩) on Ang Lee and her iconic roles with Shaw Studios
"I'm very proud, and competitive to a fault. I thought, 'if a man can do it, so can I'"
I'm always up for a fight," says 70-year-old martial arts legend Cheng Pei-pei with a smile. "It's exhilarating. I've always been an active person, so when I got a chance to act out fight scenes, I was happy to oblige. I'm actually a bit of a tom boy." However, at the concerned behest of her four children, Cheng has now hung up her sword. They don't want their mother to sustain any injuries. Yet, while we talk to Cheng we can still feel a magnetic, youthful vibrancy. Despite not taking on any more action roles, she's still busy charting the world and flying to different cities to film, nowadays mostly on the Mainland, taking on matriarchal roles.
Still no slouch, in 2014 she starred in the acclaimed indie-film Lilting and was lauded for a performance as a grieving mother looking for closure. But the role most ingrained in moviegoers' minds is Cheng wielding two swords in her most iconic film, Come Drink with Me , when she was just 20-years-old and signed to the Shaw Brothers Studio.
This was Cheng's first career peak and the ballet-trained actress proved a natural. Her precise sword techniques nabbed her the accolade 'the queen of swords'. "Swords are definitely my weapon of choice," states Cheng. "You can be more agile with it, unlike a staff. As I got older I would fight more with a staff, since it looked more appropriate for my age, but I found it be awfully cumbersome."
After Come Drink with Me, Cheng continued on a streak of popular lead roles in some 20 films over the following eight years. Her most notable films were The Golden Swallow, The Flying Dagger, Brothers Five and The Shadow Whip. Yes, she can crack a mighty whip as well. "Back then during the 50s and 60s," recalls Cheng, "many women played lead roles. It wasn't uncommon. Compared to the male actors, directors were overprotective of us. But, I didn't need any special treatment. I'm very proud, and competitive to a fault. I thought, 'if a man can do it, so can I'." Cheng continues to tell us that things for female actresses didn't continue in this fashion though. "Around the time of Ricky Hui [in the 70s], men started taking the lead and women became wallflowers. Audiences gravitated more towards the raw strength of a man."
Cheng's worst injury happened when she was doing a stunt jumping out of a second storey window. "The martial arts choreographer, [who was shorter than me,] didn't account for my height. So when I jumped out the window I clipped the window, kicked myself in the head and passed out as I hit the ground. I came to and asked, 'Did we get the shot?' When they told me we did, I passed out again."
She's a true professional in every sense of the word. "Not many things bother me," says Cheng, who fell into the business serendipitously. Her mother's friend had a daughter that was already training at the Shaw Brothers studio and she encouraged Cheng to be a trainee. Due to Cheng's dance background and fluency in Mandarin, she became a top pick and soon starred in her very first role, as Liu Qiuzi in Lover's Rock. "At that time," Cheng reminisces, "Mandarin films had higher budgets and tickets for Mandarin films cost more than for Cantonese films. This gave me an advantage."
After securing onscreen success, Cheng chose to follow her heart and moved to America to marry her husband and to lead a family life. She became absent from the scene for almost a decade while she settled down and raised her children. "The thing about Pei-Pei," says film historian Mike Leeder, "is the fact that she was so fiercely independent. She followed her own road, becoming a parent and juggling her career with roles in some of the key Hong Kong movies of the 60s, 70s and, later, 2000s!"
Cheng's career hit its second peak when she starred as the villainous Jade Fox in the Academy Award-winning film Crouching Tiger, Hidden Dragon. Even at 54-years-old, Cheng was still fighting. "It's really not that hard if you have a strong dance foundation," she modestly claims. She continues, "All my children love Ang Lee, so I said to myself that no matter what, I was going to get that role."
And what a good decision that turned out to be, with another 35 films since then. "There isn't anything that I really want anymore at this stage," Cheng says, fully content. "I just want to help my children out in whatever way I can, so they can fulfill their own dreams."
Top 5 Cheng Pei-pei Films
1. Come Drink with Me
2. Crouching Tiger Hidden Dragon
3. Golden Swallow
4. Flirting Scholar
5. The Lady Hermit
See also
Bringing together the trailblazing ladies who helped forge Hong Kong's greatest cinematic legacy.