Kara Hui (惠英紅) on humble beginnings and 40 years in the film industry
"If I could choose again, martial arts would be a hobby, not a career. Once you snap enough tendons because of something, you begin hating it."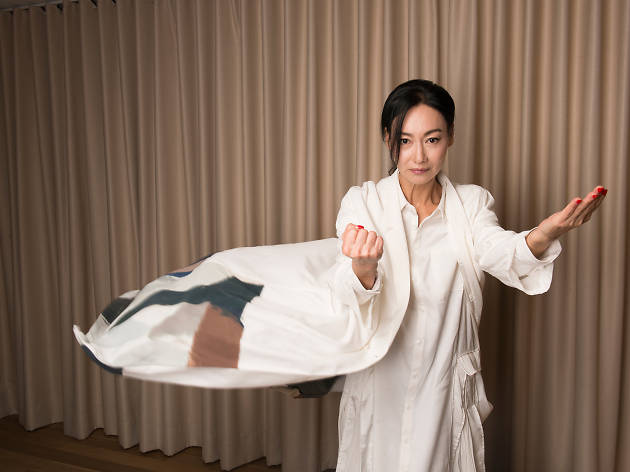 There's no other Hong Kong martial artist with as much street cred as Kara Hui Ying-hong. Hui basically grew up in the hood. Straight out of Compton? Naw, straight out of Wan Chai! "Humble beginnings? You are mistaken. I was a beggar," she states bluntly. "The lowest of the lowest class. When I was peddling trinkets in Wan Chai the only people I knew were pimps, prostitutes, bar girls and other beggars. That was my world." It was a world she wanted to get out of and acting and martial arts provided the escape route that she needed.
Hui is by far one of the most candid and honest interviewees we've ever come across. This year marks her 40th anniversary in the film industry since her first leap into the martial arts world back in 1976 with her first film, Challenge of the Master. In five short years she vaulted to fame and in 1982 she received the best actress award at the inaugural Hong Kong Film Awards for her role as Cheng Tai-nan in the action comedy My Young Auntie. Kara was and is still known for her incredible fighting skills, beauty and fierce acting abilities. Her glare is menacing, capable of loosening the bowels of even the strongest men. "She rose through the ranks at Shaw Brothers and proved she could hold her own alongside the likes of Gordon Li, Alexander Fu Sheng and Jackie Chan," remarks film historian Mike Leeder.
As we sit with Hui, she recalls how she made it in the business with a deliciously cocky grin. "I was just really that good. Sometimes I'd watch someone shoot a scene for an hour because of all the retakes and I would think to myself, "You've got to be kidding me, I can do this in 15 minutes'. Folks that grow up on the streets are smarter."
She also credits her skills from the training she received back in the day at the now defunct Miramar Night Club, where she was tutored as a professional dancer and she also received weaponry instruction from Donnie Yen's mother, Mark Bo-sim. It would take most girls two years of training to be ready for the stage, but Hui only took nine months. "I learned quickly," she boasts. "And my training only enhanced my memory capabilities and gave me the increased ability to process movements faster. When I'm on set for a film, there might be 20 or so moves that I have to do. Once the director tells me what he wants, I can just do it. I don't need anyone to show me. I can just do it by listening to directions. Kung fu is easier than drinking a cup of tea."
It's here that we must disagree with her. There is nothing simple about the combination of attacks, moves and choreography she executes on camera. Her speed, grace and power are mesmerising and intimidating.
"You think, so? It's just a formula really," she says, gleaming with delight. "It's like the difference between fried rice, white rice and congee to me. You tell me what you want and I'll add my own personal touches and give it to you. I know the big moves, what combinations to put together and where to put in my personal touches. I'm that good. So good that back in the day I could play multiple roles in an action sequence. If someone were injured or had an accident I would be their replacement. I would play their role, quickly do a costume change and then go back to my part."
Hui is built from tough stuff. She's endured 51 action films and has sustained serious injuries throughout her career, but never has that impeded her. "Once I broke my leg and was rushed to the hospital. They drained the blood from my bruise and then I went straight back to the studio to film. When we finished, that's when I went back to the hospital. Young action stars these days have it easy compared to what we went through." Hui also recalls being punched so many times she eventually threw up, but continued fighting. "No matter how dangerous the scene, I agreed to do it," says Hui. "I could take it because I was so poor. I've seen actors and actresses disappear after a few days of shooting a fight scene. If you could endure through two films back then, you could make it as an action star. But, if I could choose again, martial arts would be a hobby, not a career. Once you snap enough tendons because of something, you begin hating it."
Hui is a fighter in every sense of the word – spiritually, mentally and physically. She's fought all her life for everything she has. She succeeded in rising out of poverty and becoming one of the most badass women Hong Kong has ever produced. "It's true. I am one tough person."
Top 5 Kara Hui Films
1. The Eight Diagram Pole Fighter
2. My Young Auntie
3. Legendary Weapons of China
4. The Inspector Wears Skirts
5. Dragon
See also
Bringing together the trailblazing ladies who helped forge Hong Kong's greatest cinematic legacy.