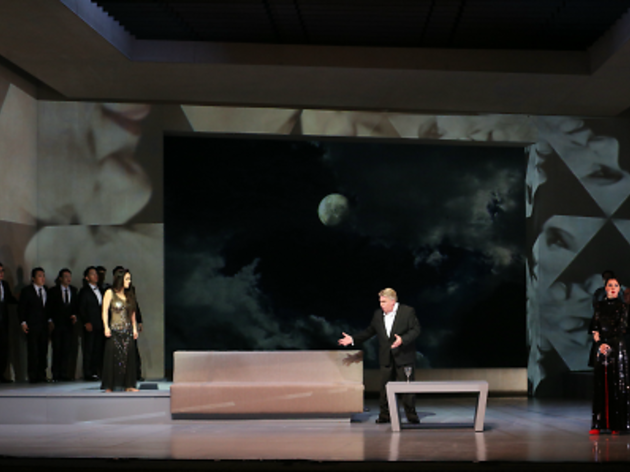 Time Out says
Strauss' epic hits HK as an opera, infamous head scene and all
Salome: not your typical opera, and it never will be. Adapted from Oscar Wilde's play of the same name, Salome has been shocking audiences for over a century. The diva in Strauss' 1905 premiere refused to perform the now-infamous dance sequence, but it is the opera's final tableau that is the most infamous of all: Salome embracing John the Baptist's decapitated head. On Saturday October 11 at the Cultural Centre, Andrejs Zagar's interpretation of the classic found ways to shock once again by appealing to our experience of modern life via visual cues and associations.

The one-act drama, organised by Slovenian National Theatre Opera and Ballet Ljubljana and Opera Hong Kong, takes place in a minimalist white interior that ends in an open frame to an ominous moon in the night sky. It's a simple set: decadent while sparse – and the "well" in which Jochanaan (St John) is being imprisoned is a holding cell controlled by a digital tablet affixed to the wall.

All are impatient for Salome's (soprano Annemarie Kremer) entrance, and when she does you can't miss her. Dressed in a sparkling pink 60's mini-dress with hot pink tights and heels, she reeks of glamour. The costume choice here is a compelling one, seeing as the 1960s marked an era of emancipation for women in the West; one particularly signalled by fashion.
Annemarie Kremer and Ta'u Pupu'a

Jochanaan's (Tomasz Konieczny) entrance is the next shock – that drew some gasps from the audience. When he emerges, he is barefoot in a straightjacket with a sack covering his head. The visual immediately brought images of Guantanamo and terrorist group Isis to mind – and considering the Jochanaan's ultimate fate the choice here was controversial, to say the least.

Supporting characters fall into comfortable caricatures, with Herodes (tenor Stig Andersen) playing the befuddled wealthy man who succumbs blindly to temptation, and Herodias (mezzo-soprano Natascha Petrinsky) playing something of a rich desperate housewife with an edge of (much-needed) comic relief. Petrinsky's stature (she is significantly taller than Salome) and bravado in her delivery lent well to the self-absorbed character that Herodias is, who mistakenly believes her daughter's triumph over Jochanaan is done in her defence of her honour. Meanwhile, Konieczny's Jochanaan was a crowd-favourite, whose warm and passionate baritone was filled with all the tension and conviction of a prophet in the face of almost-irresistible damnation. All deeper complexities, though, are left to Salome, where Kremer's mix of the impetuous child, femme-fatale and primal savage conjured a spellbinding performance, in which her vocals ranged from sweet, ecstatic desire to guttural rage.


Although Salome doesn't feature any chorus sequences, the contributions by Opera Hong Kong fell into place well with solid performances. Having said that, we hope that in the near future, the international collaborations that make it to stage in Hong Kong feature local singers in more prominent roles.

Jochanaan's demise is ultimately the result of Salome's appropriation of power, by whatever means necessary. But power runs as a larger theme in Zagar's Salome. One where dissent can mean demise, and power – whether it is sexuality or wealth – can transcend morality, and often does.
Details