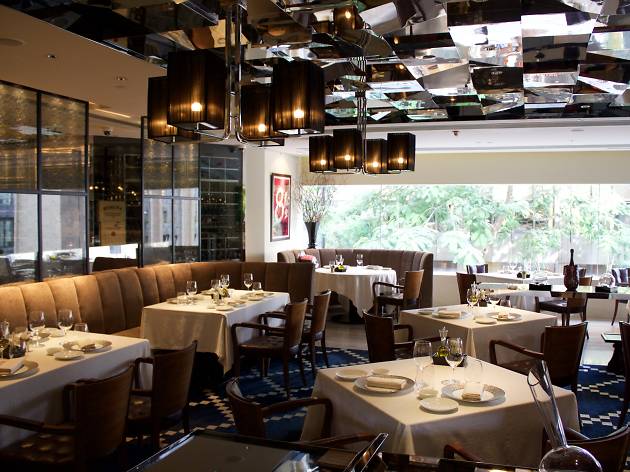 Time Out says
Chef Umberto Bombana's triumphant Italian restaurant is one of the best of its kind
For years, Chef Umberto Bombana ruled the kitchens of Toscana at the Ritz-Carlton, gaining legions of fans who would later rhapsodise about his truffle-heavy dishes, the comforting rusticity of his Italian cooking, and his hospitality. The closure of the hotel in 2008 left punters wanting, though it was only a few short months before Bombana returned to the culinary scene as co-owner of Aspasia and, later, The Drawing Room at the JIA boutique hotel.

Otto e Mezzo (8½ in Italian) is his latest project, two steps away from the old Ritz Carlton site. Federico Fellini's Oscar-winning film of the same name revolves around a celebrated director, Guido Anselmi, facing the pressure of impressing his fans with his next movie after the success of his previous endeavour. Daunted by the prospect and suffering from a lack of inspiration, he retreats into a world of fantasy and memory and eventually emerges enlightened. Perhaps Bombana has been doing a bit of soul-searching himself since the end of Toscana – even going as far as relating to the hero of Fellini's film.

Like the film's denouement, the protagonists can breathe a sigh of relief. Otto e Mezzo is brilliantly conceived. Tucked away in Alexandra House, overlooking Chater Road, the room is comfortably yet elegantly presented in an earthy palette of deep sepias, bronze and cream. C-shaped booths in the corners provide great vantage points from which to survey the beautiful people, and the sleek waiting staff operate like clockwork.

If time out and contemplation has taught Bombana anything, it is not to stray too far from what you know – many of his signature plates return to this simple, three-page menu. Quality ingredients are at the forefront of his cooking, and the stunner comes straightaway in the form of a lobster and mozzarella 'salad' with a prized Belon oyster delicately submerged in Bellini ($230). The intense brininess of the succulent oyster is tempered by the fresh nectar of peach, in the best way; ditto the thin slivers of pata negra that bring out the natural sweetness of the lobster, the creamy mozzarella and mellow saltiness of caviar bridging the gap.

A carpaccio of marinated beef tenderloin ($190) is curiously bland in comparison, though Bombana's homemade tagliatelle with intense pork ragu (made with pata negra) and wild fennel ($210) was rich, satisfying and gloriously pronounced in its sweet porky flavours. Braised veal cheek paired with veal fillet atop a barley 'risotto' ($280) showcased the tender meat at its best: the cheek yielding to the slightest pressure of a spoon, the fillet blushing pink with juiciness at the prick of a fork. Our gripes are with the mean portions, making us wish we'd filled up with the fresh-from-the-oven breads at the start of the meal.

No meal at a Bombana institute is complete without his famed pear tart ($110) – but here we were left rudely disappointed. A tiny circle of puff pastry was topped with the thinnest slivers of pear and verged on burnt around the edges; the fruit flavours were nearly undetectable. Much better, thankfully, was rum baba with lemon sorbet and an orange and grapefruit salad, lightly drizzled with mint syrup ($110) – clean, fresh and balanced.

Overall, we think Bombana will continue the legacy for fine Italian cooking in Hong Kong; his fans will not be left disappointed. But is it his best work to date? A few tweaks here and there and it could be a masterpiece.

Charmaine Mok
Shop 202, 2/F, Alexandra House, Central, 2537 8859. Daily noon-3pm & 6.30pm-11pm.
The Bill
1 marinated beef $190
1 lobster salad $230
1 pork ragout tagliatelle $210
1 veal cheek and veal fillet $280
1 pear tart $110
1 rum baba $110
Ten per cent Service charge: $130
Total $1,130
Details
Address:
Shop 202, 2/F, Alexandra House
16-20 Chater Road
Central
Hong Kong


Contact:
Opening hours:
Mon-Sat midday-2.30pm, 6.30pm-10.30pm
Do you own this business?
Users say