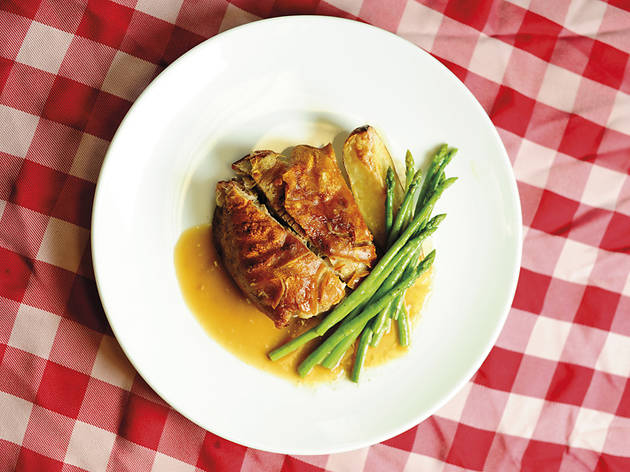 Time Out says
Centres of hawker activity carry as much appeal as any five-star hotel in our dining dictionary. Here, two pioneers, trained at the now-closed M at the Fringe, remake the dishes of the much-romanticised house of hospitality in a scaled down version, inside a cooked food centre.
This is one of these weird and happy moments when a discovery is made inside what is probably the last place on Earth one would expect to find one. We were seated at a two-top with the exposed drain running under our check-clothed table. Strong aromas of curry, garlic, ginger and onions attacked our table from all directions, emanating from the neighbouring food stalls that fill this large public dining room.
ABC's four-course menu is a steal at $338 for two people feasting on replicas of M at the Fringe's classic recipes – though neighbouring stalls are probably scratching their heads as to why anyone would choose to pay so much at a cooked food centre. Our starter, carrot soup, was creamy but lacked the rich flavours we were hoping for. It was more purée than a smooth velvet soup. The toasted garlic bread that accompanied the soup, on the other hand, was crisp with rich, buttery garlic aroma.
The shared pumpkin risotto and pesto sauce was slightly drowned in olive oil, while the risotto itself was slightly overcooked – with a rather soft texture. But at least it was uniform. We would have preferred short-grain rice for a creamier outcome, as the medium grain could easily have turned into mush if left in the pot a moment longer.
The roasted suckling pig was legendary at M. Here is it replicated, albeit with a few flaws. Between the thin crisp skin and the soft meat was a layer of fat, which gave it a slightly gluey texture. M's version used fattier pork that added to the flavour and the tenderness of the meat.
The rack of lamb was juicy with a warm and pink centre prepared medium rare as requested. The flavour of the jus was light enough that the taste of the meat remained outstanding. A sharper set of knives would also have made life much easier, with the rack slipping all over the plate.
Desserts were as we remember them at M. The chocolate soufflé was well executed, light, airy and full of height as it should be, but a deeper chocolate flavour would have been nice. The caramelised cap of the crème brûlée was thick and hard to break, but the custard beneath was creamy and silky smooth, a wonderful way to end the meal with a big smile.
ABC Kitchen, which stands for 'A Better Cooking,' deserves plaudits for its gumption of copycatting a memorable menu, and delivering it with a lot of heart.
Jason Bon Vivant
Shop CF7, Food Market, 1 Queen St, Sheung Wan, 9278 8227. Mon-Sat noon-2.30pm, 7pm-10pm, Sun 7pm-10pm. Meal for two: around $340.
Details
Best selling Time Out Offers