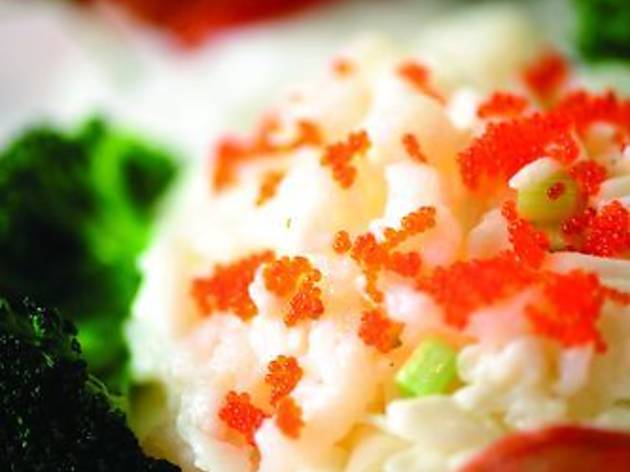 Time Out says
Chef Ah Yat knows his abalone. So famous is he for his edible sea snails, Singapore Airlines carries his critically acclaimed brand of abalone delicacies on its in-flight menu. So when Chef Ah Yat opened his newest place in iSquare, it was not going to be a small deal.
Many elements go into making a fine Chinese diner: think of the intimate dining space like Man Wah; the seamless service of One Harbour Road; and the proud procurement of specialty ingredients at Fook Lam Moon. With its top-floor city views, cosy dining room, Hyatt-trained floor staff and menu of braggable abalone from around the world, Ah Yat is surely ticking the right boxes.

The environment here is right for dining, I thought as I sat down; a quiet hum of conversation, mind-clearing views, discreet service and a calm blue and gold setting. This is a place for dining, not just to eat.
Plan for a proper sit down. And try their Yoshihama abalone set menu if you are a first timer; $1,388 gets you five courses, a glass of wine and dessert.

The dried Yoshihama abalone is prized for its shape and musky taste. On another occasion we had tried fresh abalone from Australia and preferred this tender meat with clean sea flavours to the Yoshihama, but this is a personal preference. Both were equally meaty, unblemished and glossed with a velour sauce made of Yunnan ham and dried mushrooms, and accompanied by goose's web.

"Have you ever refrigerated abalone sauce?" the former chef I was dining with asked. "When the sauce separates, about half of it is fat." Maybe that's why it is so smooth on the tongue. The supervisor overheard our conversation and broke in, saying, "Ours is made with very little oil. You can take some home if you'd like."

A pair of rock lobsters arrived, steamed with a mound of garlic and green onions. These petite crustaceans were beautiful objects to look at and took no more than two sweet bites to finish. This is a good time to note that Chinese food here is eaten with fork and knives. There are chopsticks, but most of the courses require Western tools.

The Ah Yat deep-fried crispy chicken was simple and technically perfect. The skin was paper-crisp, the flesh smooth and tender. The flavour was intensified by a small saucer of lemon juice.

There is a phrase in Chinese, wok hay (wok-heat). It refers to the blessing that transmits from the wok to the ingredients if your fire is fierce enough. When a wok breathes energy it brings that breath to whatever it touches, carrying forward past ingredients that have graced its insides. In other words, there are dead woks and woks that fizz with life. The latter is evident here with the next course: Ah Yat's famous fried rice. First it is prepared in the kitchen in lively woks where eggs, shrimp, dried scallops and char sui are tossed, then brought out in a clay pot and finished to your liking. Our waiter asked us if we liked our rice wet or dry then cooked the fried rice accordingly tableside. We enjoyed the dolsat bibimbap-like crisp of the burnt rice and the extracted flavours in the soft grains.

On fine china, course by course was laid out seamlessly and with little interruption but the glorious views beyond us. Having visited twice now, both times were consistent in standards of food and service. It's true craftsmanship – and that comes at a price. Angie Wong
29/F, iSquare , 63 Nathan Rd, Tsim Sha Tsui, 2328 0983. Daily 11.30am-11pm.

The Bill
Yoshihama abalone set menu x2 $2,776
Ten per cent service charge $277.60

Total $3,053.60
Details
Best selling Time Out Offers