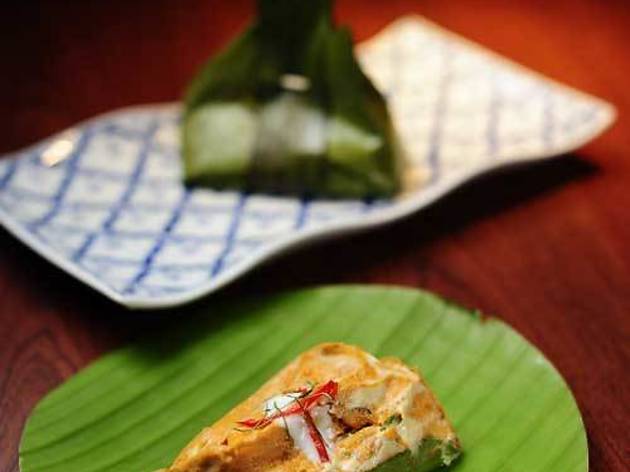 Time Out says
This is unlike any of Aqua Group's other projects. The haute design, smart locations, and atmosphere-over-food elements have been stripped away in their latest project on Hollywood Road. At first glance Ayuthaiya's bar and high tables dominate, leaving passersby believing this to be a mere drinking establishment. But upon further inspection they will notice that the second floor houses two kitchens (serving hot and cold dishes), and a menu filled with timeless Thai classics.
From an economic point of view we were pleasantly surprised. A person of modest income could easily nosh here without spending the whole meal adding up each dish and subtracting it from their daily allowance. Aqua has clearly learned from the mistakes of other up-market Thai places which have opened and closed of late, noting that the public is not willing to pay over-the-top prices for relatively simple Thai food. Dishes start at around $38 and barely touch the $100 mark.
However, there were two things that genuinely irked us. Firstly, they do not serve tap water here, and you will find no other option but to order still or sparkling at $48 per bottle. We understand that to keep prices low you need to make a profit on bottles, but if that's the case then push the cocktails and leave the water hustling to someone else. And not one shilling of the 10 per cent service charge goes to the waiting staff, so be kind and leave a tip.
As far as the food goes, we were really looking forward to the "steamed dumpling with red curry salmon" ($42). Unfortunately it never made it to the table, only onto our bill. The Yum Ta-Krai or crispy catfish salad ($55) was a small treat of shredded green mangoes, dried shrimp, peanuts and shallots. Catfish here comes in the form of catfish floss and not a fleshy piece of meat on top of a bed of greens. It was a wonderful way to enjoy texture and a different way of having seafood. We highly recommend it.
Our favourite dish, and a moderately priced one at that, was the beef cheek curry ($55). A bowl of medium spiced red curry filled with sizable hunks of fork-tender cheeks lifted our expectations. Is the Aqua Group finally upping its game in the kitchen? Well, we don't have many words for their khao pad kapi, fried rice with shrimp paste ($95). The ingredients (pork, dried shrimp, salted egg) surrounded the rice in little puddles and diners are forced to toss it together themselves; a functional way to opt out of undesirable elements, but hardly putting faith in the chef to make the decisions. The catfish floss made a return but this time it salted the rice nicely, while the shrimp oil glossed each grain of rice and gave it an incredible aroma.
Overall we are happy to see Aqua investing heavily in the quality of their food. It took an attitude adjustment of sorts, perhaps as a reaction to the bad press it received from previous projects (notably London's Aqua), to make them realise that diners want atmosphere and good food. Now if only they could work on changing their tap water policy.
Angie Wong
35 Hollywood Rd, Central, 3105 5055. Daily noon-midnight. Meal for two: around $230.
Details
Best selling Time Out Offers