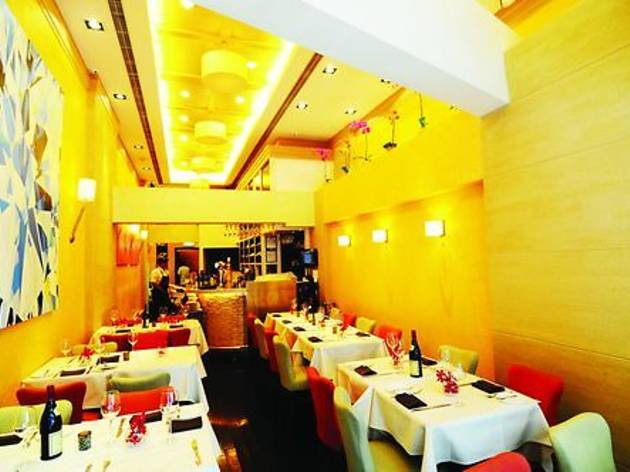 Time Out says
British comfort

Back in the 1990s, Bentley's Seafood used to be the old boys' club underneath the Prince's Building. The hangout served oysters, deep-fried whitebait, and beer. When the owners sold it in 1998 it went through several transformations before it became what it is now DotCod Seafood Restaurant.
At the new and improved Bentley's, which has relocated to Soho, the freshly shucked oysters, crispy sweet whitebait, and imported beers remain, as do some of the original staff from the first establishment, including chef David Shuttleworth and John "Oysterman" Stewart. Together, they've reopened the old boy's club, but have modernised it with the cheery, Indian-spice-rack coloured interiors left over from the space's former occupant, Babek. Same chairs, same décor, but an upgraded bar situated next to The Oysterman himself, who is famed for holding Hong Kong's record for most shucked oysters in under a minute.
The modern British menu is filled with comfort foods such as fish 'n' chips and duck confit, but we went straight for the oysters. At the time of our visit, they only had oysters from Coffin Bay in southern Australia ($38 each), although they generally carry four or five varieties. We slurped down the crustaceans, which came with a soft mignonette sauce and a peppery-tangy cocktail dip. But honestly, a squeeze of lemon would've been fine as the sauce disguised the oyster's natural sweetness.
The English whitebait ($96) was next. Though frozen and transported from UK seas, these one-bite wonders were fleshy and delicious, salty and wonderful when fried up. The kitchen-made tartare sauce dotted with pickles and capers was also a hit. This and a nice cold Somerset beer equals the perfect Sunday afternoon.
The Bentley fish pie ($166) was everything comfort food should be: cheesy, creamy, and baked with a mash potato jacket. Underneath the layer of cheddar cheese and a smattering of creamy mash was a hot bed of grouper, plump scallops, shrimp, mushrooms, and onion bubbling in a herb cream sauce. Given that the protein make up – and thus the cooking times – of the various seafood ingredients is so different, we were pleasantly surprised that none of it was over- or undercooked. If we didn't have the oysters, the whitebait and the beers, we could've polished this off no problem, but we were too full. Maybe you'll fair better. Come winter, this will be a lifesaver.
Angie Wong

G/F, 9 Elgin St, Soho, 2857 7388. Daily noon-3pm, 6pm-10.30pm. Meal for two: around $650.
Details
Best selling Time Out Offers