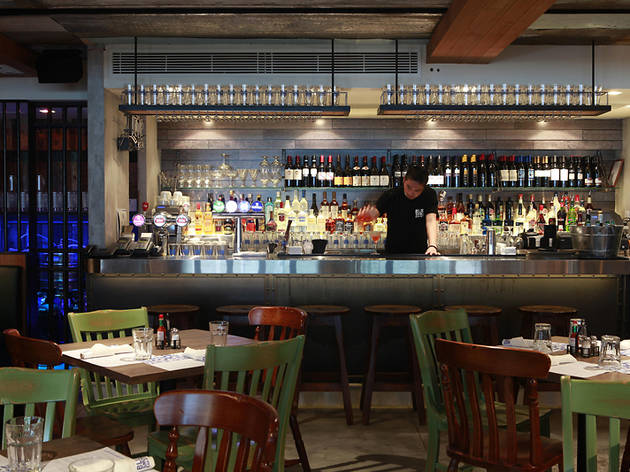 Time Out says
The sound of Southern blues rock crankin' out of the jukebox and the presence of the Donkey Kong arcade game at Blue Smoke brought back vivid and happy memories from my childhood in the States. Boys in demin overalls and trucker hats smoking meats; the sheet metal ceiling faintly recalled Uncle Jethro's shotgun shells that are probably still lodged in the roof; while the junk yard license plates that adorn the walls all make for a refreshing change to the rather staid décor of most Hong Kong restaurants.
The menu consists of all-American barbecue classics. And it seems the owners have done their research by undertaking a comprehensive eating tour of the entire South in search of the most authentically smoky tastes. We started with a half-dozen oysters barbecued in the half shell ($148), which were served with Creole spinach and crispy bacon in a Hollandaise sauce. It is difficult to cook oysters this way without them being either over or undercooked, but this place has managed it perfectly.
Sad to say our excitement didn't last for long. The seafood gumbo ($78) lacked clarity, possibly due to a lack of seasoning. It was hearty and filling but certainly not worth ordering again. The classic "Budweiser Beer Can" chicken ($158) fared much better: it consisted of juicy and moist meat from a hot beer "basing" with a generous slathering of barbecue sauce, which gave the tender meat the ultimate smoky flavour. Between courses we snacked on Jalapeno corn bread, but it was a little too greasy for our liking. (NB: you'll find little your doctor would approve of on the menu.)

It's fair to say that the true litmus test for any barbecue joint is the quality of its ribs, in our case their USDA baby back ½ slab ($128). They looked excellent in their little basket, brilliantly glazed with a barbecue crust, but once we tucked in the meat didn't fall off the bone as we had dreamt it would, and sadly the whole affair was on the dry side. A little more fat on the meat would've done wonders on the grill. It's important to mention here that these slabs of meat apparently spent plenty of time hanging out in their 5,000-pound smoker imported from the US. So, we expected better.
At one point in proceedings the attentive waitress thumped a Sol beer bottle full of homemade barbecue sauce on our table that was so smoky, spicy and thick that it made me want to chug it from the back of my flatbed Ford. Bottle that stuff fellas, you'll make a Texas million for sure. To wash everything down the homemade iced tea ($36) was bottomless and cooled the heat from the sauce.

At the end of the savoury portion of the meal we raided the dessert buffet with Gonzo-like fervour. Chock full of American classics like pecan pie, apple pie and chocolate cream pie it was solid, dependable and blisteringly authentic.
Sadly we didn't get to try the pulled pork sandwich this time, which is usually at the top of the list when feasting at such establishments, but we'll most likely make a return trip for a comforting injection of good ol' Southern flavour and hospitality.

Mark Monahan
3/F, 15-16 Lan Kwai Fong, Central, 2816 9013. Meal for two: around $600.
Details
Best selling Time Out Offers