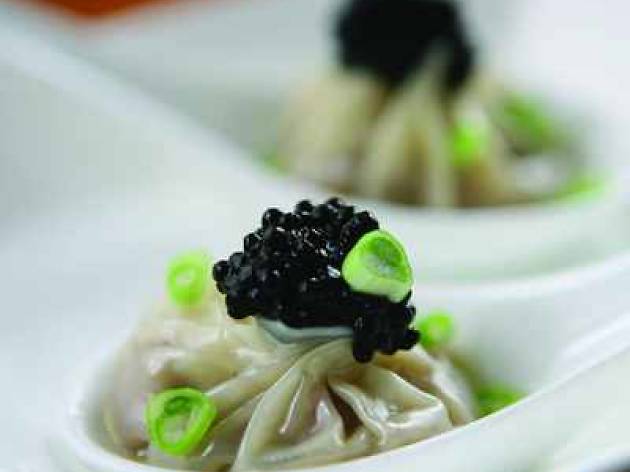 Time Out says
If ever there were a restaurant worthy of our full six star rating, Bo Innovation certainly came close. The food here is intelligent, humorous, and thoroughly thought out. It would be a mistake to call Bo a fusion restaurant, as many have miscategorised it, because it is far from the east-west-fusion confusion of other establishments. Instead, the chefs here masterfully marry traditional and new world Chinese cuisine.
"A good chef is also a good chemist, blending and contrasting different flavours to work together," said veteran US food writer Fred Ferretti about Bo Innovation. And this would be an appropriate description of the madman in the kitchen, Chef Alvin Leung.
When we walked out of the elevator leading onto the outdoor patio, we immediately thought this minimalist dining space was a more suitable location for Bo's imaginatively designed menu than its former location on Ice House Street. We were also greeted with a Chuck Close photographic mosaic of chef Alvin Leung, which makes you wonder if this man's skills in the kitchen could possible live up to his ego. But with the first course of the chef's menu ($1,080 per person), we knew they could. This man can wallpaper the place with his face if he wants.
We began with a duet of oysters, simply plated. The first, a fresh and plump Coffin Bay oyster with lime, ginger and spring onion sauce; the second, tofu custard made with the essence of oyster, radically different from anything we've ever tasted. It had the smoothness of the mollusc, the aftertaste of the oyster's delicate liquor, but not the bite nor chew. The creaminess lingered in the mouth long enough for a smile.
Next, the smoked quail egg with crispy taro crust and a dollop of caviar. The creamy yolk broke in our mouths upon entry, and the sweet crunch of the taro's crispy snowflake crust offered a stark contrast. Only a beat later does the saltiness of the caviar hit you like a song. We had to order seconds. This, if nothing else, was worth another visit.
With the chef's menu each course is a one-bite wonder, fine by us (there are over 12-courses, with the menu changing monthly). One dish we hope they retain are the foie gras pot stickers. Just when we thought we were sick of eating foie gras, Bo had to throw this one at us. This Shanghainese pan-fried dumpling had all the goodness of the classic pork-fat version, but used fatty duck liver instead. The single dumpling was served with a little vinegar to cut the fat. A perfect bite.
The most obvious demonstration of fusion cuisine came in a dish called M-9 Plus Wagyu striploin with black truffle cheung fan. M-9 Plus Wagyu is one of the fattiest cuts of meat you can buy without legally calling it fat. The marbling is gorgeous on the loin, served 'black and blue' (extra rare), and the flash-searing seals in all the delicious juices. The cheung fan is lacquered in soy sauce and topped with black truffle shavings. Not exactly your normal stir-fried beef over noodles.
The chocolate brownie topped with kumquat ice cream was unusually seasoned with sea salt, helping to carry the dark chocolate flavour, while the dual dessert of red date and Chinese almond foam, and black sesame spritzer, gave our tongues a taste workout.
Besides the culinary excellence, we should also note that the service was beyond anything one would expect in Hong Kong. The staff were knowledgeable, explaining the ingredients of each dish as they were being laid out. No doubt this place will be showered with stars when the Michelin Guide comes out in 2009. Book now before all the seats are taken. Alan Wong
Details
Address:
Shop 8, 1/F, 60 Johnston Rd
Wan Chai
Hong Kong


Contact:
Opening hours:
Mon-Fri 12pm-3pm, 7pm-12am; Fri-Sat 6pm-12am
Do you own this business?
Users say