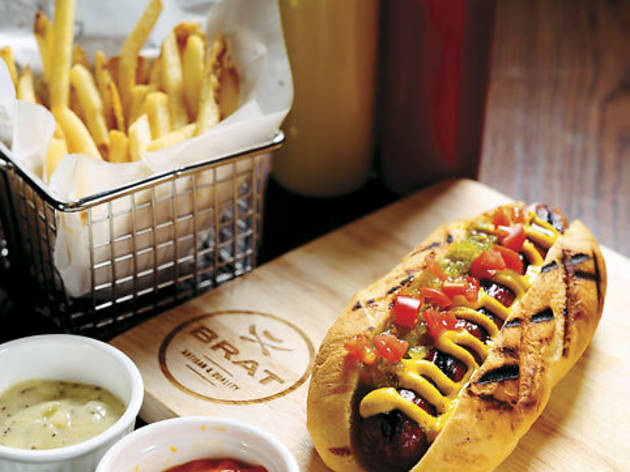 Time Out says
I knew we were onto something good when I cut into my brat and the hot juice cascaded across the table, nearly soaking my dining companion. Not quite the escargot scene in Pretty Woman, but damn close.
It was the first sausage of four featured in the sausage sampler platter ($228) – and not one of them disappointed. Each had a distinct flavour profile, snappy skin and juicy flesh. We chose the Italian, chorizo, habanero and gruyere. Picking a favourite is a bit like favouring one of your children over another. You love them all the same. But if pressured I'd have to go with the Italian. It was a solid rendition of the classic, packing a punch of fennel seed and red pepper, and the meat tasted as if it was sourced with care. The habanero featured the namesake chilli and jalapenos as well. The heat wasn't overpowering but hit the back of your throat about halfway through. A fair dose of cilantro also balanced out the spice. The chorizo was garlicky with a nice texture; the coarseness of the sausage letting you know this is as far from processed as it gets. The gruyere was coupled with Emmental cheese and was nicely balanced. It didn't overwhelm the meat like the yellow cheese food you might find in something like Johnsonville brats. The platter was served with some unmemorable sauerkraut, but the brats more than made up for that.
We also ordered an additional brat to pair it with that all important vessel, the bun. And what a vessel it was: nicely toasted, light and as soft as a pillow. Our portobello mushroom sausage ($98) snuggled in perfectly, like a baby in a crib, and the meat to bread ratio was spot on. The portobello featured two types of mushrooms and caramelised onions. It had a lovely earthy aroma and you could detect moist chunks of mushrooms as you were consuming it. Even better was that it was presented on a miniature wooden chopping block. You may think $98 is a bit steep for a brat but you are also given a choice of breads (signature or dark rye), mustard (wholegrain or Dijon) and a choice of condiment from seven options – tomato salsa or mature cheddar being a couple of examples. Oh, and fries. Don't forget the fries.
These came out piping hot, skin on with plenty of salt. They were a classier version of McDonald's fries, and we mean that with the utmost respect. They're highly addictive, and at one point my guest implored: "get these away from me."
Brat isn't just a meat feast. They list a few tempting salads and offer a couple of vegetarian sausage options as well. The vegetarian Italian with eggplant sounded especially interesting.
The interior is quite spartan (in a good way). It is a fairly narrow space done up in black and white with Edison light bulbs overhead. There is a butcher's case where the sausages are displayed – essentially reminding you why you are there. And as enjoyable as these may be after an alcohol-fueled romp around town it would be shameful to muddy the waters with stale draft beer – especially when Brat has a great selection of Belgian style beers available.
I can't say there is really another place around town aiming to elevate tube meat to such lofty standards. This operation has filled a niche that has been sorely lacking, and the sooner any of you sausage aficionados realise this the better off you'll be.
Rex Gregg
7 Elgin St, Soho, 2549 3088. Mon-Thu noon-12am, Fri-Sat noon-2am, closed Sun. Meal for two: around $400.
Details
Best selling Time Out Offers