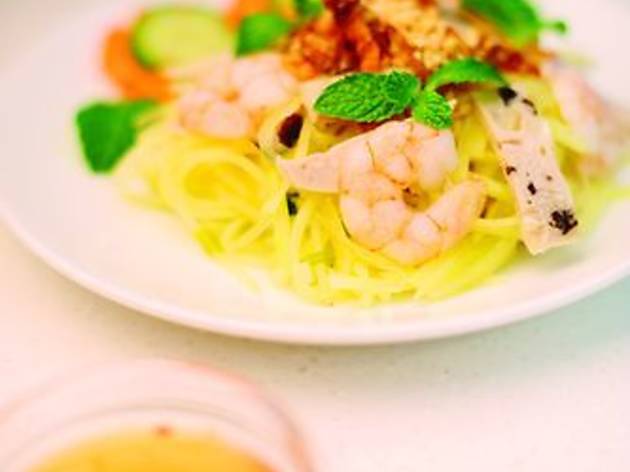 Time Out says
We were wondering when the bánh mì craze would hit Hong Kong. Bánh mì is the Vietnamese-French sandwich that has taken over as the new hamburger in the States, from New York City to San Francisco. One reason it has been so slow to catch on is because it has always been here in Hong Kong, just not in its glorified "it-sandwich" form. Until now.
Though we associate bánh mì with the French-Viet sandwich, it actually means bread in Vietnamese. And the classic bánh mì is made with a toasted baguette, a schmearing of pork pate, a schwiggle of mayo, julienne of pickled carrots and daikon, cucumber, a sprig of coriander and a layering of mystery meat, which is actually meat from the head of the pig, or head cheese ($33). The classic comes in several variations substituting lemongrass beef or chicken, satay or tofu for pork.
The baguette here is made in a mass-production bakery – white and with a prolonged shelf-life. Of course one of the most important elements of an exemplary French-Viet sandwich is a good French loaf. Another is the right combination of complementary flavours: briny-sweetness from the pickled vegetables, savoury tang from the pate and deli cuts, cooling freshness from the cucumber and the fresh spicy zing from the coriander. If all these elements come together in just the right measures, you are having a wonderful lunch, which this place seems to deliver.
What was refreshing, though not executed well, was the shredded green papaya salad with shrimp and salami ($28). The rubber-like shrimp looked like it was painted with food dye. And the bowl offered just a solitary shrimp divided in half to appear twice the amount. The mystery meat reappeared again here, this time as thick strips, and was just as good as it was in sandwich form. The papaya salad was crisp and barely had the time to soak up the dried and fresh garlic dressing. Note that there is so much garlic in this dish that you will be unable to have a meeting afterwards if you don't wish to offend. Angie Wong

Shop A, G/F, Senfat Bldg, 6 Bonham Strand, Sheung Wan, 2581 0000. Daily 8am-8pm. Meal for two: around $100.
Details
Best selling Time Out Offers