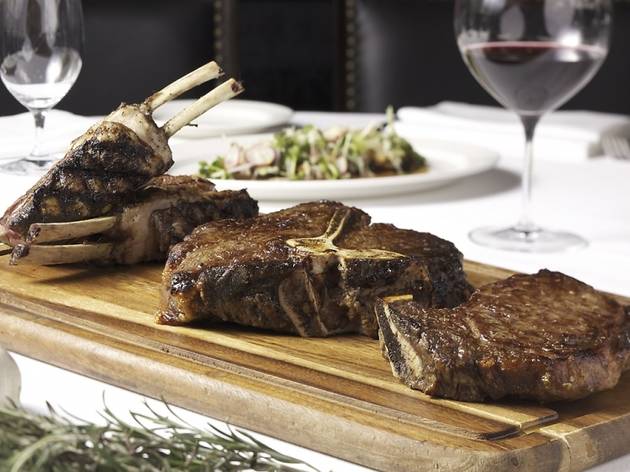 Time Out says
You'll see Mario Batali on the big poster outside Central's LHT Tower and then you'll see him again by the entrance of the elevator, but don't expect to see the living, breathing ponytailed chef strutting around this newly opened steakhouse. That's not a jab at the restaurant – after all, those who have been to the original, award-winning Carnevino in Las Vegas will know that this Hong Kong remake is a different species.
Sure, premium meat still forms the backbone here, but the décor is less flash and grandiose and more contemporary-chic compared to its Sin City counterpart. Then there's also the menu, which has been pared down substantially to exclude pastas and too many non-carne mains. Thankfully, the appetisers selection remains impressively extensive, especially with the dozen-deep raw preparations ranging from seafood crudo to steak tartare. We opt for the pesce crudo platter ($318), which includes silken, creamy scallops slicked in mandarin oil and firm slices of hamachi splashed with bitter Aperol and sea salt. They're good, but it's the geoduck clam that steals the show. Crunchy sheets dressed in lime and Espelette peppers, the acid and spice make it much more exciting than either of its platemates. Representing hot apps, we go for the fennel-dusted lamb sweetbreads ($158), which arrive in a generous heap served with a few cheeks of lemon. The offal is deliciously creamy but, in parts, the delicate flavour is overshadowed by the spice-forward crust. It's not all a loss since the grease-free, crispy coating screams perfect beer food.
By now, you're probably wondering if the steaks here are any good. Well, they are. You don't have to splurge on the pricy 70-day dry-aged cuts; the prime USDA rib eye ($608/16oz) is expertly cooked with a heavy, aromatic char on the surface. There's also a cuts-like-butter USDA filet ($458/8oz), which boasts a distinct meatiness, especially in the rare-pink centres. It's beef that's better off without any distracting mustards, butters or sauces. If you must, garnish the meat with one of the three salts instead. Of the handful of beefless options, the local red grouper agrodolce ($888) is a surprising winner. Designed for two but could easily feed three, the whole roasted fish is reminiscent of Shanghai-style mandarin fish, especially since it's glopped in a zippy hot and sour sauce. It's roasted so that the skin crisps up, but the flesh remains as soft, delicate flakes. You won't get this dish in Las Vegas but we're glad we have it here.
We'll also give special mention to the sides, especially the hearty mashed potatoes ($98). It's dangerously rich, whipped with creamy mascarpone before it's spiked with salty bursts of guanciale pork jowl and a whole poached duck egg that's stirred in just before serving. It's much more satisfying than most of the desserts, including the decadent but bordering-on-boring molten chocolate torte ($108) with cherry gelato and bourbon-soaked berries. You could shoot for something lighter, like the peach coppetta ($108) with soft blocks of fruit topped with a cloudlike yoghurt mousse and lemon-basil granita, but that's nothing to write home about either. Take our advice: pig out on a few more sides or go big with your seared steak. That's really the best way to enjoy Carnevino. Dorothy So
5/F, LHT Tower, 31 Queen's Rd, Central, 2352 7700. Daily midday-3pm & 6pm-11pm.
The bill
Trio of pesce crudo $318
Lamb sweetbreads $158
8oz USDA filet $458
16oz USDA ribeye $608
Guanciale mashed potatoes $98
Peach coppetta $108
Chocolate torte $108
10 percent service charge $185.60
Total (for two) $2,041.60
Details
Best selling Time Out Offers