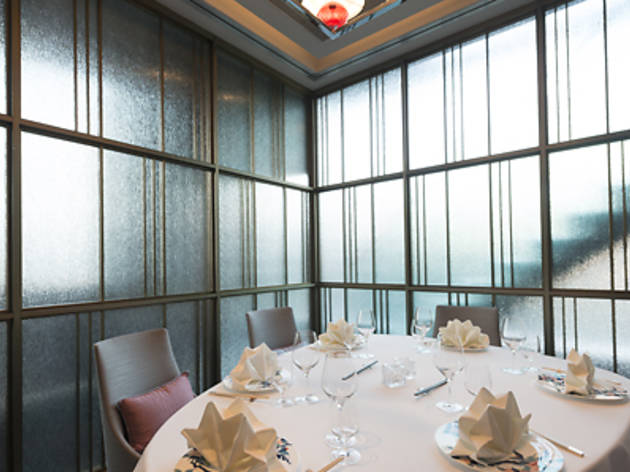 Time Out says
Given that many Hongkongers think of our city as the mecca of Cantonese cuisine, it's quite amazing that a Canto restaurant originating in Japan could flourish in HK – even if that restaurant is Heichinrou, the famed Yokohama establishment that first opened in 1884. But flourish it has, with the chain spawning five restaurants across the city already.
Building on that success, Heichinrou recently opened up Club Heichinrou, a seafood-focused private kitchen on the 27th floor of Causeway Bay's The Cubus. And given the chain's solid reputation, the already exceptional quality of many private kitchens around the city and that kodawari spirit – a concept akin to perfectionism – which has seen the Japanese take many foreign cuisines to another level, we were naturally intrigued by what Club Heichinrou would offer up.
On exiting the lift, the differences between the sprawling Heichinrou experience and the Club Heichinrou ambience are immediately evident. The space is replete with refined dark woods, partitioned off into a series of just three private rooms.
Inside, the rooms are sleekly designed with simply designed chairs and a serving station in the corner. And the floor sports views both across the northern shoreline or across to Hong Kong Stadium, depending on your luck of room. As we are a small party, we are seated in one of the smaller guest rooms of three, which could fit a party of six comfortably. There is also a collapsible partition between two of the rooms to create a bigger space to cater to parties of 10 to 12.
Like all private kitchens, we are sent our options for the night's menu when we made our booking two days earlier. There's a choice of two menus – one of eight courses ($800) and a more luxurious set of 11 courses ($1,080) – both focusing largely on seafood. We opt for the eight-course menu, foregoing the extra deep fried oyster, pan fried angus beef and lobster udon offered in the 11 courses.
The epic meal starts with a three-course appetiser combination of stewed fungus in vinegar, fried scallops with mango juice and chilled preserved egg served with ginger. The fungus is nothing new and could be found in numerous restaurants in Hong Kong as a free appetiser. The scallops are well prepared and pair well with the fresh mango sauce. However, the surprise is in the preserved egg. Instead of the usual slice of egg with a piece of pickled ginger on the side, the dark and soapy preserved egg is pressed into a terrine with a top layer of shredded pickled ginger, allowing this delicacy to be consumed in one neat bite and for us to savour the perfectly balanced sweet and alkaline taste.
Next on the set is pork and fish soup with sea coconut – it's rich in flavour yet light in texture, which is the hallmark characteristics of a good Chinese soup. This is achieved using a lot of good quality ingredients and slow cooking on the stove, and the soup's nourishing flavours also whet our appetites for the three seafood courses to follow.
However, though the fried mantis shrimp in spicy salt, garlic razor clam and steamed garoupa are made with balanced flavours and top ingredients, it's not something that we haven't had before at any seafood restaurant worth its salt in this city.
To finish, we're served a light seafood congee with crab and fish – a nice change from the usual final course filler like greasy fried rice or noodles – which leaves us nicely satisfied rather than overstuffed.
We do see a hint of kodawari in the planning of the menu and serving at Club Heichinrou. However, to stand out as a private kitchen, there needs to be more exceptional surprises. The preserved egg terrine hits the mark of what we hope for from this new spot – the other seven courses probably could have just come from its chain cousin. Lisa Cam
Club Heichinrou 27/F, Cubus, 1 Hoi Ping Rd, Causeway Bay, 2890 3616; heichinrou.com. Daily 11am-midnight. Two days advanced reservation required.
Details
Best selling Time Out Offers