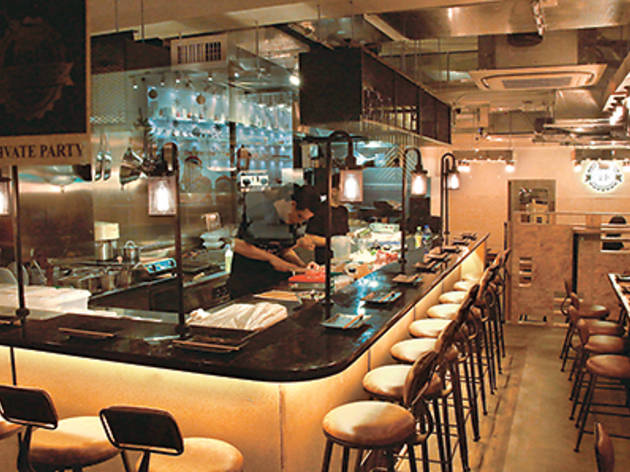 Time Out says
Caught somewhere between a traditional steak experience and a spot that serves up eccentric pan-Asian cuisine, the craft at Crafty Cow is in the fusion – but it's trying to shake that image off and, rather, the new restaurant is classing itself as 'third culture' dining, where the food has no origin or influences. But apart from sporting stateless cuisine, it's also a gastropub. Confused? So are we. So we go along to the venue, which is a side-step off Hollywood Road and boasts floor-to-ceiling windows as well as along its Upper Station Street façade, a great selection of craft beers.
To get a cross-section of everything Crafty Cow has to offer, we first venture down green pastures with the hamachi salad ($148) before moving on to fried cheesy pork and beef offerings. And things immediately get confusing, as despite being billed as having a Khmer dressing, Cambodian flavours are barely discernible in our salad. Could this be a product of 'third culture'? In the end, it just has us wondering whether more dressing would enhance or mask the delicious sushi-grade hamachi. Next is the elegantly named 'big ass truffle grilled cheese' ($98). Not only do we love the moniker but we love this dish too. The pan-fried brioche oozes with melted cheddar and truffle, making a comfort food fan's fantasies come true. No confusion here.
There's also a BYOB (build your own bao) section in the menu, where diners can opt between ribs, pork belly and shiitake mushrooms plus one topping and sauce in a bao. The idea sounds good but we find that, in practice, diners might end up with awkward combinations (kimchi topping with XO sauce?). We get the pork belly with caramelised onions and sambal mayo, though, and it's a great cut. Juicy and fragrant.
Speaking of cuts, the cow at Crafty Cow is in reference to the different cuts of premium beef varieties on the menu: Japanese and Australian wagyus, among others. We go for the Aussie wagyu hanger steak ($198), which is cooked to a perfect medium-rare. Served with wasabi foam, sweet Korean barbecue sauce and salt, the beef is thinly sliced in a degustation-style presentation, which also includes a pocket of salad and fluffy grilled potatoes.
There's no doubt that the ingredients sourced for Crafty Cow are in a high order. Though not all the 'third culture' combinations are as harmonious as we would like, the beef is the star – and rightly so. All in all, if we put aside our perplexity at what fusion – sorry – 'third culture' is or isn't, we can just sit back and enjoy a hearty meal. Wait. Isn't that what 'third culture' is supposed to be all about? Li Meng de Bakker

Crafty Cow 3-3A Upper Station St, Sheung Wan, 2915 8988; craftycow.hk. Dinner for two: $800.
Details
Best selling Time Out Offers