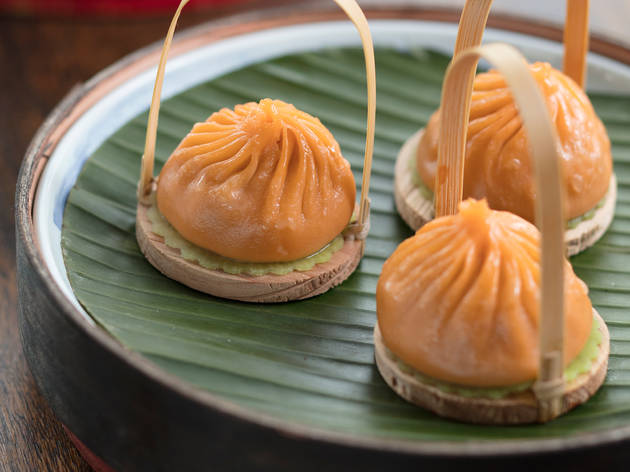 1/3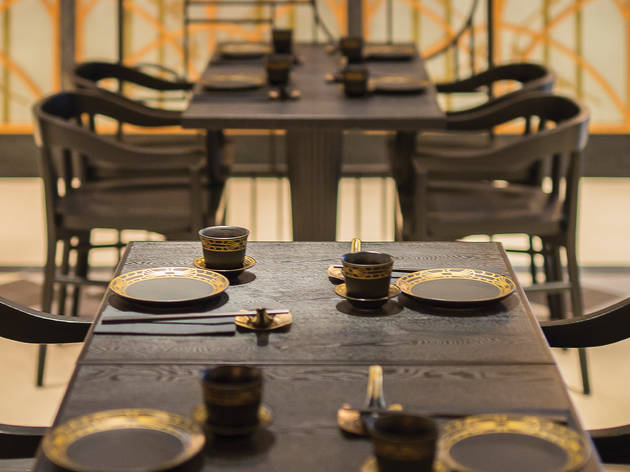 2/3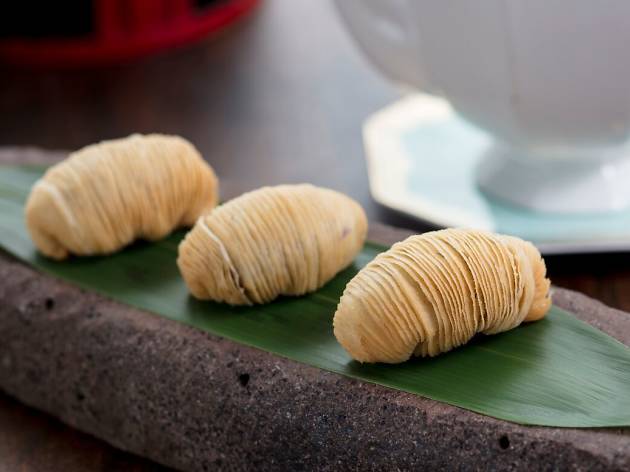 3/3
The rapid revitalisation of Admiralty's Pacific Place over the past few months has, in many ways, been a long time coming. As one of the premier shopping and lifestyle destinations in Hong Kong, with big brands and lesser-known internationals co-existing with a handful of luxury hotels, the dining options on offer were, until last year, curiously pedestrian at best. What a difference six months can make, though. Seemingly overnight, some of the heaviest hitters in the city's food landscape have come in and overhauled the joint, with the likes of Yenn Wong's Commissary, Dining Concept's Bizou, Le Pain Quotidien and Thai import Apinara now comfortably occupying spots in the complex like they've always been there.
Joining these new kids in the block is Aqua Group's Dim Sum Library. Interestingly, this new venue is actually the Hong Kong F&B team's first foray into local cuisine. And, as with its stablemates, which include Armani/Prive, Hutong and Shiro, we're immediately impressed with the space as we enter. Dark and roomy with high ceilings, statement light fixtures and weighty black and gold crockery on each table, this is, from the off, a chic restaurant. DSL is accented with bronze brass and elegant art deco-style touches, although it's more Western in theme than adopting gratuitous chinoiserie elements. The space is also deceptively large – we're guided through the main dining room and bar area into a tucked-away back room, complete with two mahjong tables and a small shelf with some books on. It's a library, see?
Once settled, we navigate the extensive menu – a library in itself – and order a selection of dim sum. The dan dan xiaolongbao ($42 for three) make for an excellent start, combining the best of the Shanghainese and Sichuan classics, with just enough spice in each parcel for a slight kick. The truffle har gao ($42 for four) are also superb, with juicy prawns giving way to hints of truffle. The skins – which are dotted with specks of the fungus – aren't as translucent as we'd like but these are tasty morsels nonetheless. The juicy ginger lobster baos with spring onion ($78 for three pieces) are meaty and hit all the right notes. They're cleverly encased in Taiwanese steamed bread with a strip of seaweed around the middle. Another clever take on the authentic are the steamed beef balls with Yunnan morel ($48 for three pieces). The well-composed spheres come on the traditional bed of bean curd sheets but the magic is hidden within – the balls are stuffed with beef gravy, enhancing the natural flavours of the meat while also adding an edge of sweetness.
A solid start indeed but our next dishes sadly leave us wanting. The crispy aubergine tossed with salted fish and minced pork ($68) is a variation on the classic claypot dish, with deep-fried sticks of the veg arranged like a mini Jenga set and topped with the two meats. The aubergine, though, doesn't taste like aubergine – in fact it doesn't taste like anything and can't be saved by the chilli-laden minced pork and salted fish. Similarly perplexing is the drunken pigeon steeped in Maker's Mark bourbon ($88). While we applaud the ambition here, the strong flavours fail to gel and the dish is left unfinished. The biggest letdown, though, is the honey-glazed iberico pork ($168). The char siu is just too saucy. In fact, we're not sure how the pork tastes as the glaze is so sickly sweet it renders the meat flavourless. The flesh is finished with gold leaf but this dish won't win medals.
The sweets are a mixed bag. The tofu panna cotta ($42) gets us waxing lyrical. It's a perfectly cooked dish that manages to strike the right balance of a classic panna cotta and a tofu pudding. However, the lava chocolate mochi ($42 for four) are encased in too thick a glutinous rice skin for anything to happen. In short, what DSL does well, really works. But there are a few dishes that need to be rethought. With the Aqua guys behind this place, we're sure the creases will be ironed out quick and it will become the stellar spot it deserves to be over six or so months. Which is perfect, really. Because that's how long it seems to take to transform a location into a dining paradise.
Venue name:
Dim Sum Library
Contact:
Address:
1/F
Pacific Place
88 Queensway
Admiralty
Hong Kong


Do you own this business?