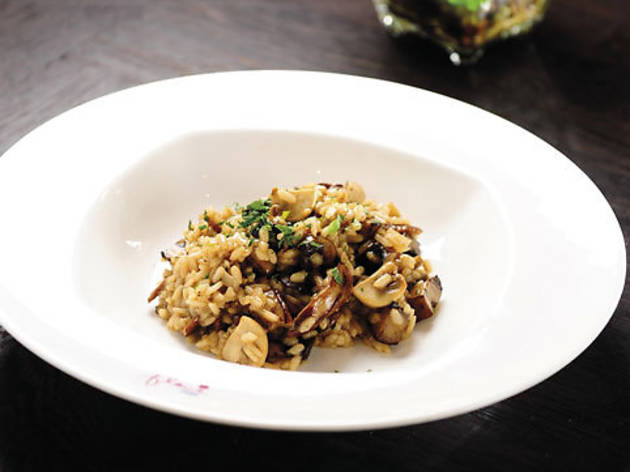 Having closed down their New World Centre location earlier in the year, Towngas Avenue have reopened a Kowloon-side restaurant at a secret spot in the China Hong Kong City complex. Taking up most of the promenade level, the restaurant boasts a tranquil open-air drinks and lounge area that looks out to Victoria Harbour and the West Kowloon skyscrapers. Inside the restaurant, the dining room is painted in clean beige and crisp white tones, creating a setting that feels both homey and upscale at the same time.
Being part of the China Gas Company, Towngas has access to some of the finest gas-fuelled kitchen appliances in the city. With this arsenal of appliances, the restaurant uses clean energy flame cooking techniques to prepare most dishes, including the environmentally friendly low-carbon options (made with low carbon mileage ingredients), and many of the à la carte Italian items.
We started with the antipasto platter, which was a wooden chop board covered with thin slices of cured San Daniele ham, salami, speck, pepper-crusted spicy tuna, marinated squid tentacles, tomatoes with buffalo mozzarella and a small ramekin of olives. The platter was enough to feed two, and amazing value for $158. We skirted around the green and black olives which tasted oddly bland as if they had been left without being marinated. Other than the lacklustre olives though, we cleared the board easily, finishing even the small side of mesclun salad drizzled with a smoky olive oil and red wine balsamic vinegar.
Following the starters, we took a stab at the restaurant's signature wild mushroom risotto ($158). No complaints with the texture here with the Arborio rice being cooked to a perfect al dente bite. The rice was studded with mixed mushrooms and, being cooked with black truffles, was steeped deep in a rich blend of earthy flavours. Still more impressive though, was the main course of braised Australian wagyu beef cheeks ($198). Served in a tagine with a side of saffron risotto and roasted cherry tomatoes and long beans, the meat was braised in red wine until soft, supple and deliciously fork tender. The best part was the heat-softened sinew, which gelatinised and gelled into the meat like a creamy rich butter; the risotto was equally indulgent, rich and gooey like a comforting mac n' cheese. However, it was difficult to pick out any of the saffron nuances in the rice, which seemed a waste of the expensive spice.
We opted for the apple crumble à la mode ($58) and a cup of hot Lavazza coffee ($32) to end the meal. The layer over the stewed apples was soft and spongey, tasting more bread-like than crumble, which was slightly off-putting. Thankfully, the vanilla ice cream (flecked with fragrant bits of vanilla pod) racked back some points for the dessert.
While the food didn't blow us away, it's worth mentioning that the restaurant offers chef internship and apprenticeship opportunities to young people from disadvantaged socio-economic backgrounds. The restaurant's attempt to cultivate and guide young, local talent is admirable and – who knows – years from now, Hong Kong's hottest new chef could turn out to be a Flame alumnus.
Dorothy So
Shop 1, PL/F, Tower 1, China Hong Kong City, 33 Canton Rd, Tsim Sha Tsui, 2367 2713. Daily 11am-10pm. Meal for two: around $600.

Venue name:
Flame at Towngas Avenue
Address:
Shop 1, PL/F, Tower 1, China Hong Kong City, 33 Canton Rd, Tsim Sha Tsui
Hong Kong


Do you own this business?